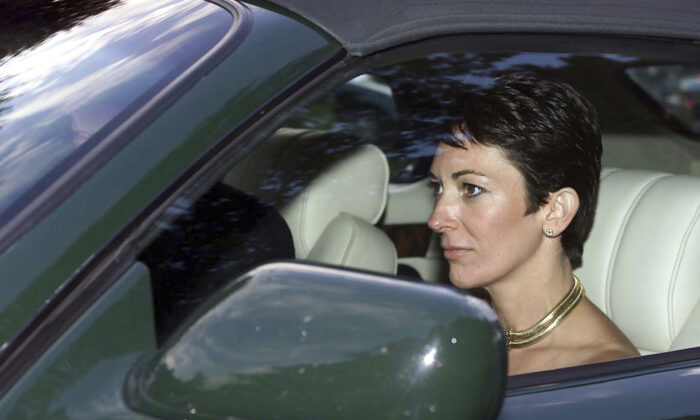 British socialite Ghislaine Maxwell, driven by Britain's Prince Andrew leaves the wedding of a former girlfriend of the prince, Aurelia Cecil, at the Parish Church of St Michael in Compton Chamberlayne near Salisbury, England, on Sept. 2, 2000. (Chris Ison/PA via AP)
Ghislaine Maxwell 'No. 2' in Jeffrey Epstein's Circle, Epstein Pilot Testifies
A pilot testified at Ghislaine Maxwell's trial on Tuesday that the British socialite was "number two" in disgraced financier Jeffrey Epstein's hierarchy.
Pilot Lawrence Paul Visoski Jr., the first witness in the trial, said Tuesday Maxwell was "the No. 2" before adding that "Epstein was the big No. 1" in his circle.
Maxwell faces sex trafficking and related charges for allegedly recruiting and grooming four underage girls between 1994 and 2004. Maxwell, the daughter of media mogul and fraudster Robert Maxwell, has pleaded not guilty.
Prosecutor Lara Pomerantz told jurors Monday that both Epstein, who was found dead in a Manhattan jail cell in 2019, and Maxwell were "partners in crime." Maxwell and Epstein, Pomerantz alleged, groomed and recruited underage girls, which they then abused.
Visoski testified that high-profile celebrities and politicians flew on Epstein's plane, although none of the high-profile individuals mentioned are alleged to have committed wrongdoing in the case.
"I never saw any sexual activity, no," Visoski said during the trial. When he was asked if he saw any inappropriate behavior with underage girls, he said, "Absolutely not."
The plane's cockpit door was closed during the flight, the pilot recalled.
Visoski, who worked for Epstein between 1991 and 2009, also testified that Epstein paid for his two daughters' education and also gave him acreage at a  New Mexico ranch where Visoski built himself a home. The pilot also confirmed he signed a non-disclosure agreement as a part of his employment with Epstein.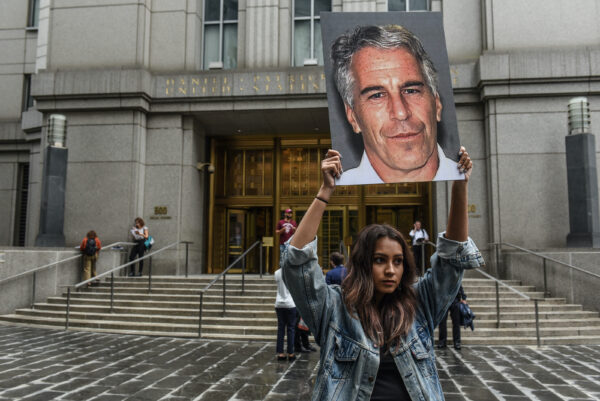 Epstein—previously convicted on sex trafficking charges in 2008—was found dead in his prison cell after his arrest on sex trafficking charges two years ago. A medical examiner concluded his cause of death was suicide by hanging, although there has been rampant speculation that he was murdered.
An alleged Maxwell victim, who used the pseudonym Jane, testified Tuesday that Maxwell and Epstein first approached her and a group of friends as they were eating ice cream at a summer camp in Michigan in the early 1990s.
Jane, an aspiring singer, said that her family was struggling financially after her father's death in 1993, and Maxwell and Epstein allegedly told her that they were benefactors of the camp who awarded student scholarships. Later, Epstein invited her and her mother over for tea, Jane recalled in her testimony.
But during another occasion, Epstein offered to help with her singing career before ending the conversation abruptly before sexually assaulting her, the witness said, adding that she was 14 years old at the time.
Maxwell and Epstein, around the same time, would take her to a massage table in his Palm Beach house and demonstrate how Epstein liked to be massaged, she said.
Visoski on Tuesday testified that he saw Jane on one of Epstein's flights and remembered her "piercing blue eyes," adding that he didn't know she was underage or "without a parent."
The pilot was also asked about Virginia Roberts Guiffre, an alleged Epstein victim who isn't part of the trial. "I didn't know her age, she didn't look young," Visoski testified. "She was a woman in my category."
Earlier this week, Maxwell's attorneys contended that prosecutors are targeting Maxwell because they can't try Epstein.
Maxwell's lawyers will get a chance to cross-examine Jane and other witnesses. The trial is expected to take six weeks.
Reuters contributed to this report.