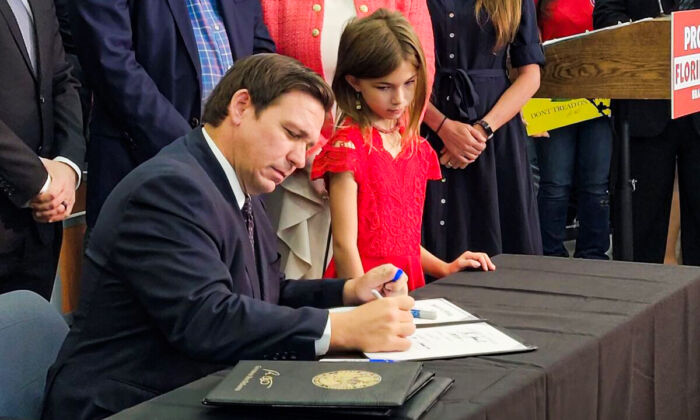 Gov. Ron DeSantis signs bills countering vaccine and mask mandates in Brandon, Fla., on Nov. 18, 2021. (Jannis Falkenstern/The Epoch Times)
Florida Governor Pushes For $1 Billion Cut in State Gas and Fuel Taxes
Florida Gov. Ron DeSantis announced Nov. 22 that he will ask state lawmakers to cut gas and fuel taxes by $1 billion in the upcoming January session of the legislature.
DeSantis said that "nothing has pinched people more than these gas prices." In addition to relief for Floridians via the tax cut, he called on fuel stations to reduce prices by 25 cents per gallon.
DeSantis said he is concerned that an increase in salaries and wages will not be enough to cover the rising costs of goods.
"Even if you start making more money, if the prices [for goods and fuel] are going up faster than your wages or salary, you're actually losing money in this inflationary economy," the governor said.
The governor added that he is pushing back on the Biden administration's "inflationary pressures."
According to AAA, the national average price for regular-grade gasoline on Nov. 22 was $3.41 per gallon and $3.64 a gallon for diesel. The highest ever national gas price average was $4.11 on July 17, 2008.
California and Hawaii have the highest averages on record with $4.70 and $4.34 respectively.
The governor said that he wanted to make a "meaningful difference" to the lives of the people of Florida during the upcoming session.
Gas prices were up $1.29 on average nationally on Nov. 22 compared to the same time last year, according to the U.S. Energy Information Administration.
The details of the proposed legislation were not immediately available.  DeSantis said that the gas tax cuts will not affect Florida's ability to pay for infrastructure projects or other initiatives around the state, as Florida has "more reserves than ever before."
DeSantis said he spoke with executives at several large Florida-based gas stations, and all had agreed to lower the price of gas along with the tax cut.
The governor warned prices may continue to rise before lawmakers can pass the legislation and that can take "many months" to implement.
Rep. Elissa Slotkin (D-Mich.) wrote a letter to President Joe Biden last week expressing her concerns about the rising cost of gas.
Slotkin is up for reelection in 2022 and asked for answers after fielding concerns from her constituents.
"These things are having a real impact on working families in my district," Slotkin wrote.
The letter asked the president to be more "aggressive" and "increase diplomatic pressure" on the Organization of the Petroleum Exporting Countries (OPEC) that are limiting their oil production. Slotkin also asked Biden to consider releasing oil from the Strategic Petroleum Reserve.
"While OPEC is trying to make up for lost profits during COVID-19, their collusion is coming at our expense," she wrote.
"In particular, I'd urge you to work closely with the United Arab Emirates and other U.S. Allies who might be willing to help counterbalance Saudi efforts to artificially and unnecessarily curb production."
Emails and telephone calls were not returned from Rep. Slotkin's office by press time.
The regular legislative session is set to begin in January and is scheduled to end on March 11, 2023.  If passed, the tax rate reduction will not take effect until the next fiscal year that starts on July 1.