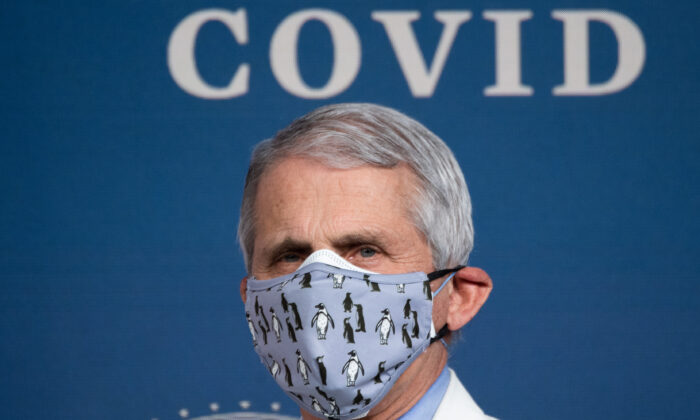 White House chief medical adviser Anthony Fauci lists as President Joe Biden speaks in the Eisenhower Executive Office Building in Washington on Feb. 25, 2021. (Saul Loeb/AFP via Getty Images)
Fauci Says He's Too Busy to Get Involved With Border Amid Concerns of COVID-19-Positive Immigrants
Infectious disease expert Dr. Anthony Fauci said Friday he's too busy to visit the U.S.-Mexico border and that it's not his role to do so, responding to questions about Republican criticism that he's been silent on the throngs of people entering the country from COVID-19-infected regions.
Fox News' Neil Cavuto asked Fauci a series of questions about the torrent of criticism from prominent Republicans, who have accused the infectious disease expert of staying mum on COVID-19-positive illegal immigrants and who have complained Fauci is not using his influence to persuade the Biden administration to do more to stem the border surge.
Cavuto cited remarks by Sen. Lindsey Graham (R-S.C.), who in a tweet Friday became the most recent GOP lawmaker to take aim at Fauci, saying he needs "to go to the southern border and witness in person the biggest super spreader event in the nation—President@JoeBiden's immigration policies."
"These are largely coming from Republicans who have serious animus toward some of the things that you recommend and say, and maybe just you, period," Cavuto said.
Fauci replied by saying he has become a "symbol, to them, of anything they don't like about anything that has to do with things that are contrary to them, that are outside of their own realm."
"It's a little bit bizarre," Fauci added.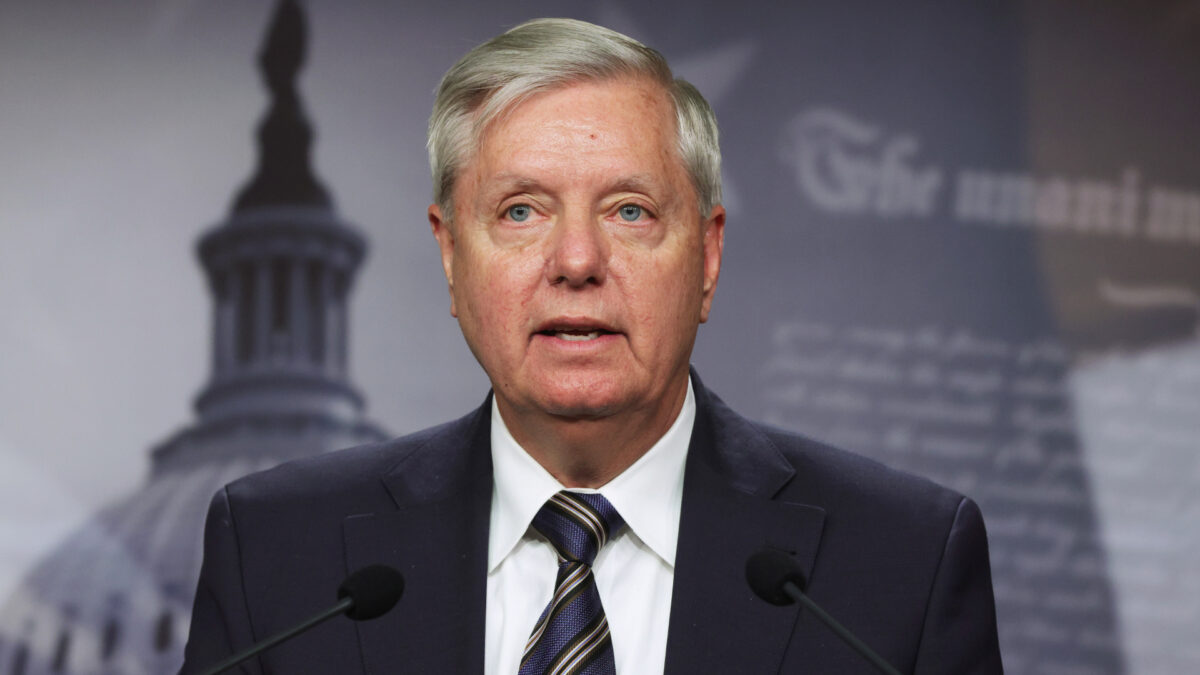 Calling Graham a "good person" that he's dealt with "well" over the years, Fauci pushed back against the Republican senator's comments.
"Equating me with things that have to do at the border. I mean, I have nothing to do with the border. Peter Navarro saying I created the virus? I mean, how bizarre is that?" Fauci said, adding, "I mean, is that a little weird?"
Fauci was presumably referring to a comment by former White House adviser Peter Navarro, who in a recent interview on Fox News called him the "father" of COVID-19.
Cavuto replied by saying what he thinks Graham was getting at was that, given the COVID-19 outbreak and "all the thousands that have been crammed in there," referring to holding facilities along the border, "maybe someone with your expertise should be down there just to monitor how worrisome the situation this is."
"Do you think it could be a super-spreader event?" Cavuto asked pointedly.
Fauci replied by saying that, "obviously, it is a very difficult situation at the border, we all know that," but added that he believes the Biden administration is doing all it can to alleviate the problem.
"Having me down at the border—that's really not what I do," Fauci said. "I develop vaccines, I develop countermeasures. I mean, having me at the border, I don't know why they're saying I should be at the border."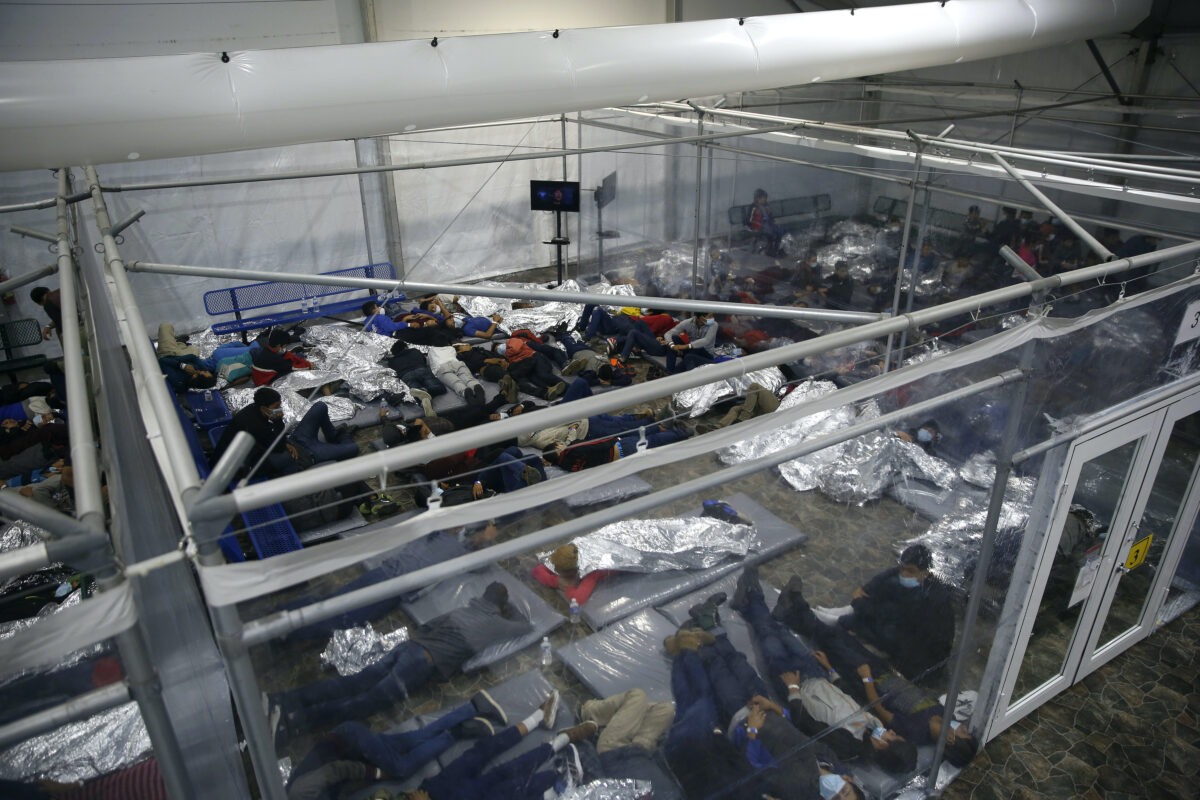 Cavuto countered by asking whether there was a need to closely monitor whether the influx of migrants, some of whom have tested positive for COVID-19, could be fanning the flames of the outbreak.
"Obviously this is a concern to the administration. I mean, the President himself has expressed that. We don't want people to be coming over the border," Fauci said.
Fauci said people crossing the border into the United States "are tested, to the extent possible. If they're positive, they're quarantined. That's what I know about it. No one is denying that it's not a difficult problem at the border."
"I don't know the reason for the animus," Fauci said, adding, "quite frankly, I'm so busy trying to do some important things to preserve the health and safety of the American people that I can't be bothered with getting distracted with these people that are doing these ad hominems."
In the interview, Cavuto brought up other Republican critiques of Fauci, including a tweet by Sen. Marco Rubio (R-Fla.), who called Fauci "a very good public-health official," adding that "his job is to advise policy makers & inform the public" but "NOT to decide what we can do, where we can go or which places can open or close."
"And his job is NOT to mislead or scare us into doing the 'right things,'" Rubio wrote.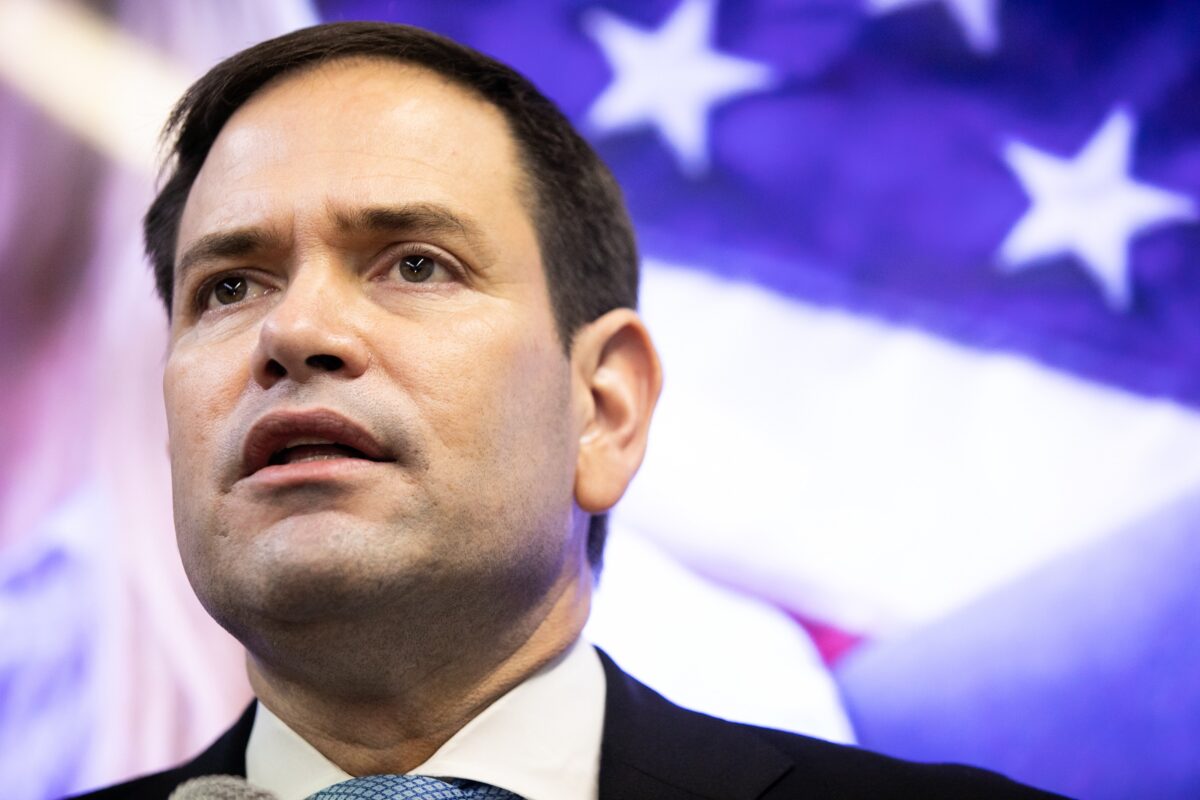 Fauci responded by saying that he's "not trying to scare anybody."
"What we're saying is that we make recommendations based on scientific evidence and data. Because what you want to do is give the American people the information they need to make choices," he said, adding, "I don't think anybody would consider me a scare-monger."
It comes after Rep. Mo Brooks (R-Ala.) joined other Republican lawmakers calling on Fauci to use his influence to stop "a dangerous new foreign pipeline for COVID-19" along the southern border.
In a March 12 letter, Brooks and other GOP lawmakers sought action from Fauci while taking aim at the Biden administration for resuming what they called "the dangerous immigration policy of 'catch and release'" along the border.
"Hundreds of illegal immigrants" have been released at the border "on nothing more than a promise to appear at a future hearing," the letter said, adding that the releases were taking place with no testing or quarantine measures "despite the fact that Mexico now has the highest per capita COVID fatality rate in Latin America," he wrote.
The Biden administration has eased the Trump administration's "Remain in Mexico" policy that required asylum seekers to stay south of the border while their cases moved through the system. Since then, the number of children and adults at the border seeking entrance has surged.
More recently, Mark Meadows, the former White House chief of staff, wondered why Fauci hadn't been more vocal on the COVID-19 threat along the border.
"There was no policy, medical or otherwise, that Dr. Fauci wouldn't weigh in on when President Trump was in the White House," Meadows wrote in a March 31 tweet.
"Curious we haven't heard from the same Dr. Fauci on Joe Biden releasing thousands of COVID untested migrants into the U.S," he added, presumably referring to reports, such as one by The New York Post, which noted that some 2,000 illegal immigrants had been released without evidence of submitting to a COVID-19 test.