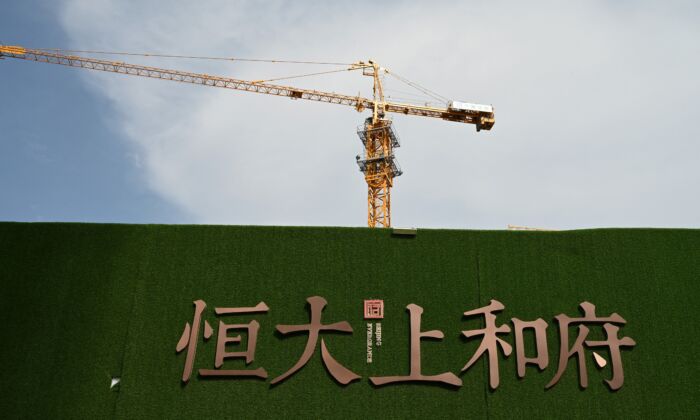 The Evergrande name and logo outside the construction site of a housing complex in Beijing on Sept. 13, 2021. (Greg Baker/AFP)
Evergrande Risks Are 'Controllable,' China's Central Bank Says Amid Growing Fears
The debt crisis plaguing China Evergrande Group is "controllable" and unlikely to spill over, the country's central bank said on Oct. 15 amid growing fears that its potential collapse could trigger a global domino effect.
With over $300 billion worth of liabilities, Evergrande is the world's most indebted real estate developer. The company has missed three bond payments in three weeks, intensifying fears of a contagion effect in China's property market.
In Beijing's first public remarks on the issue, Zou Lan, head of financial markets at the People's Bank of China, sought to allay investors' fears, saying that Evergrande's troubles are an "isolated phenomenon."
"The Evergrande Group has poorly managed in recent years and failed to exercise prudence according to changing market conditions. Instead, it has blindly diversified and expanded its business," Zou told reporters in a press briefing on Friday.
About $89 billion of Evergrande's liabilities is in loans and bonds, making up just under a third of the total. As Evergrande's creditors are "scattered," there's no major risk to any particular financial institutions, Zou said.
He said that land and housing prices are forecast to continue a steady growth, and that "most real estate enterprises have been operating stably with good financial indicators," meaning the real estate industry is "overall healthy."
Relevant departments and local officials are urging Evergrande to redouble its efforts in disposing of assets and restart construction projects to safeguard consumer interests, the central bank official said, adding that the financial authorities will provide the necessary funding to support project resumption.
Chinese authorities had previously kept silent on the Evergrande crisis in public since the company began having trouble repaying its debts last month. In late September, Evergrande raised $1.5 billion by selling its stake in a Chinese bank to a state-owned enterprise.
Shares of Chinese real estate firms have plunged in September, which has traditionally been a strong month.
Evergrande has halted trading of its shares in Hong Kong along with those of its property management unit pending the announcement of a "major transaction." It has also punished six executives who redeemed the company's wealth investment products, the company said this week. The firm has since recovered those funds from the executives, it added.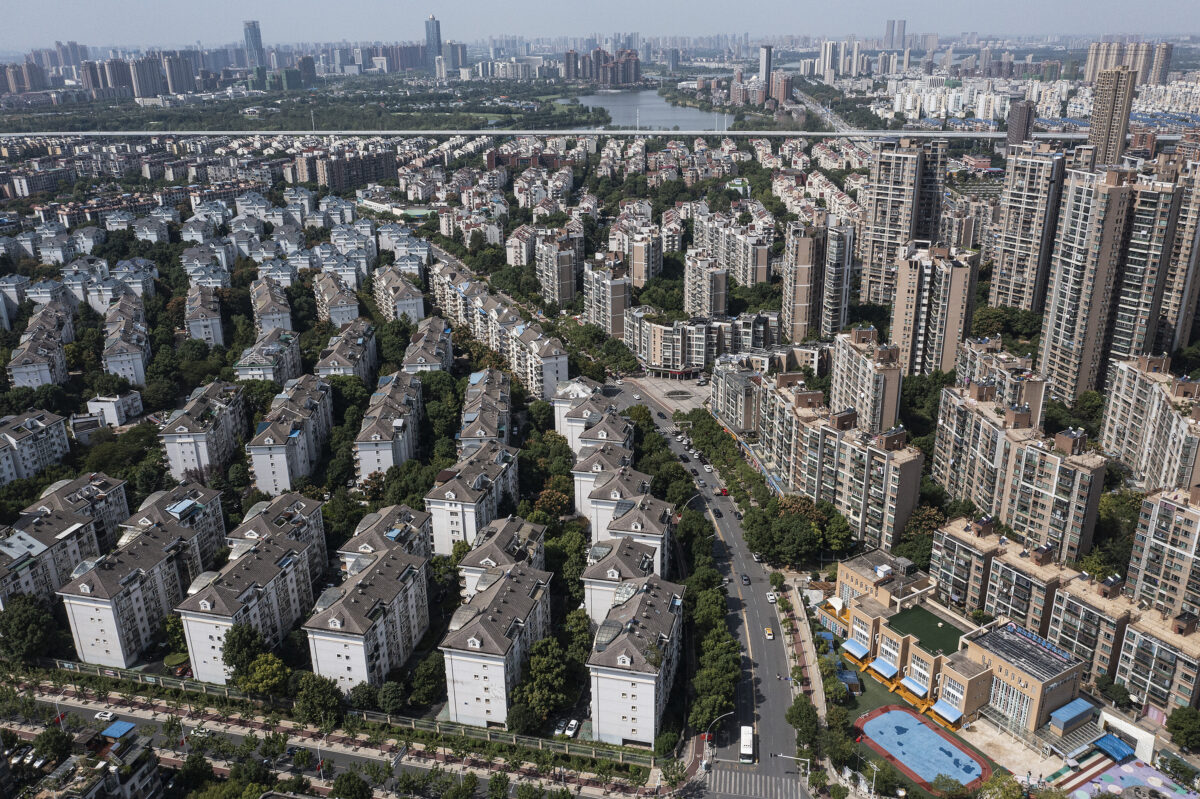 More Chinese developers are facing challenges as the worries of contagion continue to mount.
A small Evergrande rival Fantasia last week missed payment on $206 million worth of liabilities. On Thursday, the Fitch rating agency downgraded property developer Modern Land from B to C, after the company requested a three-month extension on a $250 million bond due on Oct. 25. Another real estate developer, Xinyuan, avoided default on Friday by persuading its bondholders to accept new bonds and cash—worth $205.4 million and $19.1 million respectively—in exchange.
The International Monetary Fund has warned that Evergrande's woes could ripple through the global economy.
"While the authorities have the tools to step in if the situation were to escalate, there is a risk that broader financial stress may emerge, with implications for both the Chinese economy and financial sector as well as global capital markets at the extreme," the IMF said in its Global Financial Stability Report this month, adding that there are "challenging trade-offs in terms of the extent of support to affected financial entities and sectors and the timing of the intervention."
Evergrande has not spoken about the missed payments, but said in a filing to the Shenzhen Stock Exchange that it would pay interest due on Oct. 19 on a five-year, $326-million bond it issued last year.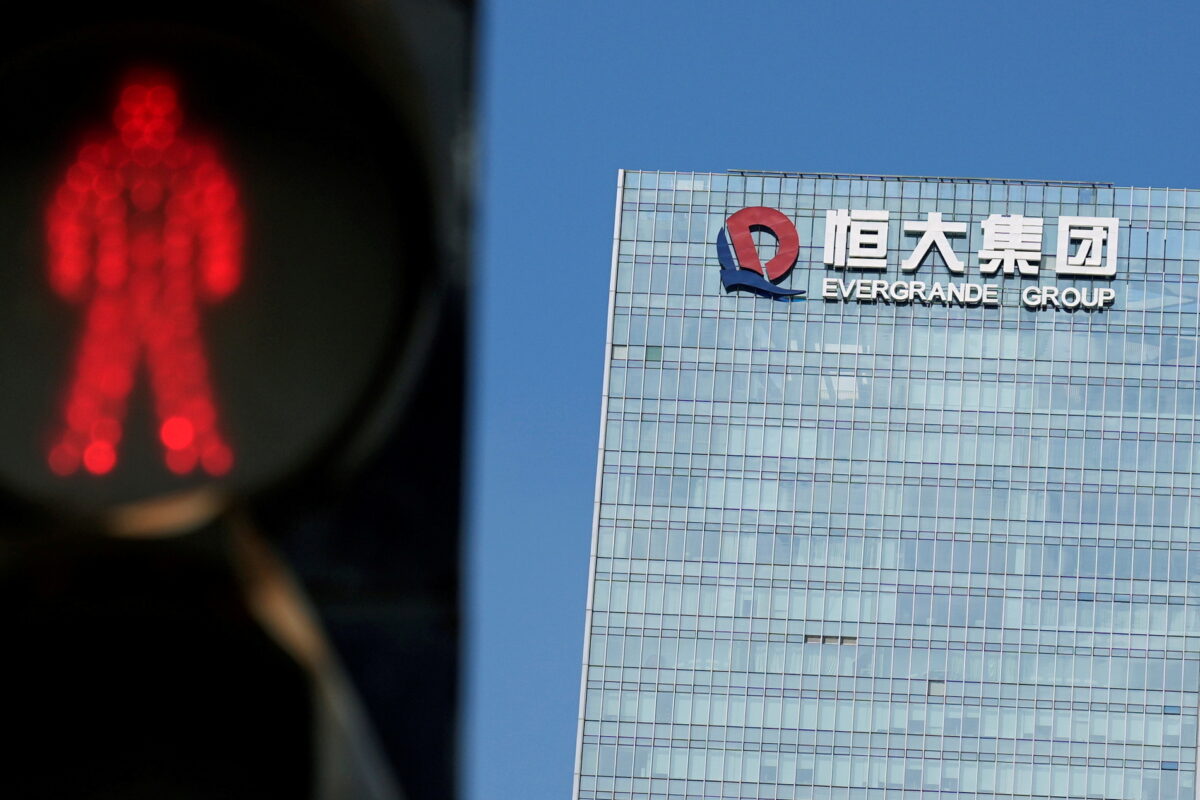 What the Evergrande debacle has revealed is the problems of China's housing sector, which has been on the decline after two decades of "over-expansion," according to Edward Huang, a Taiwanese commentator specialized in the Chinese economy.
With a value of $5 trillion, the Chinese housing sector accounts for around a quarter of the Chinese economy by some metrics. A drop in housing prices could deal a "fatal blow" to the country's economic growth, Huang said.
"China has been trying to prevent the real estate from going into trouble. But the U.S. sanctions and a slowdown in the Chinese economy have put strains on the industry; if there's a sharp drop in housing prices, it will, in turn, add pressure on the economy," he told The Epoch Times. "It's a structural problem—one that is very hard to change."
The future outlook of China's real estate would depend on how long it takes for the housing bubble to burst, Huang said.
If they "slowly squeeze the bubble out," the resulting economic damage may be relatively small, but it would drag on China's economic growth in the long term, according to Huang. Conversely, a rapid bubble bursting would be "tragic" for China, he said.
"Regardless of the scenarios, because real estate is a main driver for the economy, this is the end of China's breathtaking economic boom," he said.
Luo Ya contributed to this report.