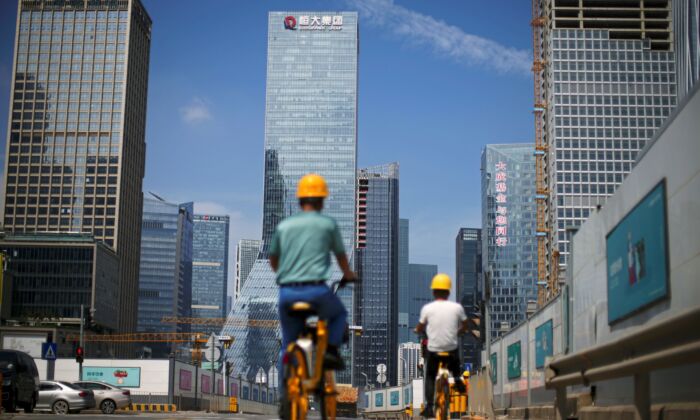 Men ride bicycles past construction sites near the headquarters of China's Evergrande Group in Shenzhen, Guangdong Province, China on Sept. 26, 2021. (Aly Song/Reuters)
Evergrande Crisis Portends a 'Dramatically' Slowing Chinese Economy, Economist Says
The Chinese economy is on the path of a sharp slowdown in the coming years as Beijing wrestles with the Evergrande debt crisis, an economic analyst warned, adding that the coming slump should serve as an awakening to the other parts of the globe.
The country's shrinking economy, however, may not immediately be made apparent, said Leland Miller, the chief executive of economic forecasting firm China Beige Book International. With Chinese leader Xi Jinping's anticipated third term and the Beijing Winter Olympics at stake, the regime will do its utmost to defer any politically damaging news until at least past the next year, he said.
But it's only a matter of time before such an outcome becomes more evident, according to Miller.
"It'll be a political decision" whether this will happen in the next two or three years or over a decade, but "growth is going to slow down, and quite dramatically," Miller said at a recent virtual panel event hosted by the Hudson Institute.
"We are on a one-directional path towards slower growth, no matter what's going on going forward," he said.
A Slowing Economy
China's economy is growing at the slowest pace in a year as the country reckons with power shortages, supply bottlenecks, sporadic outbreaks, and a slowing property sector. The 4.9 percent gross domestic product (GDP) growth during the third quarter was 3 percentage points down from the previous quarter, and worse than the already revised-down projections that analysts gave.

Evergrande, a leading Chinese developer in an industry that contributes almost one-third of the country's GDP, is struggling with more than $300 billion in debt, and has missed three rounds of bond payments in less than a month.
While the risks from a potential imminent collapse may be contained, the crisis is a clear sign that the Chinese growth model is changing for the slower, Miller said.
Unlike the rest of the world, China has a noncommercial financial system in which the government assumes control over all corporate entities, he said.
In the near term, Beijing has the ability to pump out credit to keep the economy going or dictate state firms to absorb outstanding debts, preventing one firm's collapse from morphing into a "Lehman moment" that weighs down the entire financial market. But over the long term, putting capital into zombie firms and "chasing good money after bad" would stagnate growth, according to Miller.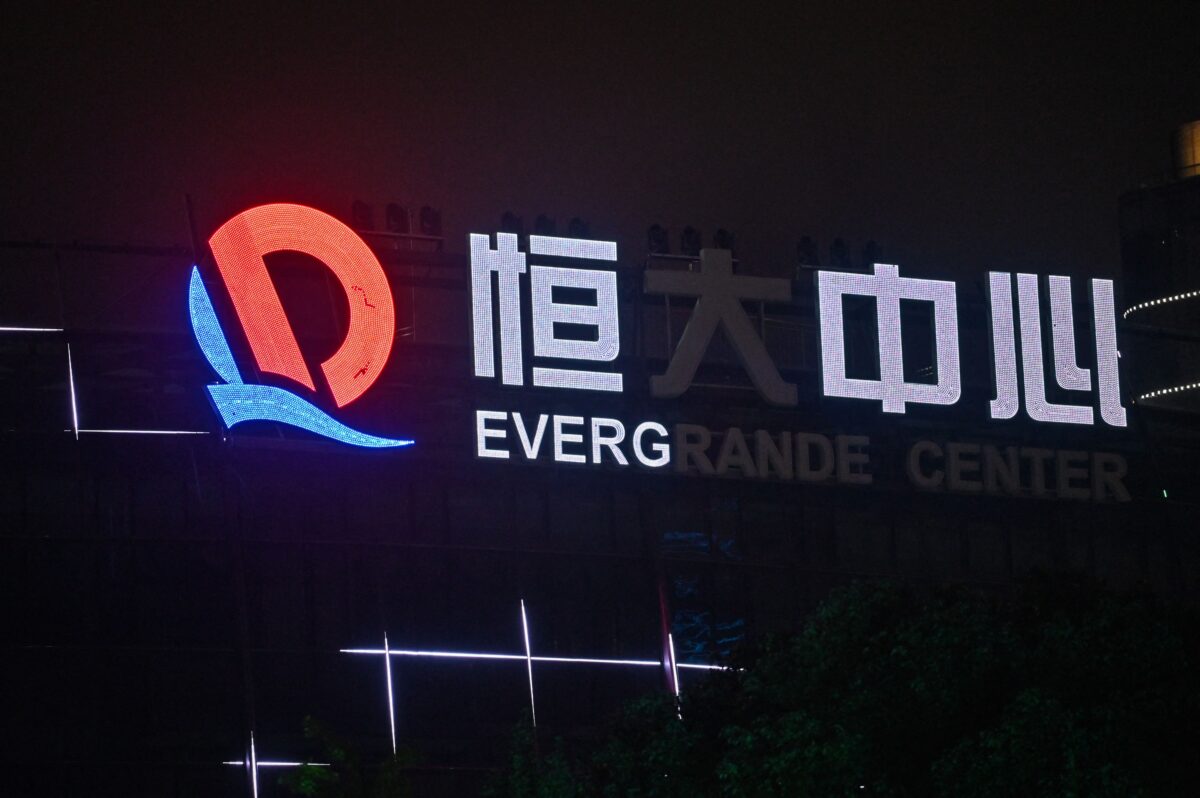 There is no obvious fix. While Chinese state media have for years been promoting a transition to a consumption-fueled economic model from an investment-fueled one, such messaging are merely paying lip service and "the government is not doing anything structurally to make this happen," he said.
One way to create a consumption wave, according to Miller, is to strengthen the currency by giving households more purchasing power.
Authorities could also transfer state assets to private hands and broaden social welfare programs for the needy. But most policies from Beijing are having the opposite effect from driving China toward a consumption-led economy, he added.
'Ponzi Scheme'
Evergrande, Miller said, is essentially operating on a Ponzi scheme. It finances money by promising an ever-growing number of apartments to Chinese families and then uses the money to pay back loans packaged as high-interest investments.
But this borrowing-to-grow model was brought to a halt after authorities put out policy curbs in August 2020, limiting the amount of debt real estate firms can carry.

Whether Evergrande survives or not is irrelevant, according to Miller, but the key question is "to what degree the government will step in" to contain any fallout, and who will take the losses.
Over the coming weeks or months, there may be patriotic Chinese firms "raising their hand and say: 'Let us build those apartments. Let us take those responsibilities. Let us help you pay back these bondholders," he said.
"Is it entirely voluntary? No. … these are actors that act at the government's behest, above purely commercial transactions."
On Oct. 15, a People's Bank of China official declared Evergrande's problems "controllable," breaking Beijing's months-long silence on the issue. Calling the firm's debt crisis an "isolated phenomenon," the official told Evergrande to step up efforts in asset disposal and pledged funding to support the resumption of the firm's construction projects.
Changing Social Compact
Miller sees the deleveraging of the housing sector to be largely in line with the regime's sweeping crackdown on tech giants and Xi's "common prosperity" drive, which he described as part of a changing social compact between the Party and the Chinese public.
While "some of it is certainly the Party taking advantage of very popular social issues to get on the right side of them," the regime is also looking at these firms as "cash cows," he said.
"But broadly speaking, there is enormous wealth in the larger companies in China, and the idea that they are going to remain ring-fence while the Party is desperate for funding, I think that's unrealistic," he said. "By one way or another, they are going to be giving back to the Party."
The cash crunch is now forcing the Party to "get creative," Miller said, noting the authorities have moved to insert Party personnel onto boards of major companies and some local governments are becoming minority shareholders.
Countries that have been reliant on China's enormous "credit tidal waves" to fuel their own economies since the financial crisis should now brace for a paradigm shift, Miller said.
"There was this belief that Chinese growth can defy gravity forever," he said. "They haven't planned for life after that, and they should be welcoming it."
What the Evergrande crisis signals is a different growth model for China, and "it's going to treat some countries around the planet in some very harsh ways if they are not prepared."