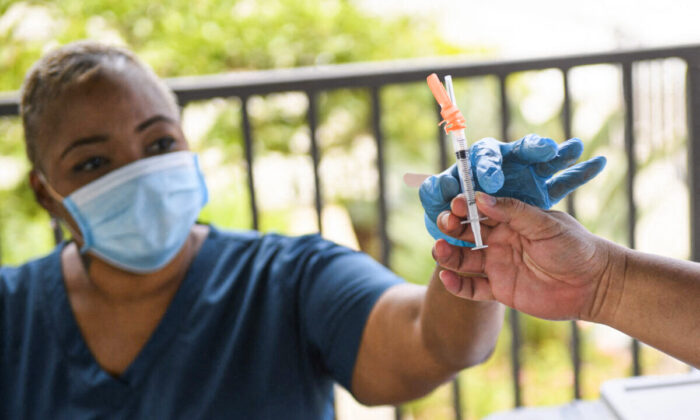 A nurse is handed a dose of the Pfizer COVID-19 vaccine before administering it to a college student at a mobile vaccination clinic at the California State University Long Beach campus in Calif., on Aug. 11, 2021. (Patrick T. Fallon/AFP via Getty Images)
Conservative-Majority Court Chosen to Decide on Biden's Private Employer Vaccine Mandate
An appeals court dominated by Republican-nominated judges was chosen at random Tuesday to deal with the flurry of lawsuits against the Biden administration's private business COVID-19 vaccine mandate.
The U.S. Court of Appeals for the Sixth Circuit was the winner of a lottery that was triggered by multiple appeals courts receiving challenges to the mandate, which was promulgated at the behest of President Joe Biden and would affect every business with 100 or more workers if it's allowed to take effect.
Thirty-four petitions for review, or suits, were filed against the mandate. At least one petition was filed in every single court of appeals in the nation.
Federal law says that challenges to a rule in multiple appeals courts shall lead to a lottery, from which one court is picked. That court then handles the cases, which are consolidated.
The Sixth Circuit oversees Kentucky, Michigan, Ohio, and Tennessee. Active and senior status judges include six nominees of former President Donald Trump, eight nominees of former President George W. Bush, three nominees of former President George H. W. Bush, three nominees of former President Ronald Reagan, five nominees of former President Bill Clinton, and two nominees of former President Barack Obama. That means 20 of the 27 judges were nominated by Republican presidents.
"It's not good news for Biden," Lawrence Gostin, director of the O'Neill Institute for National and Global Health Law, wrote on Twitter.
A Sixth Circuit panel will decide whether to keep in place a stay of the mandate that was ordered on Nov. 6 by three Republican-nominated judges on the U.S. Court of Appeals for the Fifth Circuit.
The judges said the mandate raised "grave statutory and constitutional issues."
In a longer opinion reaffirming the stay, the panel said the mandate imposes a financial burden on businesses, "exposes them to severe financial risk if they refuse or fail to comply, and threatens to decimate their workforces (and business prospects) by forcing unwilling employees to take their shots, take their tests, or hit the road."
Three judges in the newly chosen circuit will be randomly picked to hear the case. Their decision can be appealed to the full court.
The Supreme Court is expected to ultimately rule on whether the mandate is legal.
Plaintiffs argue the mandate is outside the authority of the Department of Labor's Occupational Safety and Health Administration (OSHA), which issued it earlier this month. They say the Biden administration failed to explain why such a mandate is needed now, when the COVID-19 pandemic started in March 2020 and vaccines have been available since late last year.
"This mandate represents the greatest overreach by the federal government in a generation. It is illegal and unconstitutional and we are committed to ensuring it never sees the light of day," Patrick Hughes, president and co-founder of the Liberty Justice Center, and one of the lawyers fighting the mandate, said in a recent statement.
Biden administration officials have defended the vaccination requirement, arguing OSHA can impose measures to keep workers safe.
"If OSHA can tell people to wear a hard hat on the job, to be careful around chemicals, it can put in place these simple measures to keep our workers safe," Ron Klain, the White House chief of staff, said on NBC over the weekend.