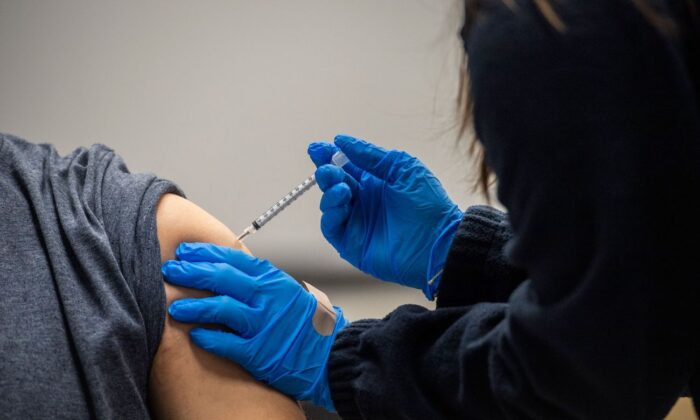 A person is inoculated with a vaccine in Chelsea, Mass., on Feb. 16, 2021. (Joseph Prezioso/AFP via Getty Images)
CDC Investigating Death of Michigan 13-Year-Old After Receiving COVID-19 Vaccine: Spokesperson
The federal Centers for Disease Control and Prevention (CDC) publicly confirmed Friday that it is investigating the death of a 13-year-old boy who died after receiving a COVID-19 vaccine.
The "CDC is aware of a 13-year-old boy in Michigan who died after receiving a COVID-19 vaccination," agency spokeswoman Jade Fulce told the Detroit News. "This case is currently under investigation and until the investigation is complete, it is premature to assign a specific cause of death."
"When a serious adverse event, like death, is reported to the Vaccine Adverse Event Reporting System (VAERS) after COVID-19 vaccination, CDC requests and reviews all medical records associated with the case, including death certificates, and autopsy reports," she added. "While some reported adverse events may be caused by vaccination, others are not and may have occurred coincidentally."
Health officials in Saginaw County, Michigan, are also investigating the case and confirmed that 13-year-old Jacob Clynick died in his sleep after getting a dose of the vaccine, according to Dr. Russell Bush, the medical examiner the county. Bush did not say what vaccine was administered to the children.
The Detroit Free Press reported that Clynick had received the Pfizer COVID-19 vaccine. The cause of death has not been confirmed.
"We are currently looking at toxicology, tissue reports, blood work," said Bush, according to the Detroit News. "There will be discussions with the CDC and Michigan Department of Health and Human Services. Obviously, everyone is concerned with this case. We're doing everything we can as far as testing and looking at potential problems related to the young man's death."
Family members who spoke to the media described how the boy died.
"He passed away in the middle of the night at home," Clynick's aunt, Tammy Burages, told Newsweek this week. According to Burages, the boy suffered from common post-vaccine symptoms including fever, muscle aches, and fatigue.
In an interview with the Free Press, his aunt described the 13-year-old as healthy and said he had no underlying medical conditions.
"There must be something that makes certain kids more susceptible to having a serious heart reaction, and I think Jacob was one of those kids," she said. "So whatever that serious thing was, whatever the underlying health issue was, is something maybe that the autopsy will tell us."
Randy Pfau, the director of the Michigan Institute of Forensic Science and Medicine, told the paper that the investigation into the boy's death could take three to five months to complete. The institute is the contracted medical examiner for Saginaw County.
In June, the CDC's Advisory Committee on Immunization Practices noted a link between mRNA vaccines made by Pfizer and Moderna and a risk of heart inflammation developing in children and young adults. The health officials stressed that the benefits of the vaccine outweigh the risks.
The Epoch Times has contacted the CDC for comment.