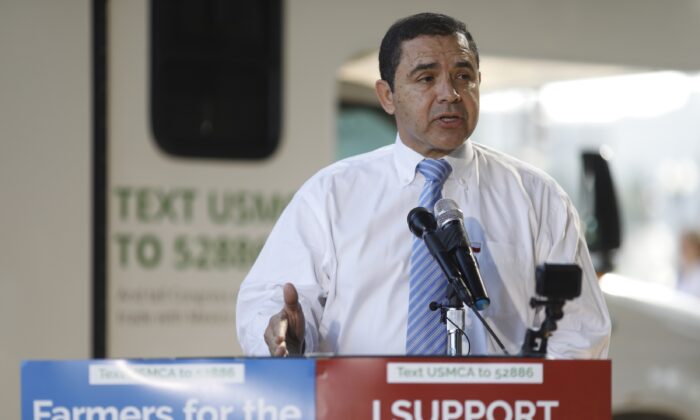 Rep. Henry Cuellar (D-Texas) speaks during a rally in Washington on Sept. 12, 2019. (Tom Brenner/Getty Images)
Border Democrat Shares Another Batch of Leaked Photos From Border Patrol Facilities
Rep. Henry Cuellar (D-Texas), whose congressional district lies along the southern border, shared another batch of photos that were sourced from Border Patrol facilities.
Cuellar aired the photos during a CBS News segment on Sunday morning. The photos showed numerous unaccompanied minors being held in overcrowded conditions, sitting on the floor with foil blankets, and more.
"Border Patrol does not want to keep people there longer than 72 hours," Cuellar told the network. "But there's two issues, two factors coming into play. One, there are so many—there's a large number of people coming across every single day, groups of over 100 individuals coming in into the Border Patrol custody, number one. Number two, the flow through, that is through [Health and Human Services], they're moving and they're trying to get more shelters open."
Cuellar said that adult illegal immigrants are "pretty much returned," adding that 71 percent out of 100,000 people that illegally crossed the border in February were adults.
"Those are being returned, expelled back. Some family units are turned back into Mexico depending on the age of the kids. Thirteen and above are being returned," he remarked.
However, Cuellar said that some 2,000 people who entered illegally have been released into the United States by federal officials without any notices to appear at an Immigration and Customs Enforcement (ICE) court date in the future.
"They're supposed to appear, show up, maybe in 60 days, report to an ICE office," he said. "This is unprecedented."
And these family units, he warned, have placed pressure on border towns, NGOs, and others. Cuellar said that the Mexican government can provide more assistance in dealing with the surge in illegal immigration.
"Certainly myself, the other congressmen down here, Congressman Vicente Gonzalez and of course, Vela, Congressman Filemon Vela, we all want to be helpful to the vice president," he said, referring to two other Democratic lawmakers in Texas. "I'm glad that the president put the vice president in charge, because we need somebody that can look at the comprehensive view of what we're seeing here. It's not a simple solution."
Last week, Cuellar's office sent the first batch of photos from a Donna, Texas, overflow facility to The Epoch Times, which showed crowded conditions and children being kept in plastic pens.