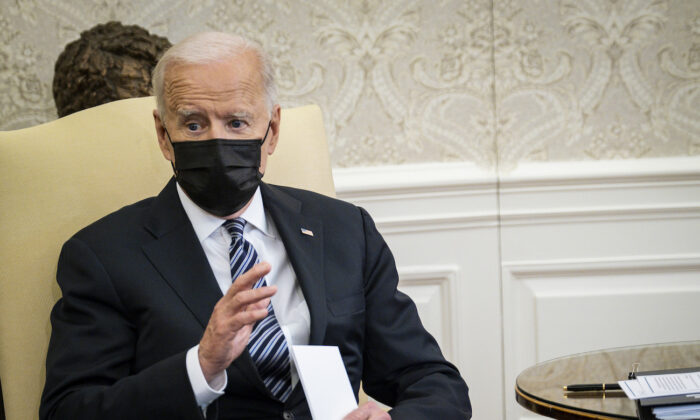 President Joe Biden speaks to the media during a meeting with the Congressional Black Caucus in the Oval Office at the White House in Washington, on April 13, 2021. (Pete Marovich/Pool/Getty Images)
Biden: Surge in Illegal Immigration Along Border Is a 'Crisis,' Will Increase Refugee Cap
President Joe Biden has for the first time described the recent surge of illegal immigrants along the U.S.-Mexico border as a crisis, in the midst of Republican-led pressure to do so.
Over the weekend, Biden was asked by a reporter in Delaware about his policy on refugee admissions.
"We're going to increase the number [of refugees allowed into the country]. The problem was that the refugee part was working on the crisis that ended up on the border with young people," Biden said in response. "We couldn't do two things at once. But now we are going to increase the number."
There has been a public-relations battle on the language surrounding the unprecedented surge at the southern border since Biden took office. Republicans have pressed Biden and White House officials to refer to the situation as a crisis, while his surrogates have refused to do so, preferring to call it a "challenge." Some news outlets, including The Associated Press, have told their editors and reporters not to refer to the surge as a "crisis."
Data provided by U.S. Customs and Border Protection (CBP) showed that agents have apprehended 172,000 illegal aliens along the border in March, leading Brandon Judd, president of the National Border Patrol Council, to say it is "the biggest surge that we've ever seen in the history of the Border Patrol."
Republican lawmakers and governors have accused Biden of facilitating the border crisis by reversing several of President Donald Trump's orders meant to curb illegal immigration, including border wall construction and the "Remain in Mexico" policy. The governments of Mexico and Guatemala have also faulted the Biden White House for sending out what they have said is mixed messaging on immigration.
"I'm nobody to make a judgment here, but I believe in the first weeks in the Biden administration, messages were confusing," Guatemalan President Alejandro Giammattei said in an interview with MSNBC last week. "They were compassionate messages that were understood by people in our country, especially to coyotes [border smugglers] to tell families, 'We'll take the children, the children can go in, and once they're there, the children can call their parents.'"
On April 16, the Biden administration released a memo to keep in place the Trump-era 15,000 cap on refugees who can be allowed into the United States.
Hours later, White House Press Secretary Jen Psaki issued a statement reversing the administration's announcement and asserted that the order was "the subject of some confusion." The statement was posted after left-wing members of Congress, including "Squad" members Reps. Ilhan Omar (D-Minn.) and Alexandria Ocasio-Cortez (D-N.Y.), criticized the administration's move.
The Epoch Times reached out to the Department of Homeland Security (DHS) for comment.