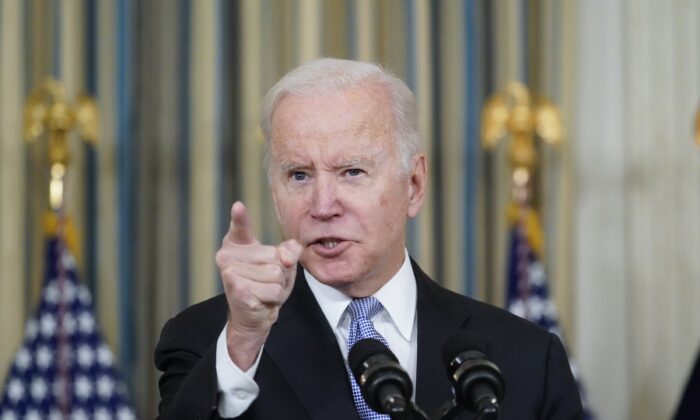 President Joe Biden responds to a question about the U.S. border as he speaks in the State Dinning Room of the White House on Nov. 6, 2021. (Alex Brandon/AP Photo)
Biden: Illegal Immigrants Separated During Trump Administration 'Deserve' Compensation
Illegal immigrant families who were separated after crossing the border during the Trump administration should be paid, President Joe Biden said on Nov. 6.
"If, in fact, because of the outrageous behavior of the last administration, you were coming across the border, whether it was legal or illegal, and you lost your child—you lost your child—it's gone—you deserve some kind of compensation, no matter what the circumstance," Biden told reporters in Washington.
The Biden administration is currently negotiating a settlement with the American Civil Liberties Union (ACLU) and other legal groups who represent illegal immigrant families who were separated during the Trump administration, the Department of Justice confirmed to media outlets.
During a Nov. 3 briefing, Biden confused some when he reacted strongly after being presented with reporting that the administration could pay each illegal immigrant up to $450,000 each or up to $1 million per family.
"Do you think that that might incentivize more people to come over illegally?" he was asked.
"If you guys keep sending that garbage out, yeah. But it's not true," Biden said.
After confirming that the reporter had asked about $450,000 payments per person, he said, "That's not going to happen."
The ACLU then issued a statement saying that Biden "may not have been fully briefed" about negotiations with the Department of Justice, and a White House spokeswoman said on Nov. 4 that the illegal immigrants could receive government payouts.
Biden was stating that the figure of $450,000 wasn't accurate, according to spokeswoman Karine Jean-Pierre.
Biden made the same claim on Nov. 6.
"The number is what I was referring to," he said.
As to the level of compensation that each illegal immigrant should get, Biden said he had "no idea."
Critics have spoken out against the planned payouts, which would be larger than payments made to family members of U.S. troops who are killed in action and the surviving family members of police and firefighters killed in the line of duty.
"The administration's open border policies are incentivizing this surge of illegal immigration. If this payout plan moves forward, it will be a clear message that breaking our immigration laws will not only be tolerated but also be rewarded," Rep. Ashley Hinson (R-Iowa) wrote on Twitter on Nov. 5.
"Not only would these settlements be breathtakingly unjust and unwise, but they reinforce the conditions that make it easy for the cartels to recruit more people to undertake the treacherous journey to our southwest border, and serve only to encourage more illegal immigration," a group of senators recently wrote to the president.
The Biden administration has presided over a historic surge in illegal immigrants crossing the southern border, breaking a fiscal-year record, while U.S. Customs and Border Protection is on track to break the record for most apprehensions in a single calendar year.
Biden's reversal or alteration of Trump-era policies such as the Migrant Policy Protocols have sparked the surge, some experts say. The Biden administration has accused the Trump administration of dealing cruelly with illegal immigrants and has claimed that it takes time to overhaul and improve upon the immigration system.