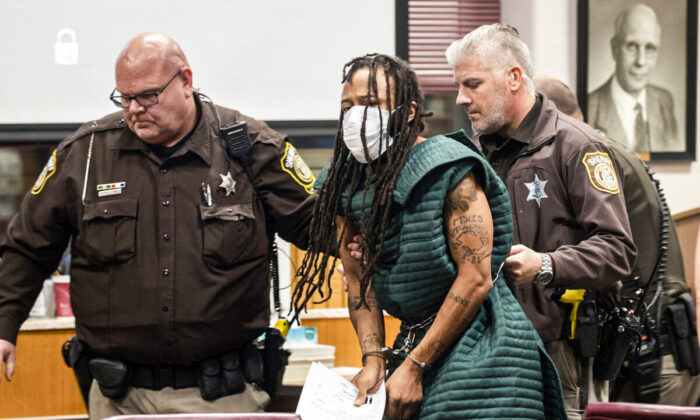 Darrell Brooks is escorted out of the courtroom after making his initial appearance in Waukesha County Court in Waukesha, Wis., on Nov. 23, 2021. (Mark Hoffman/Milwaukee Journal-Sentinel via AP, Pool)
Alleged Wisconsin Parade Killer Darrell Brooks Charged With 5 Homicide Counts, Bail Set at $5 Million
A Wisconsin commissioner on Tuesday set the bail for the man accused of intentionally killing six people and injuring dozens of others at $5 million, declaring the allegations "shocking."
Darrell Brooks, 39, a convicted felon with a long history of criminal charges, allegedly rammed his red Ford Escape into a Christmas parade in Waukesha over the weekend.
Prosecutors opened the preliminary hearing on Nov. 23 by reading all the charges Brooks has faced in three states, including Wisconsin. The charges include running over the mother of his child with the same SUV and several domestic battery counts. Brooks also jumped bail on multiple occasions.
"There are no words to describe the risks that this defendant presents to the community," one prosecutor, Susan Opper, told the court.
Brooks' public defenders offered little pushback to the suggested $5 million bail, only asking Waukesha County Court Commissioner Kevin Costello to take into account that he is "financially indigent."
The commissioner said he reviewed the criminal complaint, which outlined five counts of first-degree intentional homicide and revealed that two law enforcement officers tried stopping Brooks from driving into the crowd.
Both officers said it became clear to them that what happened was not an accident. One described it as being "an intentional act to strike and hurt as many people as possible," a view backed up by at least one witness.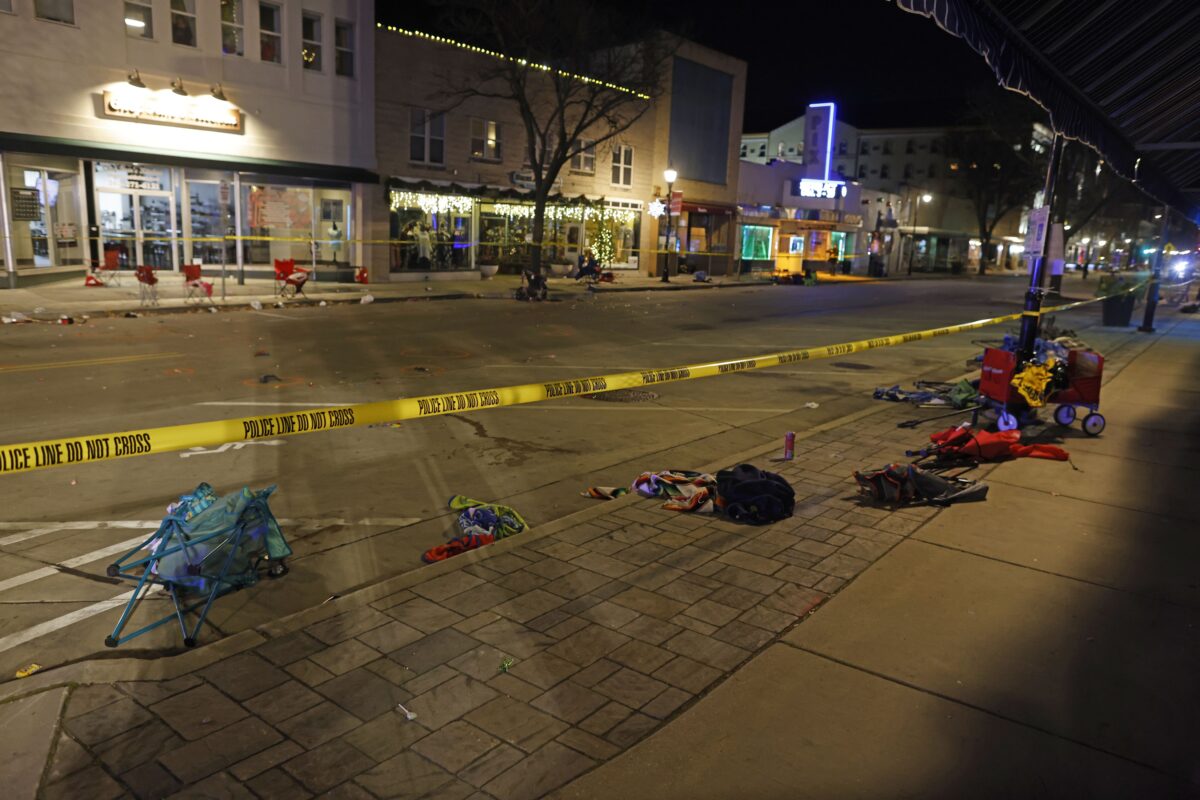 "The nature of this offense is shocking. Actually, the detail I was not expecting here today that two detectives … not only tried to stop this but rendered an opinion that this was an intentional act," the commissioner said.
"You're presumed innocent, sir, but that's what the allegations are. I've not seen anything like this in my very long career. It seems to be a very strong case for the state," he added.
The $5 million bail, the commissioner said, was extraordinary, but warranted.
The bail took into account Brooks' criminal history, the number and gravity of the offenses, the strength of the evidence, and the fact he was out on bail in two other cases.
Brooks posted $500 bail in one case in February and $1,000 bail in another case on Nov. 11.
The Milwaukee County District Attorney's Office has blamed the state for the latter bail amount and vowed to conduct an investigation. John Chisholm, who heads the office, has in the past championed the office's efforts to relax bail requirements and divert some offenders to rehabilitation instead of prison.
Victims of the crash and relatives of the victims were told they could speak during the hearing under Marcy's Law, but none came forward.
"Those smallish bails that you were out on didn't do very well," Costello told the defendant.
Brooks was taken into custody on Sunday.
Waukesha is about 19 miles west of Milwaukee.
Brooks appeared in court wearing a protective vest and a blue face mask. He did not speak. He could be heard crying after prosecutors announced a sixth person, a child, died from the attack.
Prosecutors plan on filing another intentional homicide count and are also considering entering additional counts.