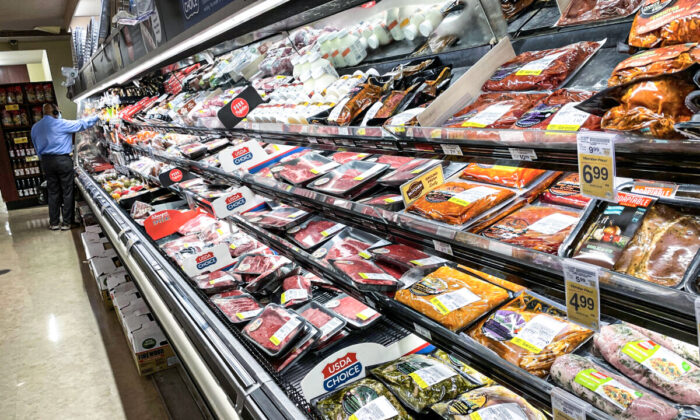 A customer shops for meat at a Safeway store in San Francisco, Calif., on Oct. 4, 2021. (Justin Sullivan/Getty Images)
Analyst: Inflation Crisis One of the 'Worst' in Modern History
The managing director of a retail consultant firm said the soaring inflation crisis is one of the "worst" in modern history because it escalated quickly.
Strategic Resource Group managing director Burt Flickinger told Fox Business on Thursday that the current inflation crisis "was not a crisis 12 months ago."
"This is the biggest emerging economic crisis for consumers for over a decade," Flickinger said. "The average cost of living for a family of four is up about $5,000 a year so now it's a choice between heating homes, feeding families, or giving gifts."
Flickinger added that now, "you can't do all three" due to "the massive amount of out-of-stocks," which are "the highest in over 70 years."
The consumer price index jumped 0.9 percent last month after climbing 0.4 percent in September, the Labor Department said earlier this week. The largest gain in four months hoisted the annual increase in the CPI to 6.2 percent. That was the biggest year-on-year rise since November 1990 and followed a 5.4 percent advance in September.
Food prices advanced 0.9 percent, mostly driven by meat, eggs, fish, vegetables, cereals, and bakery products. It also costs more to eat away from home. But prices for alcoholic beverages fell.
"Risks are clearly shifting toward U.S. inflation remaining elevated longer than previously thought, but that doesn't mean that it's permanent," said Ryan Sweet, a senior economist at Moody's Analytics in West Chester, Pennsylvania. "The Fed could face a situation where higher consumer prices begin to weigh on consumer spending, reducing GDP growth."
The Internal Revenue Service (IRS) on Wednesday also announced inflation adjustments for 2022 pertaining to various subsections of the tax code, including tax brackets and the standard deduction.
Rising prices are already proving to be politically perilous for President Joe Biden and congressional Democrats, triggering a statement from Biden on Thursday that he will work with the National Economic Council to reduce energy costs.
"Today's report shows an increase over last month. Inflation hurts Americans pocketbooks [sic], and reversing this trend is a top priority for me," Biden said in a statement on Nov. 10. "The largest share of the increase in prices in this report is due to rising energy costs."
Later, Biden urged Congress to approve his "Build Back Better" agenda, coming after the House approved a Senate-passed $1.2 trillion infrastructure bill last week. A larger, $1.75 trillion social spending package is currently being debated in Congress.
"We know that the recovery from the pandemic will not be linear," Biden's Council of Economic Advisers (CEA) wrote on Twitter, acknowledging the increase in prices. The CEA "will continue to monitor the data as they come in," the office said.
Reuters contributed to this report.