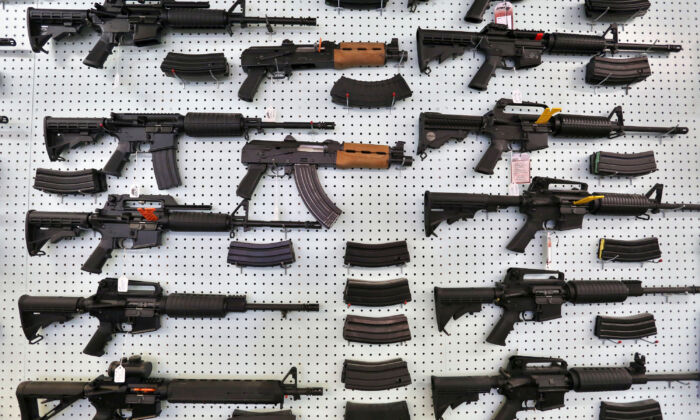 Guns are displayed for sale at Dragonman's, an arms seller east of Colorado Springs, Colo., on July 20, 2014. (Brennan Linsley/AP Photo)
22 States Join Lawsuit Urging Federal Court to Rule Against California's Large-Capacity Gun Magazine Ban
A coalition of 22 states led by Republican attorneys general has called on the U.S. 9th Circuit Court of Appeals to rule against California's attempt to ban gun magazines that hold more than 10 bullets.
"California politicians are at it again, convinced that their agendas should override the Constitutional rights of the people," Arizona Attorney General Mark Brnovich, a Republican said in a statement, in announcing the filing of an amicus brief.
"Attempts to undermine the Second Amendment or any of our civil rights and liberties should be met with deep skepticism and vigorous opposition."
Republican Louisiana Attorney General Jeff Landry, who is leading the legal challenge along with Brnovich, said in a statement that "radical leftist lawmakers in California and beyond" are trying "to legislatively overrule our constitutional rights."
California in 2016 banned so-called "high-capacity" magazines holding 10 or more bullets. A federal judge later ruled that the move is unconstitutional, before a three-judge panel on the 9th Circuit upheld that judge's ruling. In February, the 9th Circuit's full 11-member panel agreed to rehear the case.
"Large-capacity magazines have been used in many horrific mass shootings around the country, including right here in California," then-California Attorney General Xavier Becerra, a Democrat, stated in February after the court agreed to rehear the case. "That's why today's decision by the Ninth Circuit to rehear this case is critical; it is the next step in the defense of our state's commonsense gun laws."
The attorney general's office then said that the higher-capacity magazines "have been used in numerous horrific mass shootings throughout the country, including the tragic shooting at the Borderline Bar and Grill in Thousand Oaks in 2018 and the shooting at the Inland Regional Center in San Bernardino in 2015." California banned the manufacture of such magazines in 2000.
But in the brief, the states argued that the right to bear arms protects people in high-crime or disadvantaged areas where law enforcement might be unable to respond in a timely manner.
"California should not be allowed to invade its own citizens' constitutional rights, and this Court should not imperil the rights of citizens in this Circuit and other states with its analysis," the brief stated. They ultimately argued that California's law violates the Constitution's Second Amendment.
The move comes after President Joe Biden and top congressional Democrats have said that more action is needed on gun control, including a federal ban of magazines holding more than 10 rounds, after shootings in Atlanta and Colorado last month.
Biden also sought the banning of so-called assault weapons and told reporters at the White House that when he was a senator, he was able to get gun-control measures passed, including the 1994 federal assault weapons ban that expired 10 years later. The term "assault weapons" has been assailed by gun rights groups, who have said the term is purposefully nebulous while pointing out that states have individual definitions and requirements for what constitutes an "assault weapon."
The case is Duncan v. Rodriquez, No. 19-55376.