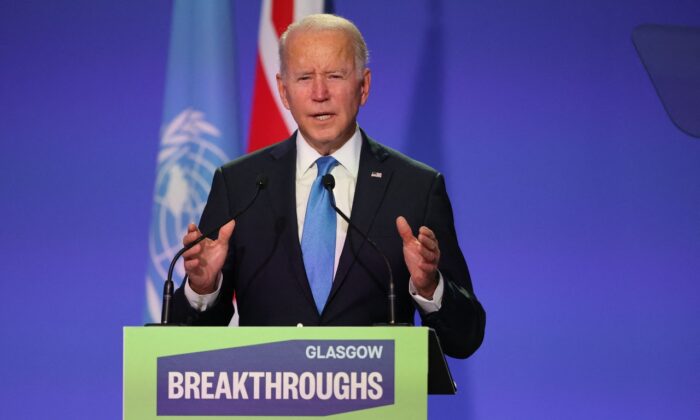 U.S. President Joe Biden speaks during the World Leaders' Summit "Accelerating Clean Technology Innovation and Deployment" session at the COP26 Climate Conference at the Scottish Event Campus in Glasgow, Scotland, on Nov. 2, 2021. (Steve Reigate/AFP via Getty Images)
11 States File Lawsuit Against Biden's Vaccine Mandate for Businesses
Attorneys general in 11 states filed a lawsuit Friday against President Joe Biden's administration in a challenge against a new vaccine mandate for workers and firms with 100 or more employees.
The lawsuit, filed in the Missouri-based 8th U.S. Circuit Court of Appeals, argued that only states have the power to compel vaccinations, not the federal government.
Arguing that the "mandate is unconstitutional, unlawful, and unwise," the attorneys general led by Republican Missouri Attorney General Eric Schmitt said that over a century, the U.S. Supreme Court has recognized that policies on compulsory vaccination lie within the police powers of the States, and that '[t]hey are matters that do not ordinarily concern the national government.'"
On Thursday, the Department of Labor's Occupational Safety and Health Administration (OSHA) published a rule that requires the companies to either have their workers get the COVID-19 vaccine or submit to weekly testing or face hefty fines of tens of thousands of dollars. The mandate, slated to go into effect on Jan. 4, will affect tens of millions of private-sector employees.
In a statement announcing the move, Biden said that he wishes that he didn't have to resort to using the sweeping mandate to compel more vaccinations across the United States. However, he argued that it's the best way to push the United States out of the pandemic.
"As we've seen with businesses—large and small—across all sectors of our economy, the overwhelming majority of Americans choose to get vaccinated," Biden said in the statement. "There have been no 'mass firings' and worker shortages because of vaccination requirements. Despite what some predicted and falsely assert, vaccination requirements have broad public support."
However, according to Friday's lawsuit, Schmitt and others said the "federal government lacks constitutional authority under its enumerated powers to issue this mandate." Arizona, Nebraska, Montana, Arkansas, Iowa, North Dakota, South Dakota, Alaska, New Hampshire, and Wyoming joined Missouri's lawsuit.
Schmitt added that Missouri has about 3,443 private employers who could be impacted by the federal vaccine requirement, with nearly 1.3 million employees.
The attorney general said the lawsuit is designed "to protect personal freedoms, preserve Missouri businesses, and push back on bureaucratic tyrants who simply want power and control."
The Justice Department hasn't immediately responded to a request for comment on the lawsuit.
The lawsuit isn't the first and likely won't be the last against Biden's mandate. Just hours after OSHA unveiled the rule, several other states and organizations either filed lawsuits or announced they would file lawsuits against the administration.
The Daily Wire, a media company fronted by commentator Ben Shapiro, filed a challenge in federal court on Thursday against the mandate. Firms in Ohio and Michigan represented by an advocacy law firm and several others also filed lawsuits.
Attorneys general in Ohio, Kentucky, and Tennessee announced they would take legal action against Biden's mandate targeting federal contractors. The White House also until Jan. 4 delayed its mandate that all federal contractors get vaccinated, although unlike the requirement for private businesses, there is no option for workers to submit to weekly testing.
"Unless we intervene, federal contractors in Tennessee will be forced to make sense of the mandate's many inconsistencies that require their entire workforce be vaccinated or face potential blacklisting and loss of future federal contracts," Tennessee Attorney General Herbert H. Slatery III said in a statement.