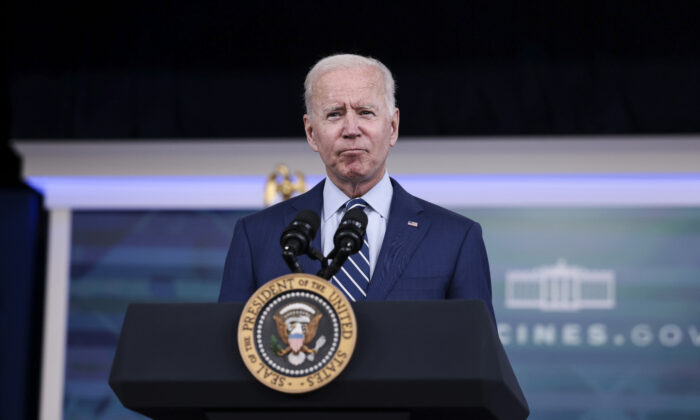 U.S. President Joe Biden delivers remarks ahead of receiving a third dose of the Pfizer/BioNTech COVID-19 vaccine in the South Court Auditorium in the White House on Sept. 27, 2021. (Anna Moneymaker/Getty Images)
White House: Some Federal Workers With Valid Vaccine Exemptions Could Still Be Fired
White House officials said President Joe Biden's COVID-19 vaccine mandate for all federal workers and contractors allows for some religious or medical exemptions, but agencies may still fire certain employees where no other safety protocols are enough.
"There may be circumstances in which an agency determines that the nature of an employee's job responsibilities requires heightened safety protocols if they are provided with a legally required exception," according to new guidance posted on the federal government's Safer Federal Workforce Task Force website this week. "In some cases, the nature of the employee's job may be such that an agency determines that no safety protocol other than vaccination is adequate. In such circumstances, the agency may deny the requested accommodation."
The task force said that in most cases, unvaccinated employees would have to maintain social distancing, submit to regular testing, and wear masks. But some agencies may require more measures in some cases, depending on the employee's job.
"Determining whether an exception is legally required will include consideration of factors such as the basis for the claim; the nature of the employee's job responsibilities; and the reasonably foreseeable effects on the agency's operations, including protecting other agency employees and the public from COVID-19," the task force said in the update.
In creating a medical or religious exception, employees have to sign and declare their responses are accurate, according to a sample template provided by the task force.
"Any intentional misrepresentation to the federal government may result in legal consequences, including termination or removal from federal service," one of the forms read.
For those seeking (pdf) a religious exemption, the form asks employees to say why they are objecting to receiving the COVID-19 vaccine.
"To be eligible for a possible exception, you must first establish that your refusal to be vaccinated is based upon a sincere belief that is religious in nature," the sample form stated. "A refusal to be vaccinated does not qualify for an exception if it is based upon personal preference, concerns about the possible effects of the vaccine or political opinions."
White House officials confirmed earlier this month that all executive branch employees and contractors need to be fully vaccinated by Nov. 8 with any of the three vaccines.
In a memo (pdf) released on Oct. 1, the White House's  Office of Personnel Management (OPM) advised federal workers shouldn't wait until the last minute to get vaccinated because "other events often interfere with even well-laid plans."
"Employees who refuse to be vaccinated or provide proof of vaccination are subject to disciplinary measures, up to and including removal or termination from Federal service," said the letter. "The only exception is for individuals who receive a legally required exception pursuant to established agency processes."
On Sept. 9, Biden announced sweeping measures targeting the federal government, the health care sector, and private businesses. Meanwhile, a number of Republican-led states and federal workers filed lawsuits against the Biden administration, arguing that his mandate is tantamount to federal overreach.
A group of federal employees filed a lawsuit against Biden in September, arguing that his executive order unfairly affects those of Christian faith. Other plaintiffs argued that the vaccine mandate doesn't make any mention of "natural immunity" granted by a previous COVID-19 infection.
COVID-19 is the disease caused by the CCP (Chinese Communist Party) virus.