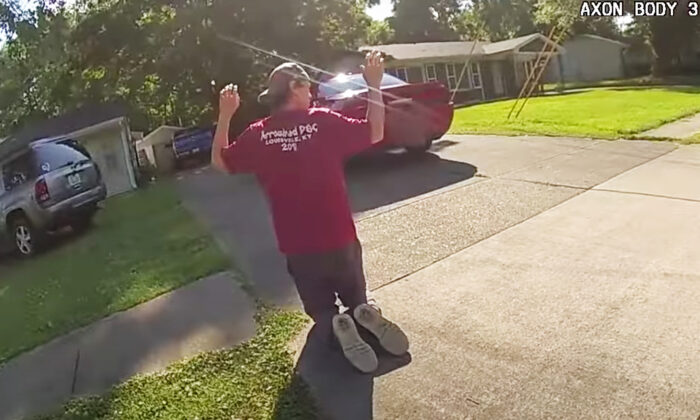 The suspect, Robby Wildt, 40, allegedly grabbed a 6-year-old girl from her bicycle, tossed her into his car by the collar, and drove away. (Courtesy of Louisville Metro Police Department)
Video: Bodycam Shows Officer Rescuing 6-Year-Old Allegedly Kidnapped by Stranger
Bodycam footage has captured the Kentucky police officers apprehending an alleged kidnapper and rescuing a 6-year-old girl from his car.
On July 2, a father and son reported a stranger pulling up and jumping out of his vehicle in their Valley Station, Louisville neighborhood, grabbing a little girl from her bicycle, tossing her into his car by the collar, and driving away.
The witnesses leapt into their own car and followed in hot pursuit, calling 911 on the way.
In a statement shared with The Epoch Times, Officer Beth Ruoff of Louisville Metro Police Department (LMPD) said the pair provided the police with "a very detailed" account of the event, including a description of the red Dodge Challenger and its driver, and even deciphering a partial license plate.
(Courtesy of Louisville Metro Police Department)
Several officers from LMPD's third division were quickly dispatched, followed by K-9 and airborne units to hasten the rescue, according to the statement.
Officer Jason Burba and Sergeant Joe Keeling secured a happy ending within just 30 minutes.
Burba's bodycam recorded footage of the gut-wrenching rescue as he ran toward the vehicle, gun raised, opening the door himself and lifting the crying child into his arms.
Clinging to her rescuer, the girl wept, "I want my Daddy!" She was shortly reunited with her family.
(Courtesy of Louisville Metro Police Department)
It was Keeling, also a father, who stopped the Dodge and apprehended the suspect, Robby Wildt, 40. Keeling's bodycam captured footage as Wildt was cuffed.
Wildt was taken into custody, charged with kidnapping a minor—to which he pleaded not guilty—and is being held on a $1 million bond, reported WAVE 3 News.
"It's like the world stops … every second feels like hours," Burba told Wave 3 News. Himself a father of four, Burba, who retrieved the terrified 6-year-old from the car, later said he had no idea what he might find as the passenger window's tint was so dark.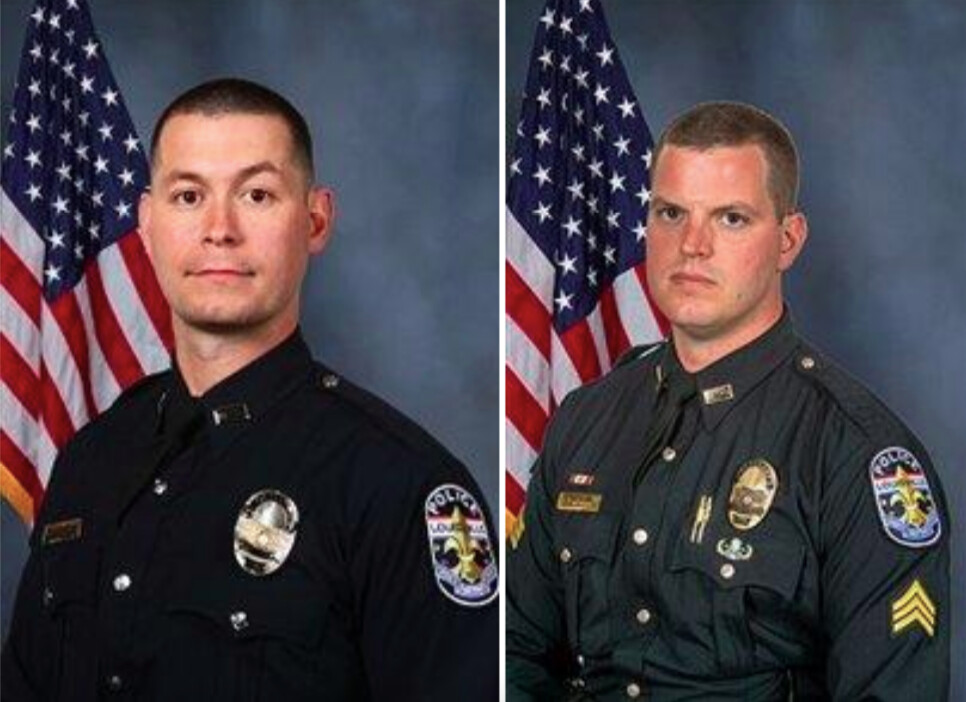 Wildt had no familial relationship or connection to the little girl. According to LMPD's incident report shared with The Epoch Times, Wildt said he "felt bad" after seizing the child and was planning to return her out of fear he "may hurt her." He told the police that seeing the girl crying he tried to console her and realized "what he was doing was wrong."
Stranger kidnappings are rare, Ruoff told The Epoch Times. Most reported kidnappings are the result of "custodial issues," Ruoff said.
On behalf of LMPD, Ruoff encouraged parents not to be fearful, but to take the educational opportunity to remind their children of the very real presence of "stranger danger."
"It is important to talk to your kids about any adult who tries to use a ruse to lure them to their vehicles or away from public view," Ruoff said.
Witness Prentiss Weatherford, who made the initial 911 call with his father, told WHAS 11 that he knew in his gut that his neighbor was being kidnapped. "You just don't grab a little kid like that and throw them in your car," he told the outlet.
"I never thought I'd be a witness to something like that," he said. "I'm glad I was, sad to say. But I'm glad I was to chase after him, and make sure she was safe."
Share your stories with us at emg.inspired@epochtimes.com, and continue to get your daily dose of inspiration by signing up for the Epoch Inspired newsletter at TheEpochTimes.com/newsletter