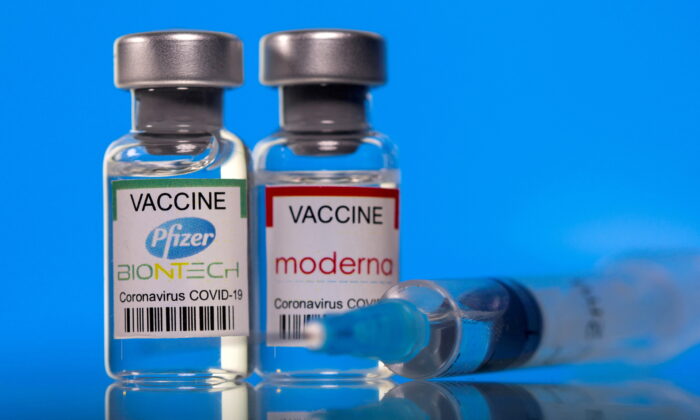 Vials with Pfizer-BioNTech and Moderna coronavirus disease (COVID-19) vaccine labels are seen in this illustration picture taken March 19, 2021. (Dado Ruvic/Illustration/Reuters)
UK Study Says CCP Virus Infection Rates 3 Times Lower for Double Vaccinated
Analysis of recent swab tests in England suggests that fully-vaccinated people are three times less likely to test positive for COVID-19 than unvaccinated people, the UK government has said.
The government-backed REal-time Assessment of Community Transmission study-1 (REACT-1) published its latest report on Wednesday.
The preprint report (pdf), not yet peer-reviewed, said that prevalence among those who reported being unvaccinated was three-fold higher than those who reported being fully vaccinated, but 44 percent of infections occurred in fully vaccinated people.
The REACT-1 study, one of England's largest studies into CCP (Chinese Communist Party) virus infections,  tests between 120,000 and 180,000 people each month.
The round 13 report is based on data from 98,233 volunteers swabbed between June 24 and July 12.
Overall, 527 people (0.63 percent or one in 160 people) tested positive for the CCP virus, meaning both E gene and N gene were detected in a sample or N gene was detected with cycle threshold (Ct) value less than 37.
Data suggests the prevalence among unvaccinated participants was at 1.21 percent, three-fold greater comparing to the prevalence among vaccinated participants (0.4 percent).
The report said among all positive tests, the median Ct value (the number of cycles needed to boost the viral signal) was 27.6 for vaccinated participants, and 23.1 for unvaccinated participants, suggesting vaccinated people are less likely to pass the virus on to others.
The report said that vaccine effectiveness against infection among 18–64-year-olds was estimated to be 49 percent.
When only "strong positives" are considered (cycle threshold value <27), the estimated vaccine effectiveness rose to 58 percent.
Prevalence also varies among different ethnicity, household size, and areas.
The highest prevalence is among black ethnicity, at 1.21 percent, comparing to 0.59 percent among white ethnicity. Prevalence among households of six or more people was 1.35 percent while households of one of two people had a prevalence of 0.44 percent. The prevalence in the poorest neighbourhoods was 0.82 percent while it was 0.48 percent in the most well-to-do neighbourhoods.
Professor Paul Elliott, director of the REACT programme from Imperial's School of Public Health, said the findings confirm that "both doses of a vaccine offer good protection against getting infected."
"However we can also see that there is still a risk of infection, as no vaccine is 100 percent effective, and we know that some double vaccinated people can still become ill from the virus," he added.