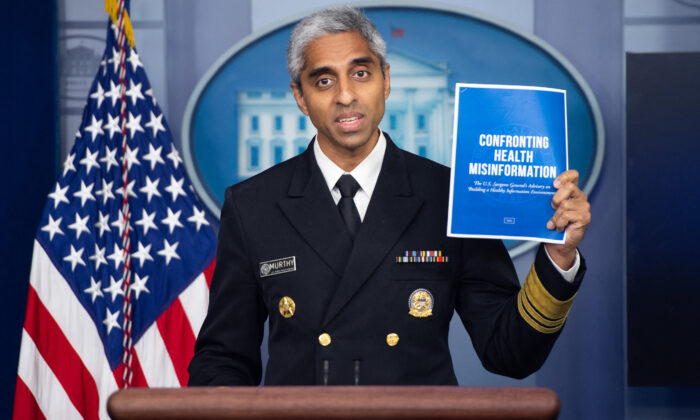 Surgeon General Dr. Vivek H. Murthy speaks during a press briefing in the Brady Briefing Room of the White House on July 15, 2021. (Saul Loeb/AFP via Getty Images)
Surgeon General Doesn't Rule Out Extending Vaccine Mandate to Small Businesses
U.S. Surgeon General Dr. Vivek Murthy says the Biden administration hasn't ruled out extending the COVID-19 vaccine mandate for private businesses to employers with fewer than 100 workers.
On Nov. 4, the Department of Labor published its emergency temporary standard rule stipulating that businesses with 100 or more workers mandate vaccinations or weekly COVID-19 testing as well as mask-wearing for those who aren't vaccinated. Fines could reach tens of thousands of dollars per violation.
When asked during a Nov. 7 ABC News interview about whether that policy, which is slated to go into effect on Jan. 4, would be extended to smaller businesses, Murthy said that "certainly nothing is off the table." However, he said the "focus right now is implementing the current rule."
Just hours after the administration published its rule, lawsuits began to pile up. More than two dozen states have sued or have joined lawsuits against the White House's mandate, while a number of private businesses, individuals, and organizations have also taken legal action.
The states have argued that the mandate runs afoul of the Constitution and that the Occupational Safety and Health Administration (OSHA), the agency which is to enforce the rule, lacks the authority to do so.
On Nov. 6, a U.S. appeals court temporarily blocked the vaccine mandate, although White House officials said over the weekend that they would defend it in court.
"Because the petitions give cause to believe there are grave statutory and constitutional issues with the mandate, the mandate is hereby STAYED pending further action by this court," a panel of the U.S. Court of Appeals for the 5th Circuit wrote in a brief ruling.
White House chief of staff Ron Klain, a key confidant of President Joe Biden, told NBC News' "Meet the Press" on Nov. 7 that he believes the administration will prevail in enforcing the private business mandate, which would potentially affect tens of millions of private-sector employees.
"I'm quite confident that when this finally gets fully adjudicated, not just a temporary order, the validity of this requirement will be upheld. It's common sense, Chuck, if OSHA can tell people to wear a hard hat on the job, to be careful around chemicals, it can put in place these simple measures to keep our workers safe," Klain said.
Also on Nov. 4, the Biden administration extended the deadline for federal contractors and most health care facilities to mandate COVID-19 vaccines until Jan. 4. Federal contractors and health care workers employed at Medicare- or Medicaid-funded workplaces don't have the option to submit to weekly testing but can apply for religious or medical exemptions.