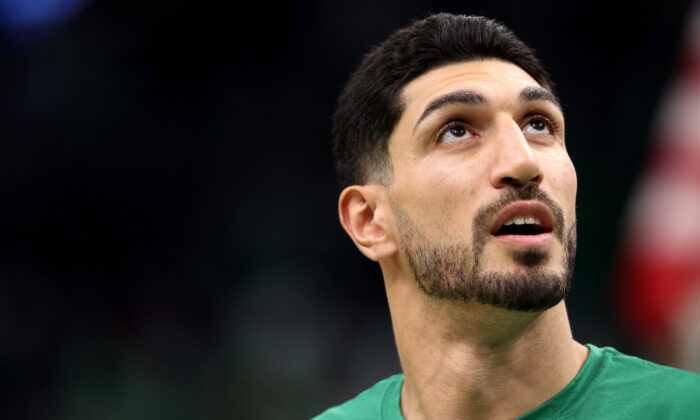 Enes Kanter of the Boston Celtics looks on before the Celtics home opener against the Toronto Raptors at TD Garden in Boston on Oct. 22, 2021. (Maddie Meyer/Getty Images)
'Stop Murdering for Organs': NBA Player Tells Beijing to End Forced Organ Harvesting
Enes Kanter, a center for the NBA's Boston Celtics, on Nov. 16 slammed Beijing for its industrial-scale killing of prisoners of conscience for their organs, doubling down on his social media crusade against the regime over its wide-ranging human rights abuses.
"Stop murdering for organs. It's a crime against humanity," the Turkish player wrote in a post that appeared on his Twitter, Facebook, and Instagram.
Kanter's posts include photos of a new pair of customized sneakers conveying the same message. Painted on one sneaker is a doctor clad in blue, gripping an organ that's still dripping blood. A liver, kidney, and heart are depicted on the toe of the shoe; each organ has a price tag attached. The sneaker is dotted with painted bloodstains throughout.
"Stop organ harvesting in China," reads a slogan in bold letters painted on the side of one shoe.
Detailed reports indicating that the regime has been harvesting organs from living prisoners and selling them on the transplant market first emerged in 2006. Several whistleblowers also approached The Epoch Times the same year to shed light on the illicit practice.
The Chinese Government engages in forced organ harvesting.

Ethnic & religious groups,
Tibetans,Uyghurs in death camps, Christians, Falun Gong are all targeted

Liver
Kidney
Heart

Stop murdering for organs.
It's a crime against humanity

End forced organ harvesting in China,
NOW! pic.twitter.com/jYfepCopIb

— Enes Kanter (@EnesKanter) November 16, 2021
In 2019, a London-based people's tribunal confirmed the long-standing allegations after a year-long investigation. It found that Beijing had engaged in forced organ harvesting for years "on a significant scale," and continues to do so. The main source of the organs, according to the tribunal, were practitioners of Falun Gong, a spiritual discipline based on the principles of truthfulness, compassion, and forbearance, which has been brutally persecuted in China since 1999.
Fear of economic retaliation has in part caused the medical and international community to turn a blind eye to the abuses, according to some medical experts.
Weldon Gilcrease, a gastrointestinal specialist at the University of Utah, said that when he tried to discuss the tribunal's finding with his school's health care system, the leaders expressed reservations, fearing that if they spoke out, China would stop the flow of international students to the university.
"You definitely get support on an individual level, but when you try to raise that to the level of the institution, that's where it gets deafeningly silent," Gilcrease told The Epoch Times in September.
Corporate America has also shown reluctance to speak out on China's human rights. Coca-Cola, Airbnb, Procter & Gamble, and Visa—major U.S. sponsors of the 2022 Beijing Olympics—declined to say whether they would support moving the Olympics to a different location when pressed by U.S. lawmakers this July.
"As long as the governments are allowing the athletes to attend the games, we will be there to support and sponsor them," Andrea Fairchild, senior vice president of global sponsorship strategy at Visa Inc., said at the congressional hearing.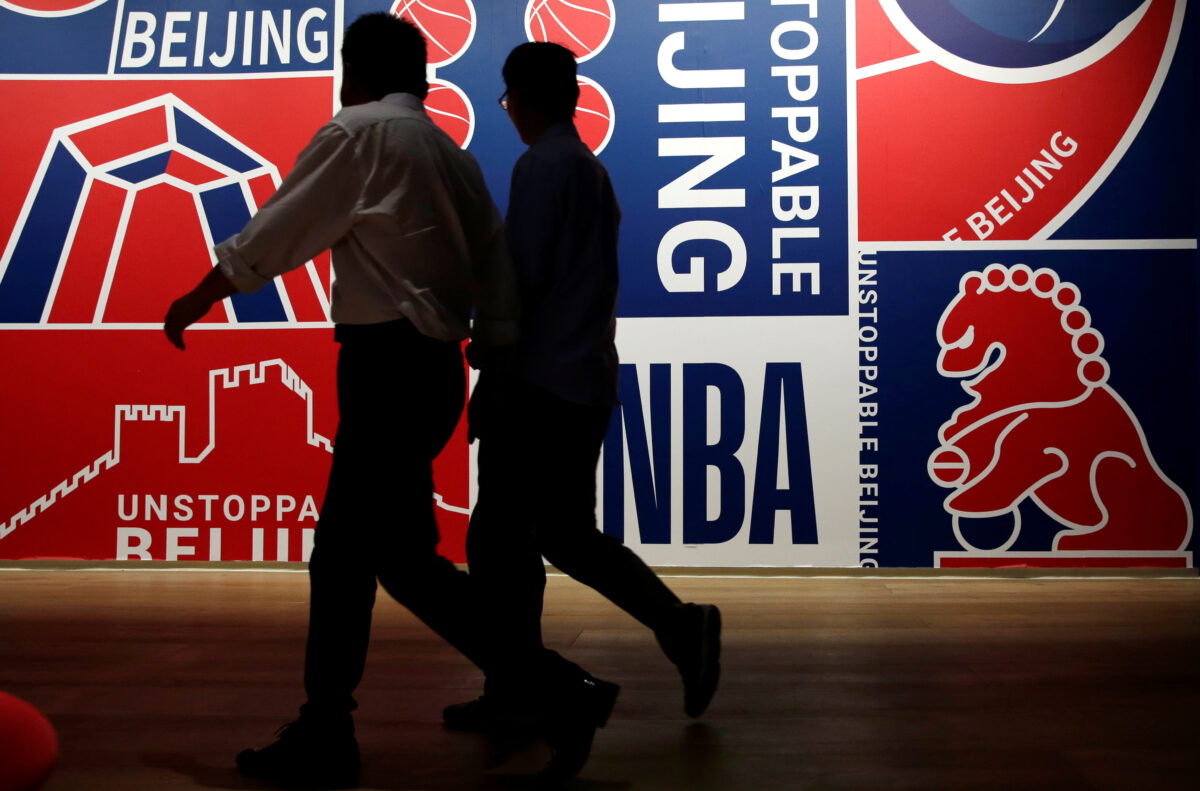 Over the past two years, the NBA has twice suffered the regime's wrath over human rights issues.
In October 2019, a tweet by Daryl Morey, then-general manager of the Houston Rockets, in support of pro-democracy protests in Hong Kong caused the NBA to lose major Chinese sponsors. State broadcaster CCTV and internet giant Tencent, which had a five-year deal to stream NBA games, temporarily took the league's programs off-air.
Tencent quietly resumed live-streaming shortly after, although games featuring the Philadelphia 76ers, which hired Morey last November, have since only been broadcast through text and picture updates.
Kanter's outspokenness on Tibet in October triggered another round of retaliation from China. After he published a two-minute video on Twitter blasting the regime's suppression of religious freedom, livestreaming for Celtics games disappeared from Tencent.
The 29-year-old has seen a marked cut in his playing time this season. Thus far, he's played in only three of the Celtics' first 14 games and is averaging a career-low of six minutes of court time per game, which some fans suspect is related to his activism.
Kanter seems to imply that such is the case.
"Keep limiting me on the court, I will expose you off the court," he wrote on Twitter two days earlier.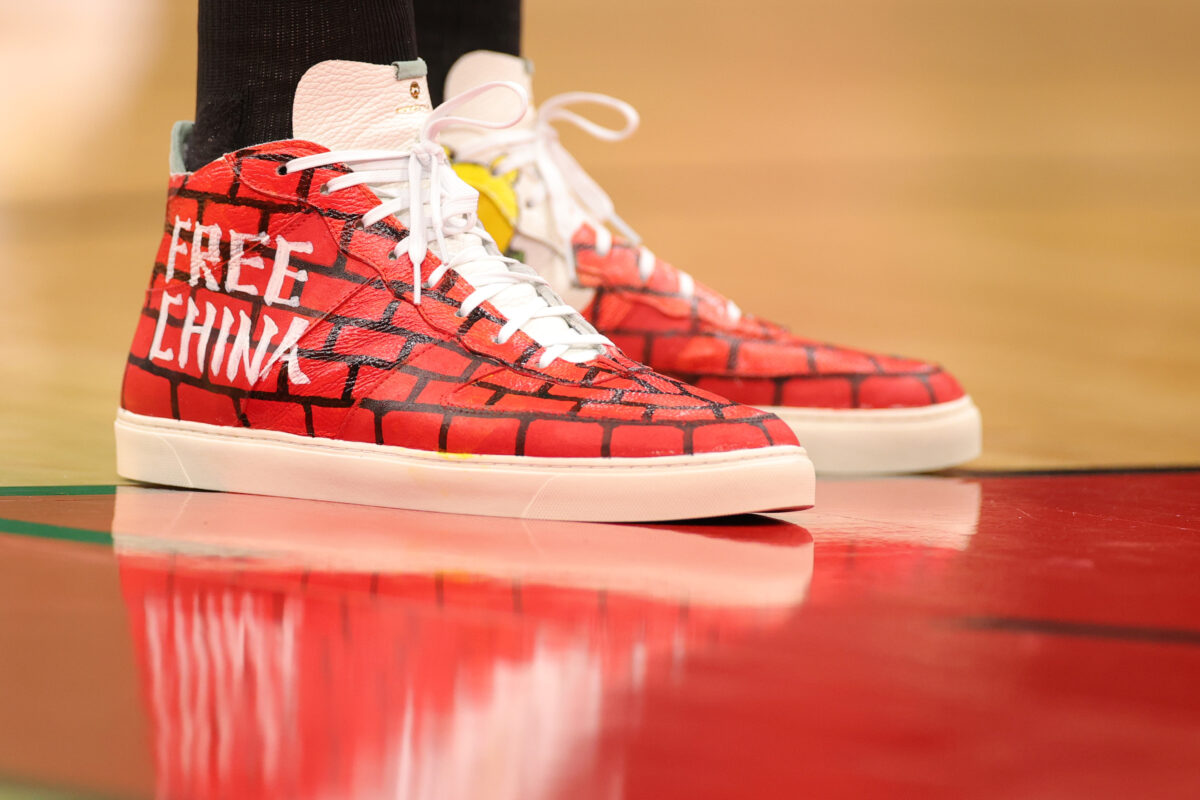 But Celtics head coach Ime Udoka argued that the decision to limit Kanter's minutes is "strictly based on basketball," pointing to his weakness on defense.
"We've got a lot of guys that are qualified and want to play, and they're competitive, so they're getting antsy. You want to find them minutes, but other guys are playing well," he said, according to Boston.com.
Udoka also said Kanter's comments are "not really a distraction."
"I don't have social media. I've heard of some things, but guys have the right to express their views. And I've said that from day one. Nothing basketball-related will be based on any of that," he said.