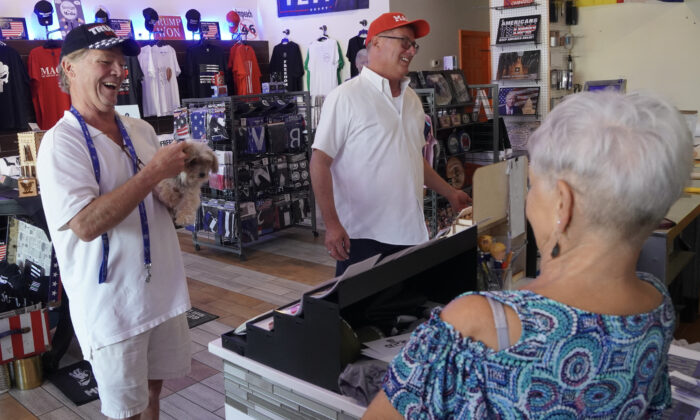 Atlanta resident Norm Hatke (left), Jon Oudin (center), and Fran Diemer chat at the Ellijay Trump Store in Georgia on Aug. 18, 2021. (Jackson Elliott/The Epoch Times)
One Year On, America's Trump Stores Are Still Winning
In many places in rural America, it seems the 2020 election never ended. "Trump 2020" signs still dot the roadsides, Trump flags still flutter, and Trump hats are still in style.
Unlike previous presidential candidates who disappeared after a lost election, former President Donald Trump is still loved by his supporters.
It's not just a private sentiment; the market for Trump merchandise is still strong. Across the country, many mom-and-pop stores continue to sell Trump gear of all kinds.
The reasons for Trump's continued popularity are on full display in Ellijay, Georgia, a small mountain town with a population of 1,736. There, Alicia Dougherty and Jon Lock run the Ellijay Trump Store.
The store stands at the corner of a red brick strip mall beneath a fabric sign displaying Trump and former First Lady Melania Trump with an American flag. Dougherty said she was somewhat surprised customers still came in months after the election.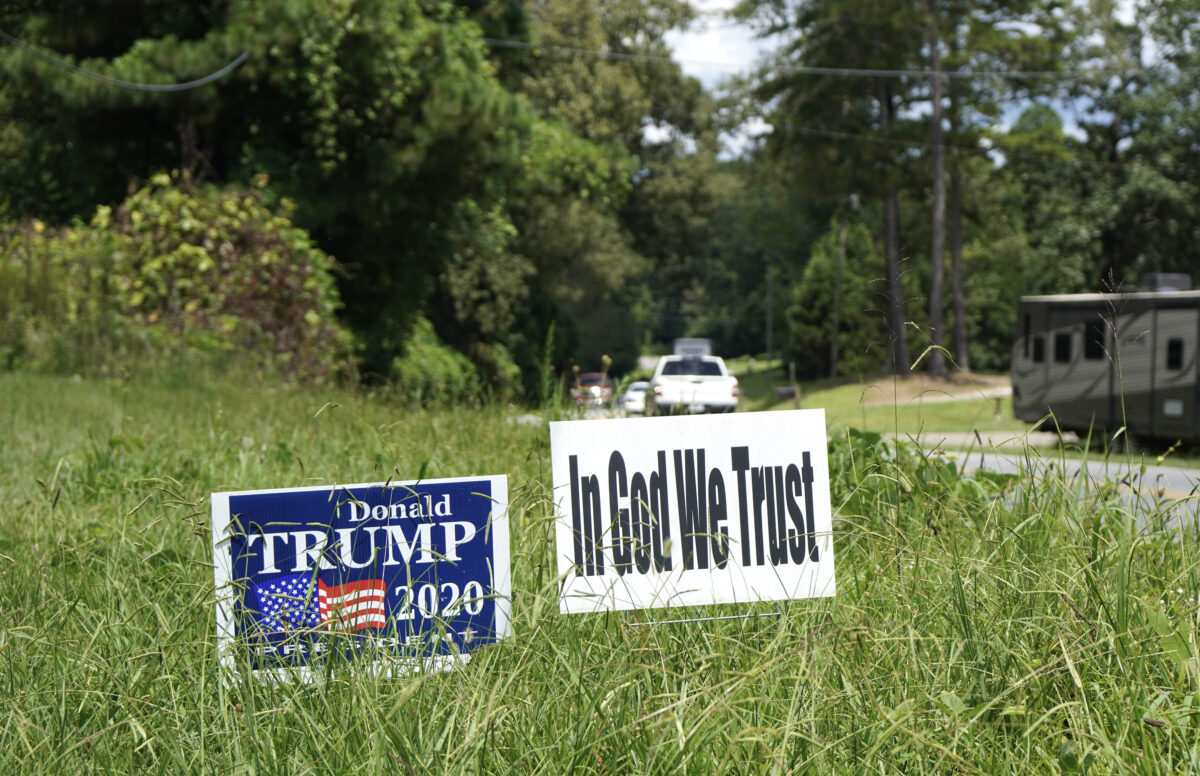 "We're just winging it," she said. "And we knew the election was going to be a cut-off point. And the inauguration was another cut-off point."
The Ellijay Trump Store isn't unusual. Across America, at least 20,000 similar small stores buy and sell Trump apparel, said Ron Solomon, the owner of nationwide Trump apparel company Maga Mall.
Trump Treasures
The walls of the Trump Store are packed with merchandise ranging from locally carved Trump cutting boards and wooden gun cases to Trump shirts, stickers, hats, and flags. The well-arranged displays show passion for Trump, patriotism, and faith.
Two life-sized cardboard cutouts of Trump are popular among customers for photo ops, Dougherty said.
The store boasts visitors from across America, she said. They come from Florida, Maine, California, and everywhere in between.
"People still love Trump," she said. "Every time someone's in from out of town, they come in and get stuff for their family to take home."
Although sales died off somewhat in February, they've risen since March, Dougherty said. A normal week nets the Trump Store 200 to 400 customers.
For many people, the store feels like a safe space to talk politics, share news, and spend time together, she said. Some customers spend hours talking with Trump Store employees.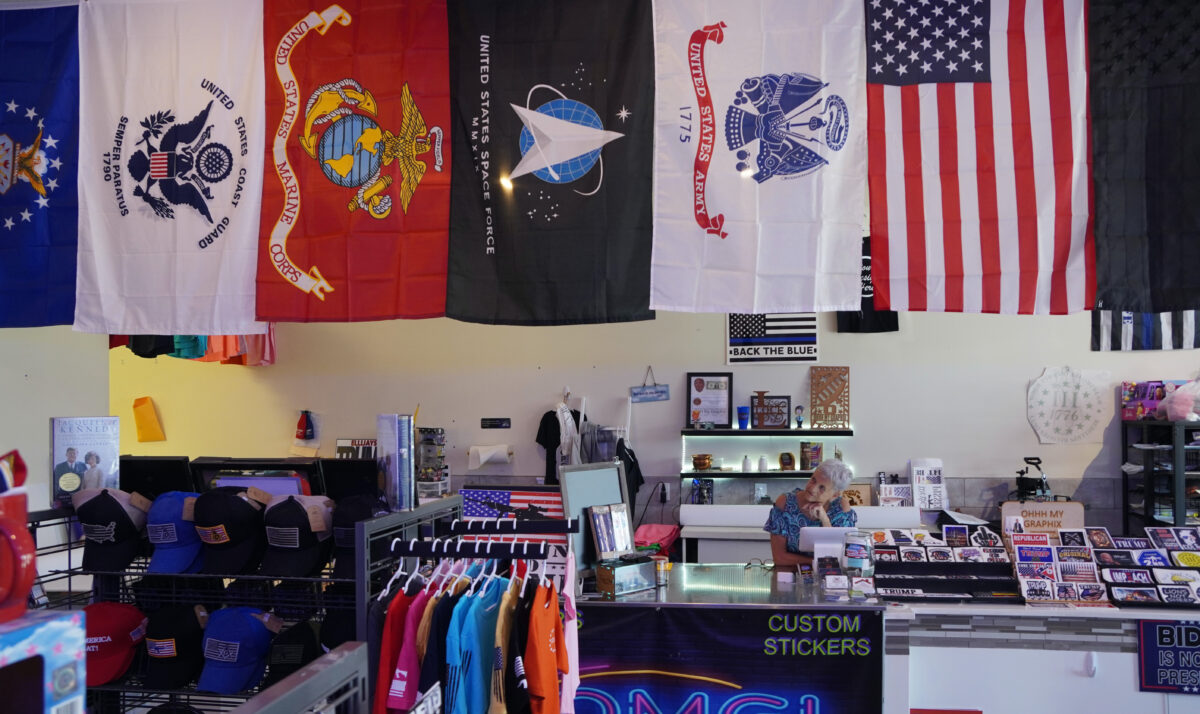 Before the election, customer numbers were even higher, Dougherty said. Lines stretched around the mall. Although the store hasn't gotten these kinds of numbers since, business is still brisk.
According to Dougherty, Lock, and many of the store's customers, the 2020 election was stolen from Trump by a left-wing conspiracy. For them, the veracity of this seems beyond doubt.
"We know Trump won the election because it was rigged," said local Kurt Awen.
"The election was rigged," said local Carl Taylor.
Despite the certainty with which they pronounce the nationwide collapse of America's electoral system, Trump Store customers seem surprisingly relaxed about the situation.
Solomon said that he and other Trump supporters believe the turnout in favor of Trump and pro-Trump Republicans will be so massive in the next two elections that it will overwhelm any future attempts at election fraud.
Solomon said he also thinks state changes to election laws will help prevent fraud. He's very sure that Trump and pro-Trump Republicans will win next time.
"We're going to take back the Senate, we're going to take back the House, and if Trump runs, he's going to win," he said.
To many Trump Store visitors, Trump is more than a presidential candidate. They say he's a moral leader who has a quality that few Americans and fewer politicians have: He speaks his mind.
Many visitors also said Trump's wealth showed his moral character. Whatever the reason Trump ran for president, it wasn't to get rich.
"It's got to be just because he relates. He's not a career politician. He's just a regular guy who loves America," Jon Oudin said. "Does he speak basically, openly about everything? Yeah, and [that] irritates a lot of people. But I think rural America, especially towns like Ellijay, we needed that. Because we're sick and tired of politics."
"He relates to people and he loves this country," Atlanta resident Norm Hatke said. "He's in it for the people. It's his values, I'm going to say it's his family values. He's got all the power that he can muster, and he's got all the money that he could ever want. So if you have both of those, why would you want to take on that role, unless you just love this country and love the people?"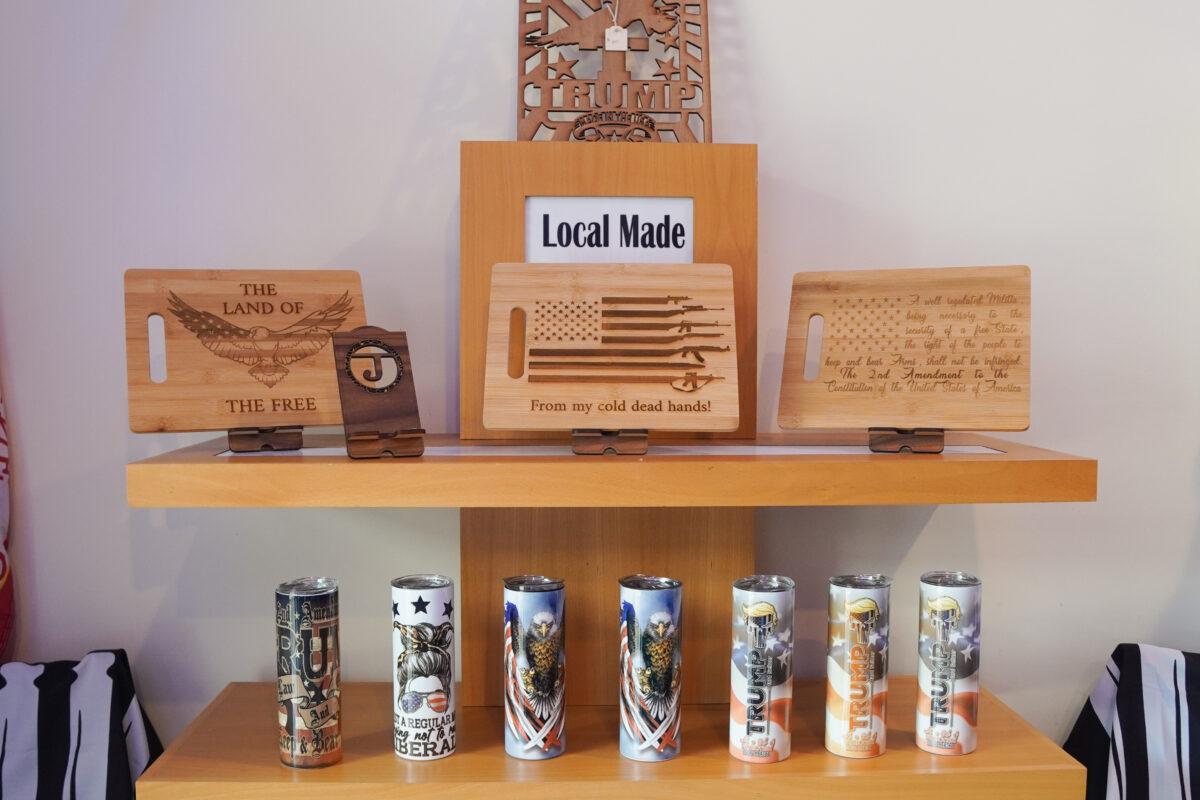 "He stands for what he says, he's a man of faith, he's got real character," Awen said. "He's done the most for our country in a long time."
Somehow Trump seems to be everything at once to his supporters. But most importantly, he represents hope for change in an America where people don't trust each other anymore.
Despite their appreciation for a man who speaks his mind no matter the consequences, many Trump Store visitors said they felt unwilling to wear Trump apparel in some places because they could face attacks from political radicals.
The Trump Store has already faced discrimination from Google because of its politics, Lock said.
Google removed the Ellijay Trump Store's online business profile from its website, he said. Moments after he entered a code from Google to register as a business, he received an email telling him the store had been flagged for suspicious activity.
As of today, the store doesn't appear when "Ellijay Trump Store" is typed in Google's search engine or Google Maps.
In Atlanta, Oudin said he felt afraid to wear a MAGA hat in public because people might spit on him.
"We know perfectly well if I wore this hat down in Midtown or Buckhead right now, that's exactly what would happen," he said.
He cited several famous incidents in which Trump fans were harassed or attacked in public.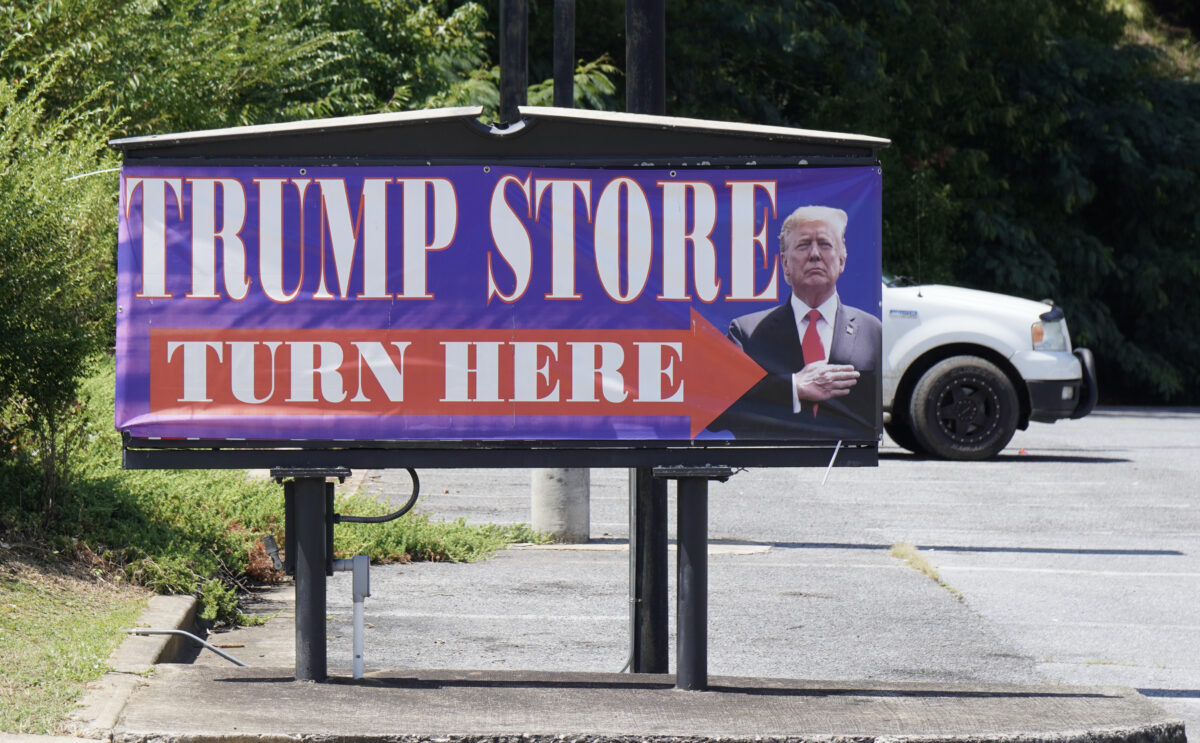 "I don't see any of my peers, for example, belittling a Biden supporter or trampling their sign," Oudin said. "I think we're more respectful toward our fellow citizens, regardless of their stances."
Trump fans fear harassment from people who dislike Trump, but the fear also goes the other way.
Linda, another local, who didn't want her last name published, said she didn't like the division Trump has caused or the continued insistence by his supporters that he won the election.
"We honor people who adore him. We would never make someone feel bad because they supported Trump," she said. "But we feel like we can't speak how we feel."
Linda said she felt that if she spoke against Trump, she would face repercussions in Ellijay and from those close to her.
Some of the cruder merchandise in the Trump store might bother people who disagree with Trump or like other politicians. The counter prominently displays an "[expletive] Biden" sticker. The shop's best-selling item is toilet paper with Nancy Pelosi's face on it, Dougherty said. Toilet paper with Joe Biden's face is a close second.
But "at the end of the day, we're nice people," Dougherty said, referring to the residents of Ellijay. "We're respectful, and that's why everybody wants to move here."