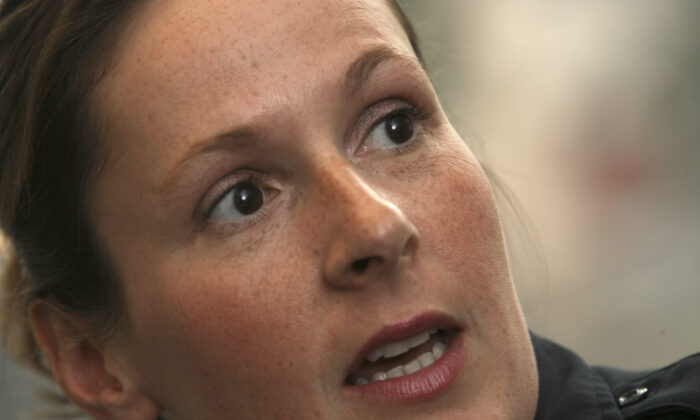 Then-Brooklyn Center, Minn., police officer Kim Potter on May 31, 2007. (Bruce Bisping/Star Tribune via AP)
Former Minnesota Police Officer in Fatal Shooting Charged With 2nd-Degree Manslaughter
The former Brooklyn Center, Minnesota, police officer who fatally shot a 20-year-old black man during an April 11 traffic stop has been arrested and charged with second-degree manslaughter.
Kimberly Potter, 48, who resigned in the wake of the incident, was charged on April 14 by Washington County Attorney Peter Orput. Potter, a 26-year veteran of the Brooklyn Center police force, was arrested by the Minnesota Bureau of Criminal Apprehension (BCA) and was booked into the Hennepin County Jail, where she will await her first court appearance in connection with the shooting of Daunte Wright.
"Certain occupations carry an immense responsibility and none more so than a sworn police officer," Imran Ali, Washington County assistant criminal division chief and director of the Major Crime Unit, said in a statement.
"With that responsibility comes a great deal of discretion and accountability. We will vigorously prosecute this case and intend to prove that Officer Potter abrogated her responsibility to protect the public when she used her firearm rather than her taser. Her action caused the unlawful killing of Mr. Wright and she must be held accountable. County Attorney Peter Orput and I met with the family, expressed our deepest sympathies and assured them we would spare no resources in seeking justice for Mr. Wright."
While the shooting of Wright took place in Brooklyn Center, which is in Hennepin County, the case was referred to Orput to avoid the appearance of a conflict of interest, under a recently adopted policy. The BCA is conducting the investigation into the shooting, which is active and ongoing.
After Wright was pulled over on April 11 for a traffic violation, officers attempted to place him in custody upon learning that he had a warrant out for his arrest for a weapons charge. He slipped from the grasp of one officer before getting back into his vehicle; after a struggle, he was shot by Potter, body camera footage shows.
Wright then drove about three blocks before crashing into another car. He was pronounced dead at the scene.
Wright's death was ruled a homicide, caused by a gunshot wound to the chest, according to the Hennepin County Medical Examiner's Office.
Body-camera footage shows Wright struggling with police when a female officer shouts, "Taser! Taser! Taser!"
Potter believed that she was firing her Taser, not her handgun, then-Brooklyn Center Police Chief Tim Gannon said April 12. After firing a single shot, the car speeds away, and the officer was heard shouting, "Oh [expletive], I just shot him!"
Both Potter and Gannon resigned on April 13.
According to the criminal complaint against Potter, obtained by The Epoch Times, Potter's handgun was holstered on the right side of her belt, and the Taser was holstered on the left side. Potter would have had to use her left hand to draw the Taser, BCA agent Sam McGinnis said.



In a brief resignation letter, Potter wrote, "I have loved every minute of being a police officer and serving this community to the best of my ability, but I believe it is in the best interest of the community, the department, and my fellow officers if I resign immediately."
Potter's lawyer did not respond to a request for comment.
Benjamin Crump, who is representing Wright's family, told The Epoch Times in an emailed statement that he and other lawyers appreciated Potter being charged.
"While we appreciate that the district attorney is pursuing justice for Daunte, no conviction can give the Wright family their loved one back. This was no accident. This was an intentional, deliberate, and unlawful use of force," he said.
"Driving while black continues to result in a death sentence. A 26-year veteran of the force knows the difference between a Taser and a firearm. Kim Potter executed Daunte for what amounts to no more than a minor traffic infraction and a misdemeanor warrant."
Wright's mother told a press conference this week that the day her son was shot was the worst day of her life.
The shooting sparked three consecutive nights of rioting. Roughly 60 people were arrested for riot and other crimes late on April 13, when a peaceful gathering devolved into a violent demonstration as members of the crowd clashed with law enforcement and tried to overrun the Brooklyn Center Police Department.
The Minnesota Police and Peace Officers Association, the state's largest police union, said earlier this week that "no conclusions should be made" until the shooting investigation is complete. The group's head later said Wright would still be alive he had complied with police orders.