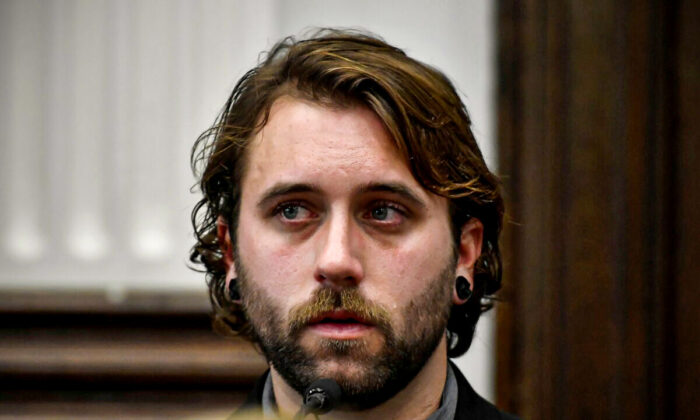 Gaige Grosskreutz is seen during Kyle Rittenhouse's trial at the Kenosha County Courthouse in Kenosha, Wis., on Nov. 8, 2021. (Sean Krajacic/Pool via Reuters)
Man Says He Was Pointing Gun at Rittenhouse When Teenager Shot Him
The man who survived a gunshot wound by Kyle Rittenhouse in Wisconsin last year said on Nov. 4 that he was pointing his gun at the teenager when the then-17-year-old shot him.
Gaige Grosskreutz, who was one of three people shot by Rittenhouse during protests against racial injustice in Kenosha and the only survivor, was testifying during Rittenhouse's murder trial in Kenosha, where the shootings happened on Aug. 25, 2020.
"It wasn't until you pointed your gun at him, advanced on him with your gun … that he fired, right?" Corey Chirafisi, part of Rittenhouse's defense team, asked Grosskreutz.
"Correct," he replied.
Rittenhouse had earlier fired on Joseph Rosenbaum, who witnesses said was acting aggressively and lunged at the teenager in the parking lot of a car dealership. Rosenbaum died from his wounds. After Rittenhouse took off running, he was attacked by Anthony Huber, who swung a skateboard at his head. Rittenhouse also is accused of fatally shooting Huber.
Grosskreutz then moved toward Rittenhouse while holding a gun, video footage showed, and Rittenhouse appeared to shoot him.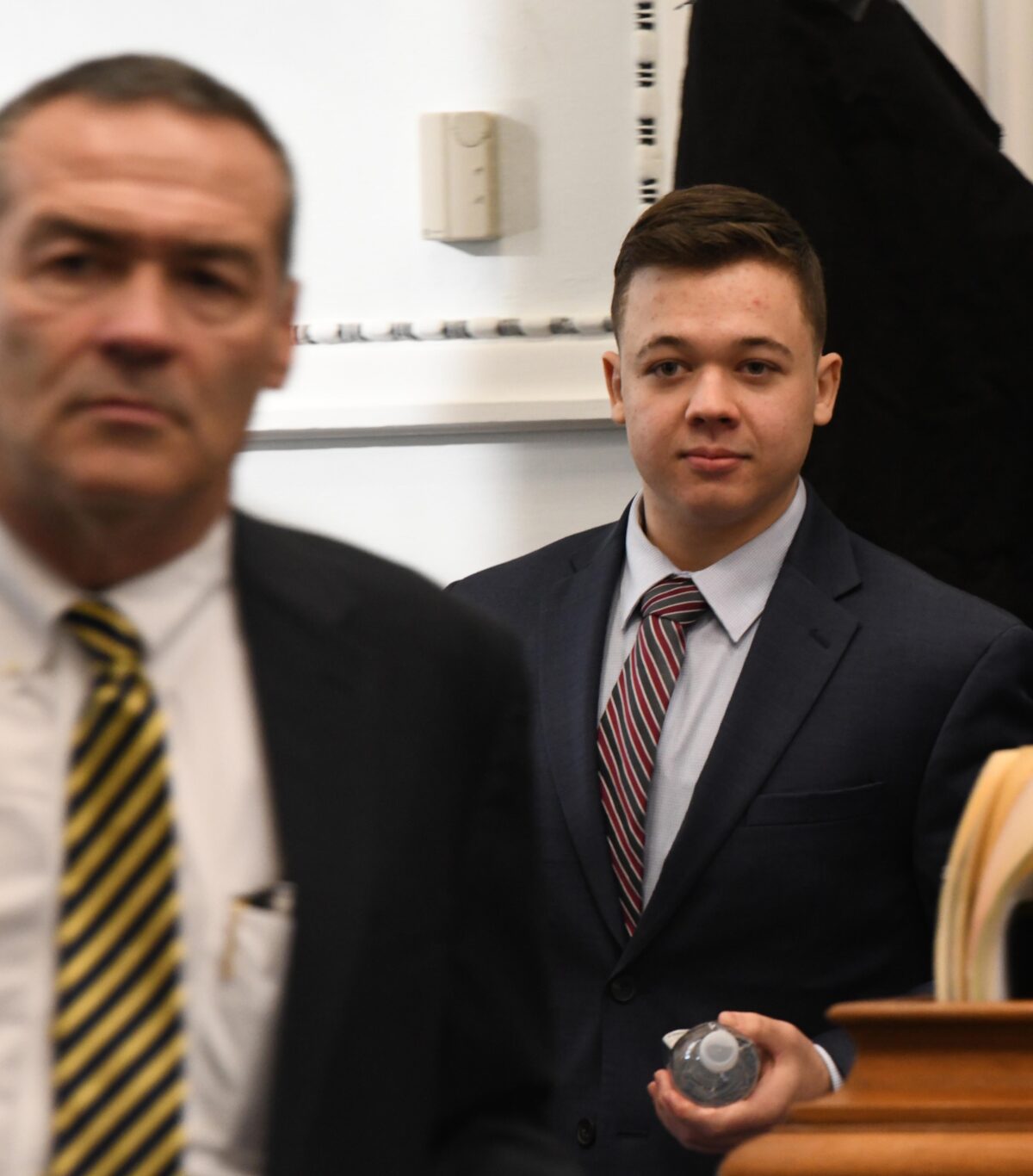 Grosskreutz had heard gunshots from several blocks away and sprinted toward the sounds.
He said he thought Rittenhouse was an "active shooter," prompting him to act.
But even though he was within arm's length of Rittenhouse, he expressed ambivalence about the idea of shooting the teen, claiming that preserving his own life "while also taking the life of another is not something that I'm capable of or comfortable in doing."
Thomas Binger, a prosecutor, wondered why Grosskreutz hadn't fired first.
"That's not the kind of person that I am. That's not why I was out there," Grosskreutz said. "It's not who I am. And definitely not somebody I would want to become."
Jacob Marshall, a roommate of Grosskreutz, posted on Facebook shortly after the shooting that Grosskreutz conveyed to him that "his only regret was not killing the kid and hesitating to pull the gun [sic] before emptying the entire mag into him."
Grosskreutz denied making those comments. Marshall is scheduled to testify on Nov. 10.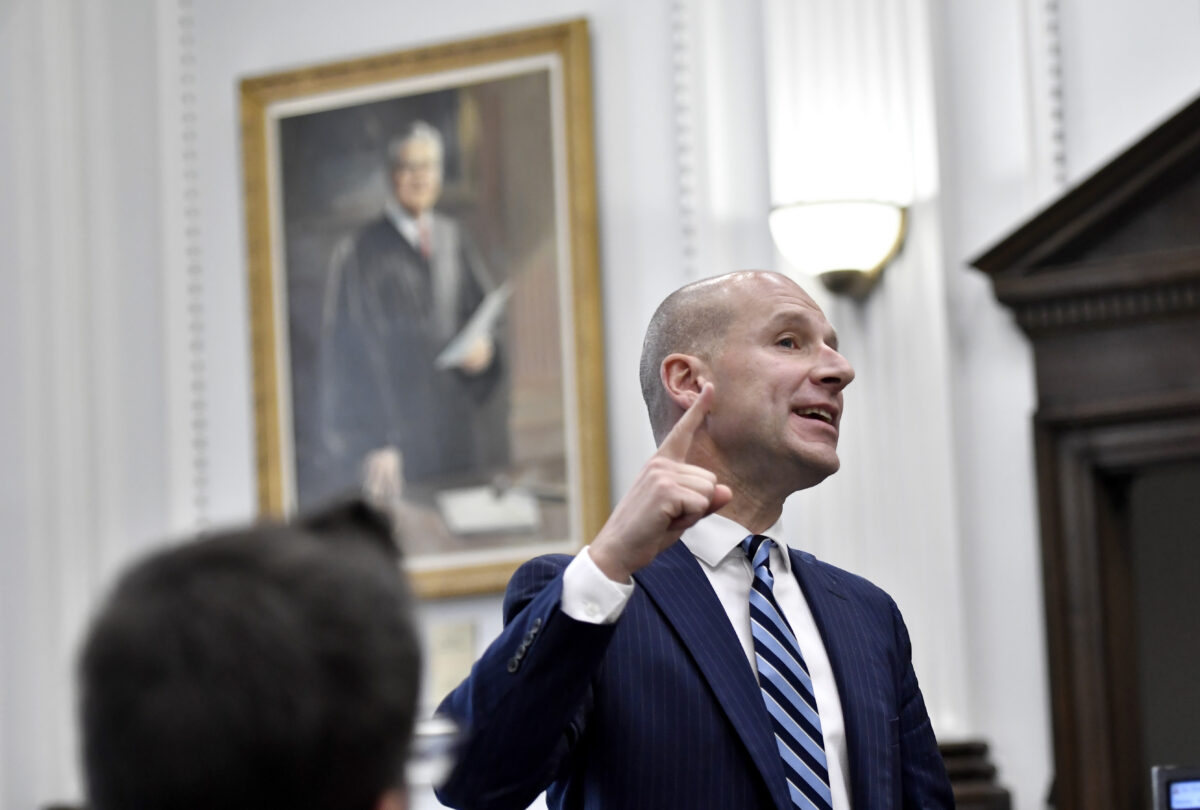 Rittenhouse, 18, had been in Kenosha to help defend businesses against rioters and medically assist people in distress. Grosskreutz, 27, who has worked as a paramedic, also went to the city to help with medical situations.
The Milwaukee resident, who was active in so-called social justice protests in the wake of George Floyd's death, acknowledged that his concealed carry permit was expired, meaning he couldn't legally carry the .40-caliber handgun he had with him that night.
"I believe in the Second Amendment. I'm for people's right to carry and bear arms," he said. "And that night was no different than any other day. It's keys, phone, wallet, gun."
Chirafisi pressed the witness on how he'd told officers after the shooting that his Glock fell from his belt clip.
"You didn't take the Glock out of your back here and run with it?" he asked.
"I did," Grosskreutz said.
"So it didn't fall off your waist; it was in your hand?" the lawyer said.
"That's correct," Grosskreutz said.
Grosskreutz said he didn't see his comments to police as a lie and also pushed back when Chirafisi asserted he was chasing Rittenhouse.
Chirafisi noted that Grosskreutz quickly brought a $10 million civil suit against the city and county of Kenosha for allegedly failing to keep the peace during the rioting and that there was no mention of Grosskreutz holding a weapon when he was shot.
"You left that part out, right?" he said.
"That's correct," Grosskreutz said.
Grosskreutz was struck in his right bicep. He said he still suffers from the wound, including experiencing difficulty lifting some heavy objects.
Correction: A previous version of this article inaccurately stated Grosskreutz's age. He is 27. The Epoch Times regrets the error.