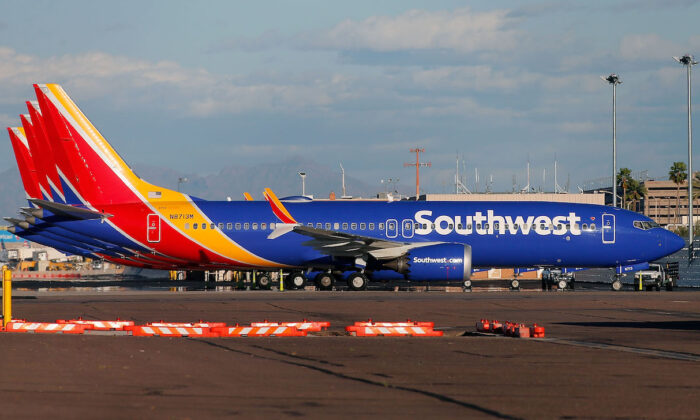 A group of Southwest Airlines Boeing 737 MAX 8 aircraft sit on the tarmac at Phoenix Sky Harbor International Airport in Phoenix, Arizona, on March 13, 2019. (Ralph Freso/Getty Images)
Hundreds of Southwest Workers Protest COVID-19 Vaccination Mandates at Airline's Headquarters
Hundreds of Southwest Airlines employees protested outside the carrier's headquarters in Dallas against the pending COVID-19 vaccine mandate, according to footage posted online.
A flyer that circulated online for the event called for a peaceful protest against the COVID-19 vaccine mandate, calling on workers and others to gather outside the headquarters.
"Let your voice be heard," the flyer says. "Please join your Southwest Cohearts, vaccinated or not, in exercising your first amendment right to a peaceful protest of the recent Covid-19 vaccination mandate."
Some protesters were seen holding signs that read, "No jabs for jobs," "freedom not force," and "terminate the mandate," CBS Dallas reported.
DALLAS TX: Southwest employees chant "LET'S GO BRANDON" in front of the South West headquarters to protest the airline vaccine mandate

Get More News: https://t.co/u7URmoOvPT pic.twitter.com/JwSKXrzqaa

— Drew Hernandez (@DrewHLive) October 18, 2021
Earlier in October, Southwest announced it would require COVID-19 vaccines for all its workers, including pilots, except those approved for a religious, medical, or disability accommodation.
The airline's chief executive, Gary Kelly, said last week that while he disagrees with the mandate, he has to implement the requirement after President Joe Biden's Sept. 9 announcement requiring COVID-19 vaccines for federal contractors. Southwest is a federal contractor, he said.
"I've never been in favor of corporations imposing that kind of a mandate. I'm not in favor of that. Never have been," Kelly told CNBC. "But the executive order from President Biden mandates that all federal employees and then all federal contractors, which covers all the major airlines, have to have a [vaccine] mandate … in place by Dec. 8, so we're working through that."
Other than Southwest, United Airlines, American Airlines, JetBlue, Alaska Airlines, and Hawaiian Airlines have announced they would mandate vaccinations for their employees. Delta Air Lines hasn't mandated COVID-19 vaccines for workers, but has forced unvaccinated employees to pay a monthly $200 surcharge for health care.
The Southwest Airlines Pilots Association (SWAPA) union filed a lawsuit asking a court to issue a temporary injunction against the airline's vaccine mandate, arguing that vaccine side effects could pose a unique risk to pilots, who are required to undergo regular medical testing.
Southwest has asked the court to reject SWAPA's effort and argued that an injunction would damage the company's business.
"The injunction that SWAPA seeks is extraordinary," Southwest's lawyers said in response to the union's lawsuit.
The airline also experienced thousands of flight cancellations earlier this month, triggering speculation that pilots or other workers walked off the job over the vaccine mandate. SWAPA, the Federal Aviation Administration, and Southwest denied those claims, although it's not clear why so many Southwest flights were canceled while other carriers' flights weren't.
Southwest officials didn't immediately respond to a request by The Epoch Times for comment.