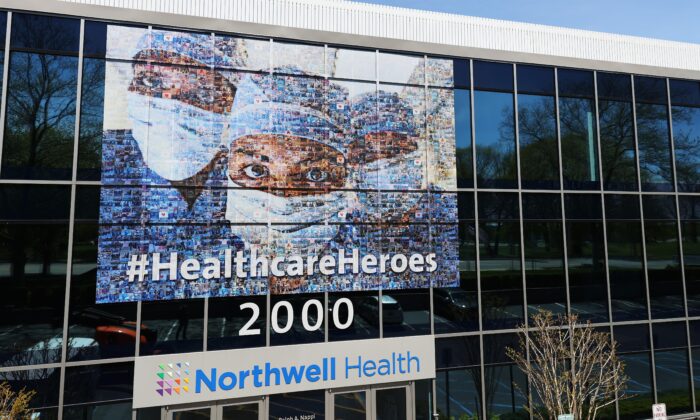 A mural on a Northwell Healthcare building in New Hyde Park, New York, on May 5, 2020. (Al Bello/Getty Images)
Health Care Giant Northwell Denies Some Benefits to Workers Fired Over Vaccine Mandate
Northwell Health, the largest health care provider in New York state, is denying some benefits to employees it's firing because they refuse to comply with the state's COVID-19 vaccination mandate for health care workers.
Those terminated lose all employer contributions to their retirement plans for this year unless they're older than 62. They are also denied payouts of any of their remaining paid time off (PTO), according to a FAQ sheet recently emailed to the workers and obtained by The Epoch Times.


Employees leaving the company are normally afforded payouts of up to 150 hours of PTO, the person who provided the sheet told The Epoch Times.


"Withholding vacation payouts is unethical and will place even more financial strain on employees terminated from their jobs as they are also not eligible for unemployment," the person, who requested anonymity, said via email.
Northwell spokesman Jason Molinet told The Epoch Times the company "cannot specifically comment on personnel issues," when asked about the benefits issue. He provided a statement saying that Northwell's workforce, about 76,000-strong, is "near 100 percent vaccinated."
"Northwell has taken a rapid, aggressive approach to move successfully toward full vaccination compliance while maintaining continuity of care and ensuring that our high standard of patient safety is not compromised in any way," the statement provided via email reads.
"Regretfully, we have had to exit a few hundred employees, but we are pleased to report that most team members are opting to be vaccinated so as to avoid being terminated."
Thousands of nurses and other hospital workers have been put on leave, slated to be fired, as the state's vaccination mandate deadline for hospital staff arrived on Sept. 27. At least some hospital systems have given their staff some time to change their minds and get the shot in order to return to work.
Workers fired over the mandate could be left without access to unemployment insurance unless they legitimately asked for a health or religious exemption, "because these are workplaces where an employer has a compelling interest in such a mandate," the state's Department of Labor says on its website.
New York, and New York City in particular, has been at the forefront of mandating the vaccines in more and more areas of society. Besides the state mandate for health care workers, the city requires vaccination for teachers, other school staff, government employees, staff and seated customers in restaurants, as well as staff and customers in theaters, gyms, cinemas, and other establishments.
The novel vaccines, developed in record time and still in the process of clinical trials, are known to cause severe side effects such as myocarditis, mostly in young men, and blood clots, though authorities and experts say these are rare and pose a lower risk than the disease itself. While the vaccines also don't necessarily prevent one from contracting and spreading COVID-19, clinical trials indicate they minimize symptoms.