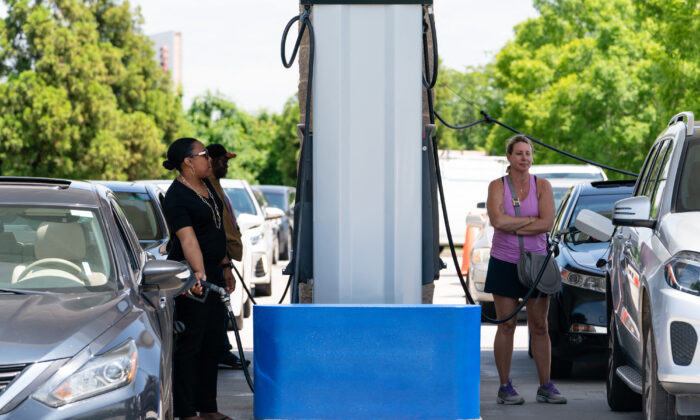 People pump gas at a Costco gasoline station in Atlanta, Ga., on May 11, 2021. (Elijah Nouvelage/AFP via Getty Images)
Gas Prices Expected to Keep Rising in Wake of Colonial Pipeline Attack
Gas prices, already close to $3 a gallon after a cyberattack on Colonial Pipeline, are expected to keep rising through the week, especially in the eastern United States.
"We're expecting to see price increases to continue through the week, and in particular in the southeast region and in the northeast, because we are seeing directly impacted areas along the terminals of the pipeline that remain out," Devin Gladden with the American Automobile Association (AAA) told The Epoch Times.
"And so as we see imports, deliveries from trucks, fill that gap, that may mean that higher costs will be associated with those deliveries and that is certainly causing prices to increase at the pump for consumers," he added.
Prices rose six to seven cents on average per gallon in the southeast on Monday, according to AAA data. The average price nationwide as of Tuesday was $2.95 per gallon, with prices ranging from a low of $2.64 in southern states to a high of $4.10 per gallon in some western states and Illinois.
Gas prices were already rising before a group called DarkSide stole data from Colonial and locked its computers with ransomware, a method in which attackers hold crucial information from companies until they're paid.
As a result, Colonial took certain systems offline, temporarily halting all pipeline operations.
The company operates a pipeline that spans more than 5,500 miles from Texas to New Jersey.
Colonial ships 100 million gallons of fuel per day, supplying stations up and down the East Coast, Robert Dauffenbach, senior associate dean of economic development and impact at the University of Oklahoma's Price College of Business, told The Epoch Times.
"That's sort of an indication of how important that operation is to supply gasoline along the Eastern Coast," he said.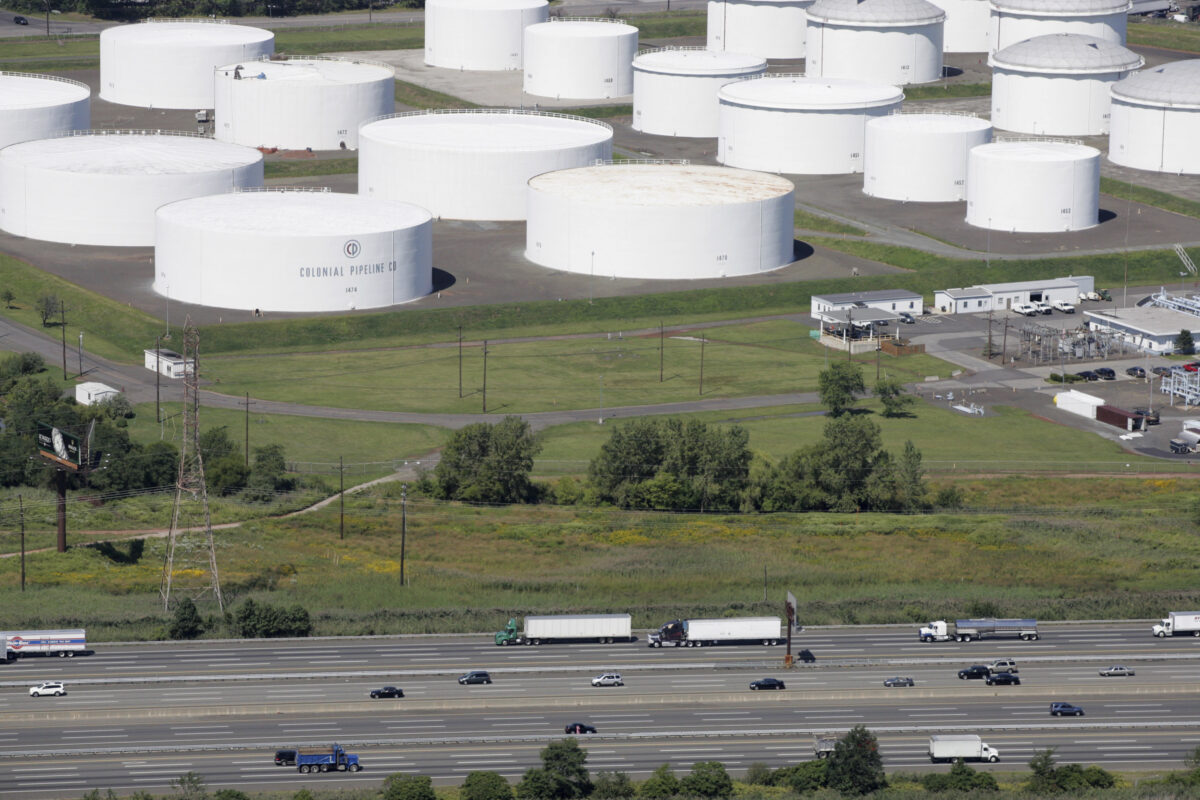 According to the U.S. Energy Information Administration, the price of an unleaded regular gallon of gas rose from a longtime low of $1.87 in April 2020—when much of the country was locked down due to the COVID-19 pandemic—to $2.79 in March.
Rising fuel prices before the attack stemmed in part from a shortage of gas tanker drivers as other industries attracted people who may otherwise drive the trucks. The country has also seen higher demand in recent months, as well as a higher cost for oil.
Crippling Colonial, combined with the truck driver shortage, has led to stations in at least half a dozen states running out of gas, with long lines seen at stations across the East.
Supply remains adequate but distribution is not keeping up with the complexities of the transformed arena, experts said.
"Gas stations in the impacted areas may see delayed deliveries and some pumps may not have gas until they are able to be refueled by tankers," Gladden said.
Federal and state authorities are stepping in to try to respond to the situation.
Georgia Gov. Brian Kemp, a Republican, signed an executive order suspending the gas tax in the state, while also increasing weight limits for trucks transporting fuel and prohibiting price gouging. North Carolina Gov. Roy Cooper declared a state of emergency, temporarily suspending some regulations for truck drivers.
On the federal level, Environmental Protection Agency Administrator Michael Regan issued an emergency fuel waiver, allowing stations to disregard vapor pressure requirements in several states, including Maryland and Pennsylvania. The Department of Transportation started surveying vessels qualified to carry petroleum products within the Gulf, canvassing rail operators to bring some on board to help transport fuel from ports, helping Colonial bring its line up and running on a manual basis, and previously issued an hours-of-service exemption to some 17 states.
Some of those actions may result in higher prices, particularly in the northeast of the country, according to Gladden.
Dauffenbach said he was not detecting price jumps yet, even with the stations running out in states like Virginia and Georgia.
"So far, it hasn't reached epidemic proportions," he said.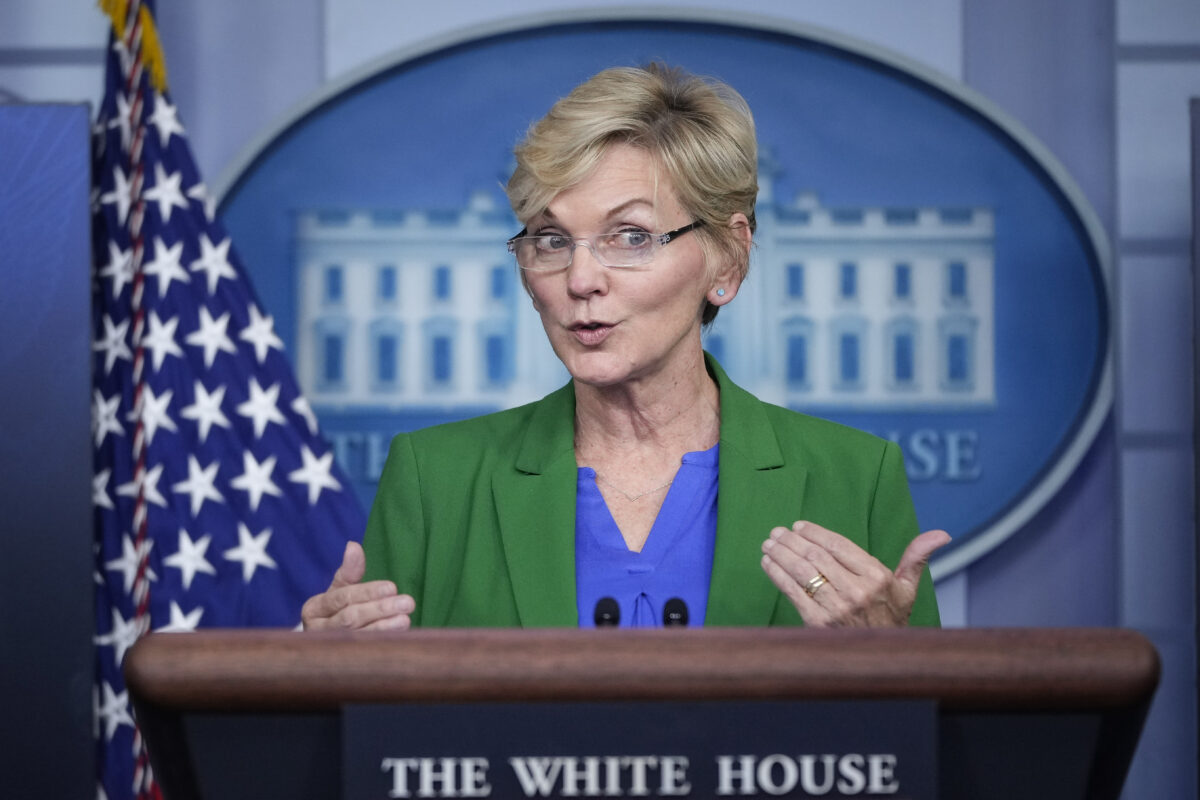 Energy Secretary Jennifer Granholm told reporters in Washington that one of Colonial's major lines resumed operations on a manual basis and that the company is working on getting spurs, or smaller lines, up and running. The company expects to restore most operations by the end of the week, she added.
If not, Americans can expect a rise in prices, Dauffenbach said.
"It will take a few days to ramp up operations. This pipeline has never been shut down before. It travels great distances. There is fuel in the pipe and then there is fuel, the offtake from the refineries, that have to be added," Granholm said at the White House briefing.
Demand spiked on Monday, hitting about 31 percent higher than an average day in February 2020, according to GasBuddy numbers.
Experts urged people not to hoard, as that process can itself lead to a jump in cost.
"There is no need to panic buy, that will only cause the situation to be worse and the prices to go up higher," Gladden said.