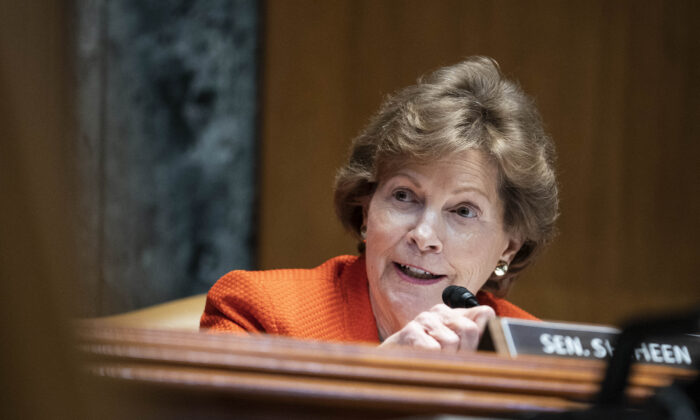 Sen. Jeanne Shaheen (D-N.H.) is seen in Washington on June 23, 2021. (Sarah Silbiger/Pool/AFP via Getty Images)
Democrat Senator Tells Supreme Court: Overturning Roe v. Wade Will Result in 'Revolution'
Supreme Court justices should know that if they overturn Roe v. Wade, they will see a "revolution," a U.S. senator warned this week.
"I hope the Supreme Court is listening to the people of the United States because … I think if you want to see a revolution go ahead, outlaw Roe v. Wade and see what the response is of the public, particularly young people," Sen. Jeanne Shaheen (D-N.H.) said during a Nov. 29 press conference.
"Because I think that will not be acceptable to young women or young men," she added.
The Supreme Court on Wednesday is hearing Dobbs v. Jackson Women's Health Organization, which challenges Roe v. Wade, a 1973 ruling that determined access to abortion is a constitutional right.
Many Republicans hope the challenge will prove successful, noting abortion isn't mentioned in the Constitution, while most Democrats want the ruling upheld, asserting women should have broad access to the procedure.
Shaheen's remarks drew comparisons to a speech last year by Sen. Chuck Schumer (D-N.Y.).
"I want to tell you, Gorsuch, I want to tell you, Kavanaugh: You have released the whirlwind, and you will pay the price. You won't know what hit you if you go forward with these awful decisions," Schumer said, referring to Justices Neil Gorsuch and Brett Kavanaugh.
Chief Justice John Roberts condemned "threatening statements of this sort," calling them "not only inappropriate" but "dangerous."
Shaheen's spokesperson did not respond to a request for comment.
A press release from her office summarizing the briefing did not mention the controversial quote.
"Shaheen's unhinged comments threatening insurrection against the Supreme Court serves as a reminder that Schumer['s] threats to the Supreme Court over abortion should still be criminally investigated," Tom Fitton, president of Judicial Watch, said in a statement.
Jonathan Turley, a law professor at George Washington University, said he sees "veiled threats" like Shaheen's as "meant to influence how justices interpret the Constitution."
"The Constitution's meaning does not change depending on whether an interpretation is popular. Indeed, federal jurists are given life tenure precisely to protect them from this type of pressure and rhetoric," he wrote on Twitter, adding that "if anything, such rhetoric may push justices to stand more steadfast in their role."
The briefing was held by every member of Congress representing New Hampshire. All are Democrats. None criticized Shaheen's remarks, which were the last offered during the virtual event.
Sen. Maggie Hassan (D-N.H.) told reporters that abortion restrictions "endangers the health of women" and "constrains their rights as citizens in a democracy and in an economy."
Rep. Chris Pappas (D-N.H.) said people have to "fight back" against onerous restrictions and claimed the Supreme Court has "a new radical majority that appears unwilling to support precedent."
The Supreme Court has six justices nominated by Republican presidents, though some have disappointed conservatives with some of their rulings.