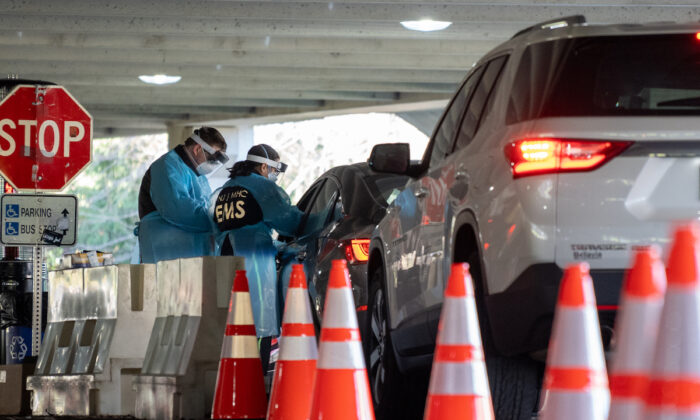 People come to be tested for COVID-19 at a test site in a file photo. (David Dee Delgado/Getty Images)
COVID-19 Cases Fall by 20 Percent Across the US in Past Week: CDC
The number of new COVID-19 cases reported across the United States over the past week fell by about 20 percent, according to data provided by the Centers for Disease Control and Prevention (CDC).
The seven-day average of cases as of Sept. 28 was about 107,600; on Sept. 21, the seven-day average was about 128,700, the data show. Starting in August, the number of cases spiked due to the spread of the so-called Delta variant, federal health officials have said.
Deaths from COVID-19 have also dropped, according to the CDC, showing that the seven-day average on Sept. 28 was about 1,425.
The report comes as some health officials have suggested that the current surge of the CCP (Chinese Communist Party) virus, which causes COVID-19, may be plateauing or coming to an end.
Scott Gottlieb, who led the Food and Drug Administration from 2017 to 2019 and now sits on Pfizer's board, told CNN on Sept. 27 that the Delta wave could be the last major surge of COVID-19 infection in the United States. Some experts had publicly feared the so-called Mu variant could take hold in the United States, but data from Outbreak.info this week suggested that there have been no reported cases of the strain over the past seven days.
"We're going to start to transition from the pandemic phase of this virus, at least here in the U.S., to a more endemic phase where the coronavirus becomes a persistent threat," Gottlieb told CNN. "But you're not seeing levels of infection quite the same way that you've seen them in the past year and a half."
"By Thanksgiving, you'll see cases decline to a level that feels more manageable," he said, citing recent data for his assertion.
Similarly, the World Health Organization (WHO) on Sept. 28 reported a 10 percent global decline in cases.
Even though case numbers are dropping, it's not yet clear if the data will affect the Biden administration's COVID-19 vaccine mandates. Earlier this month, President Joe Biden announced he would mandate that businesses that have 100 employees or more have their workers get the vaccine or submit to regular testing, as well as vaccination mandates for most health care workers, federal contractors, and federal employees, triggering a bevy of lawsuits.
But, according to Justin Lessler of the University of North Carolina, who helps run the COVID-19 Scenario Modeling Hub, the virus could again mutate into another strain.
"Any of us who have been following this closely, given what happened with Delta, are going to be really cautious about too much optimism," Lessler told NPR last week. "We have to be cautious because the virus has shown us time and time again that new variants or people loosening up on how careful they're being can lead things to come roaring back."