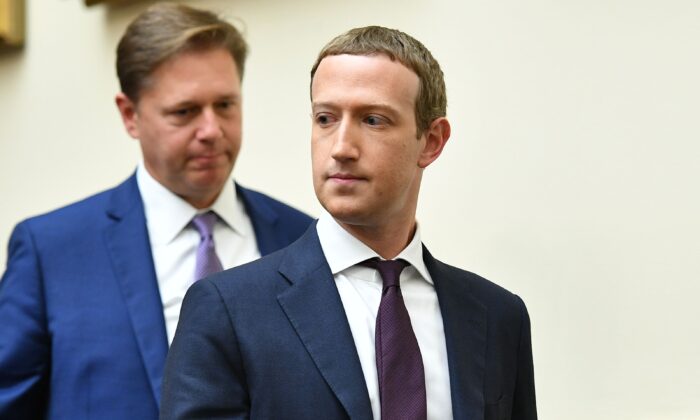 Facebook Chairman and CEO Mark Zuckerberg returns from a recess as he testifies before the House Financial Services Committee on "An Examination of Facebook and Its Impact on the Financial Services and Housing Sectors" in the Rayburn House Office Building in Washington on Oct. 23, 2019. (Mandel Ngan/AFP via Getty Images)
Court Dismisses Federal Government's Antitrust Case Against Facebook
A federal court has dismissed two antitrust cases that were brought against Facebook, representing a significant setback for federal and state regulators in their attempts to rein in Big Tech.
The lawsuits were filed by the Federal Trade Commission (FTC) and state attorneys general seeking to break up what they've described as Facebook's monopoly on social networking.
Facebook shares rose more than 4 percent on June 28.
U.S. District Judge James Boasberg in Washington, an Obama appointee, said that FTC lawyers didn't provide enough evidence or explanation on how they determined that Facebook controls more than 60 percent of the social media networking market. The agency further alleged that Facebook violated antitrust laws by purchasing a would-be competitor.
"The FTC has failed to plead enough facts to plausibly establish a necessary element of all of its Section 2 claims—namely, that Facebook has monopoly power in the market for Personal Social Networking (PSN) Services," Boasberg wrote (pdf). "The complaint contains nothing on that score save the naked allegation that the company has had and still has a 'dominant share of th[at] market (in excess of 60 percent).'"
Social networking websites and "services are free to use, and the exact metes and bounds of what even constitutes a [social networking]—i.e., which features of a company's mobile app or website are included in that definition and which are excluded—are hardly crystal clear," he wrote in dismissing the case. "The FTC's inability to offer any indication of the metric(s) or method(s) it used to calculate Facebook's market share renders its vague '60 percent-plus' assertion too speculative and conclusory to go forward."
At the same time, the court struck down a separate lawsuit filed by several attorneys general, echoing arguments made in the FTC lawsuit against Facebook. Nearly every single state attorney general joined that lawsuit.
But Boasberg found (pdf) that the attorneys general waited too long to file a lawsuit, which challenged Facebook's 2012 purchase of Instagram, as well as the firm's purchase of WhatsApp in 2014.
State and federal prosecutors now have 30 days to file new antitrust complaints against the Menlo Park, California-based company, the judge said.
"An injunction under Section 13(b) is a theoretically available remedy in a Section 2 challenge to long-ago mergers," Boasberg said, regarding the FTC opinion, "so long as the defendant still holds the purchased assets or stock, as is the case here."
Some lawmakers decried Boasberg's ruling, which they say may provoke Congress into pursuing more aggressive legislation against social media companies.
"Today's development in the FTC's case against Facebook shows that antitrust reform is urgently needed," wrote Rep. Ken Buck (R-Colo.), the ranking Republican on the House Judiciary Committee's antitrust subcommittee. "Congress needs to provide additional tools and resources to our antitrust enforcers to go after Big Tech companies engaging in anticompetitive conduct."
The Epoch Times has contacted Facebook and the FTC for comment. Neither had an immediate public comment in statements or to media outlets after the court ruling.