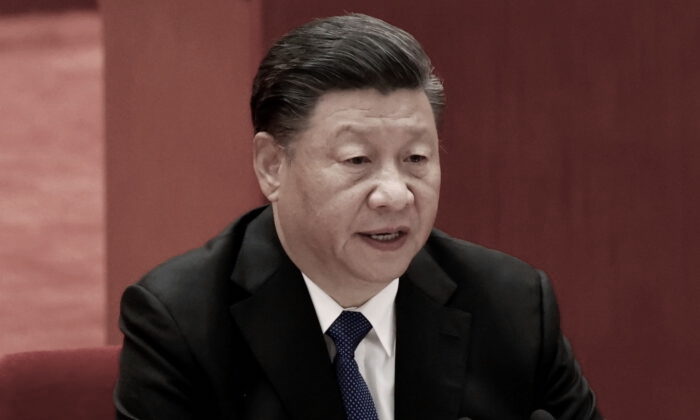 Chinese leader Xi Jinping speaks at a meeting commemorating the 110th anniversary of the Xinhai Revolution at the Great Hall of the People in Beijing on Oct. 9, 2021. (Carlos Garcia Rawlins/Reuters)
Chinese State Media Take Aim at Officials Who Try to 'Jump Ship' and Flee China
Eight years ago, Chinese Communist Party (CCP) leader Xi Jinping criticized party officials for allowing their confidence to waver and sending their families and money abroad. These people were attempting to "leave themselves a way out and prepared to 'jump ship' anytime," he said.
Study Times, a newspaper run by the CCP's Central Party School for training Chinese officials, recently reiterated these words, saying that while some Party officials were physically present in China, they were mentally abroad.
"This shows a loss of ideal and a lack of confidence toward the Party and the nation," the article reads, claiming that such officials are more prone to "losing their direction" and "walking further away on the wrong path."
Such officials have become known as "naked officials," a figurative term suggesting that they aren't leaving anything but themselves back home.
In 2016, Honesty Outlook, a state-run anti-corruption monthly magazine in Sichuan province, described the exit strategies used by corrupt CCP officials as a "cicada sloughing off its shell." If they need to exit China quickly for any reason, they secretly secure living arrangements abroad, including by buying a house in a family member's name and having them settle there, so that the official can later escape.
While naked officials might not be corrupt initially, they have a higher tendency to become so, according to the Study Times article, identifying three such officials to illustrate the point.
Cao Jianliao, the former vice mayor of Guangzhou, used his position to collect more than 70 million yuan (roughly $11 million) in bribes and to obtain Hong Kong and Macau resident cards for himself and his family.
Wen Min, former director of the National Defense Science and Industry Office in Mongolia, managed to purchase a property for his daughter in Melbourne, Australia, after transferring funds through an underground money market. He had 36 properties in various parts of China, according to the Central Commission for Discipline Inspection, the top Chinese antigraft agency that published findings of its investigation into Wen in July.
The third official, Zhang Shuguang, is the former director of the Transportation Bureau under China's Ministry of Railways. He arranged to have his wife and children immigrate overseas. The entire family is now charged with corruption, serving sentences from 18 years to life imprisonment.
Regular self-disclosure, higher public scrutiny, and international cooperation are necessary to discourage these officials from engaging in acts of corruption, according to the article. Officials must "place themselves in the 'cage' of the system from beginning to end," as the article called for a "zero tolerance" attitude toward fugitives accused of corruption.
The regime's internal survey in 2012 found that at least 85 percent of officials within the CCP's top management have exit strategies prepared for their families and finances, Xin Ziling, a retired Chinese defense official, told The Epoch Times.
China had about 7 million civil servants as of 2015, according to data released by China's Ministry of Human Resources and Social Security in 2016. The ministry hasn't updated that data since that time. It's unclear how many "naked officials" are among those civil servants.
In 2014, Chinese authorities disciplined more than 3,200 naked officials. About 1,000 of them were demoted for failing to bring their relatives living abroad back home.
The article comes on the eve of a major closed-door Party meeting attended by officials from the regime's powerful Central Committee. The meeting is a precursor to the twice-in-a-decade Party Congress to be held next autumn, when the regime will usher in a new group of top leaders.
Analysts say that the article reveals anxiety among the top echelon of the Party.
"The Party media have revealed that CCP officials have no confidence in the Party, and Xi knows they could flee at any time. It reveals a general belief in the Chinese officialdom that the Party is nearing its end," Li Yanming, a U.S.-based expert on Chinese current affairs, told The Epoch Times.
He said that more than 380 million Chinese people have quit Party-affiliated organizations by using pseudonyms, including some CCP officials.
"It's apparent that the CCP has become desperate," Li said.
Xi is attempting to correct Party members' wayward thinking and unify them before next year's 20th National Congress, where he will seek to secure a third five-year term, Lan Shu, a Chinese current affairs commentator, told The Epoch Times.
Zhao Yuanming, a senior legal expert who formerly lectured at the Beijing-based People's Public Security University, a state-run institution training China's elite police officers, found Xi's emphasis on confidence in the Party to be telling.
"A saying among commoners goes that if you gun down all these officials one by one, someone would have been wronged. But if you were to gun down every other one, there would be those that slipped through the net," Zhao told The Epoch Times. "This is the degree of corruption inside the Chinese regime."
Joyce Liang contributed to this report.