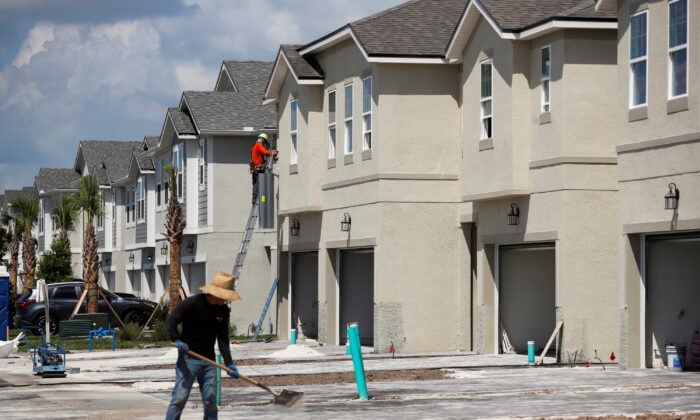 A carpenter works on building new townhomes that are still under construction while building material supplies are in high demand in Tampa, Fla., on May 5, 2021. (Octavio Jones/Reuters)
Business Is Booming for Southeast Contractors Despite Rising Cost of Construction Materials
The shortages and rising price of fuel due to the ransomware attack that temporarily halted all of the Colonial Pipeline networks were devastating to many businesses in the American Southeast. But despite the rising costs of construction materials, business is booming for Southeastern contractors.
According to Stephen Smith, owner of Geneva Construction in Orlando, Florida, the $250,000 in materials he would have spent to build a home a year ago cost him around $300,000 today.
"Plywood is ridiculous," Smith told The Epoch Times, describing how a 4-foot by 8-foot sheet of three-quarter-inch plywood he paid $25 for two years ago now costs him $72 to $75.
Still, Smith said his business is going strong. In fact, because of the demand for construction work in his area, he's having a hard time finding enough skilled contractors to help him keep up with his workload.
The only thing that makes Smith angry is a proposal by the Commerce Department this week to double lumber tariffs on shipments of Canadian lumber into the United States from 9 percent to 18.32 percent.
"What an idiotic thing to do," Smith asserted. "This is not the time to start levying tariffs on Canadian lumber. Why Biden is doing this, I have no idea, but it sure isn't helping our industry at all."
Michael Abney, director of construction at M&J Construction, told The Epoch Times that rising prices on construction materials haven't hurt his business either. M&J Renovations is a 30-year-old general contracting firm in Orlando, Florida, with notable clients as the Marriott, Hilton, and Sheraton properties. Abney said many of the smaller, less established companies go out of business during times like these because they can't afford to build a house and pay for it themselves. He also doesn't see prices coming down any time soon.
It's a sentiment shared by Donald Coffman, owner and president of Coffman Construction in St. Petersburg, Florida.
While Coffman said there hasn't been much of a difference in prices on the concrete side of his 40-year-old business, he said the costs for framing, trusses, doors, and windows are rising exponentially.
A half-inch sheet of plywood that cost $15 a year ago costs $50 today. A 2-inch by 4-inch by 8-foot spruce stud—used to build interior, load-bearing walls—is normally a $3 item. Now Coffman pays almost $9. Garage doors are up 20 percent and electrical components are going up as well.
The price of metal framing products—required by strict building codes to make buildings structurally sound during hurricane season—are also continuing to rise.
Fleeing Bankrupt States
Like Smith and Abney, Coffman said he has developed a good base of repeat customers who are willing to pay the higher prices of his cost-plus services. In fact, Coffman said he is busier than he has been in years. It's a paradox he attributes to the flood of people leaving states like California and New York and moving to Florida, where the high cost of housing is a fair trade to escape a bankrupt state economy and skyrocketing unemployment they leave behind.
According to Florida's Office of Economic and Demographic Research, an estimated 329,717 new residents moved to the Sunshine State between April 2020 and April 2021. According to Move.com, Florida is the number one state in the nation to which people are relocating.
"It's absurd," Coffman said of the climbing costs of materials in his business. "No builder can absorb this into the cost of the job. So it's got to be passed on to the client."
It's an opinion expressed by others in the construction business in states other than Florida.
"It's killing the homeowners," Sean Hughes told The Epoch Times. "Construction on a lot of the big homes around here has stopped until the prices start going down. But from everything I've heard they're just going to keep going up."
Hughes, a construction manager, described similar price increases on construction materials in North Garden, West Virginia.
A 1-inch by 12-inch by 16-foot cedar board coming out of Canada cost him $100 each. A year ago, those same boards cost $40. While he was expecting delivery a week ago, they still have not arrived.
But business for Hughes is steady. Just as it is in Florida, skilled contractors in West Virginia are in high demand.
Contractors are also in high demand in Travelers Rest, South Carolina. Ed Tolson, owner of Carolina Home Improvement, told The Epoch Times that prices are high but there isn't a shortage of people who are willing to pay. The challenge is getting the materials required to do the job.
"You go to Lowes and Home Depot and plywood is $48 a sheet when they cost $14 a year ago. A 2″ by 4″ went from $2.25 to $8 each."
It's also Tolson's observation that the shortages in construction materials might be due to the same phenomenon that sparked the shortages and panic-buying of fuel in the Southeast—hoarding.
During a recent trip to 84 Lumber, Tolson said he saw signs posted everywhere saying there was no Oriented Strand Board (OSB) Plywood. Yet thousands of sheets of OSB Plywood could be seen stacked in the lumber yard. After speaking with a couple of the major contractors in his area, Tolson said these companies admitted they bought it all.
"They buy it when it comes in so they'll have it when they need it," Tolson asserted. "They're hoarding it. They buy it all up so the little guy is left with nothing."
"I invested in silver years ago," Tolson mused. "I wish I had known then about plywood. I would have invested in plywood."