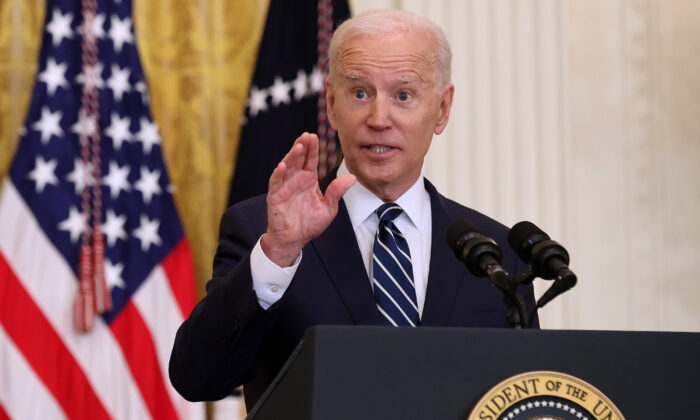 President Joe Biden talks to reporters during the first news conference of his presidency in the East Room of the White House on March 25, 2021. (Chip Somodevilla/Getty Images)
Biden: Gun Control Will Be a 'Matter of Timing'
President Joe Biden, responding to a question on Thursday on when to push gun control measures, promised a series of actions to regulate the sale of firearms but said his next agenda item pertains to U.S. infrastructure.
"All of the above, it's a matter of timing," he said in response to a question during his first press conference as president. He then spoke about infrastructure initiatives. Whether it will be through executive actions or Congress, Biden said, "All of the above."
Biden did not make any other comments about possible action on firearms during the news conference.
The president then pivoted to infrastructure and promised details at an event in Pittsburgh, Pennsylvania.
There has been an increase in pressure on Biden to either take executive action or push congressional Democrats to pass legislation that would restrict firearms ownership in the wake of two mass shootings in Atlanta and Colorado in recent days. Republicans and pro-Second Amendment groups have said such initiatives are unconstitutional, as the Constitution's Second Amendment ensures the right to bear arms.
"I don't need to wait another minute, let alone an hour, to take common-sense steps that will save the lives in the future, and to urge my colleagues in the House and Senate to act," Biden said on Tuesday, coming a day after a gunman shot and killed 10 people in Boulder, Colorado.
Biden, when he was a senator, pointed to the assault weapons ban of 1994 and said he helped ensure that it got passed.
The House, meanwhile, passed two bills earlier this month related to background checks, receiving little Republican support.
Republicans in the Senate, including Sen. Mitch McConnell (R-Ky.), said they do not favor either bill.
"One thing we do know for sure is that these shooters are invariably mentally incapacitated," McConnell said. "This is a vexing problem that is extremely hard to identify in advance."
Sen. Ted Cruz (R-Texas) accused Democrats of playing "ridiculous theater" with recent tragedies.
"What happens in this committee after every mass shooting is Democrats propose taking guns away from law-abiding citizens because that is their political objective, but what they propose not only does it not reduce crime, it makes it worse," the senator said in a hearing Tuesday.
White House press secretary Jen Psaki said Wednesday that "no one is talking about overturning or changing the Second Amendment" but wants "common-sense measures." She did not elaborate on the nature of the "common sense" measures.
Sen. Dianne Feinstein (D-Calif.) in March introduced the "Assault Weapons Ban of 2021," which would essentially restrict purchases for about 200 common sporting rifles.