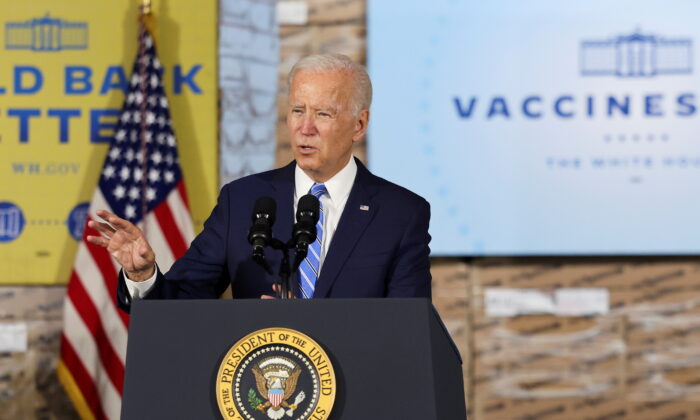 President Joe Biden gestures as he delivers remarks in Elk Grove Village, Ill., on Oct. 7, 2021. (Evelyn Hockstein/Reuters)
Biden Administration Pushes Court to Lift Block on OSHA COVID-19 Vaccine Mandate
COVID-19 presents a "grave danger" to businesses because the illness spreads in workplaces and people who haven't gotten a vaccine continue to be hospitalized and die, the U.S. government told a court late Monday in trying to get a stay against its private employer COVID-19 vaccine mandate lifted.
The Department of Labor's Occupational Safety and Health Administration (OSHA) unveiled the mandate as an emergency temporary standard last week for every business with 100 or more workers.
A federal appeals court panel over the weekend stayed the mandate, or blocked it for now, citing "grave statutory and constitutional issues."
That stay should be lifted as the flurry of legal challenges against the mandate proceed, Biden administration lawyers asserted in a response to a request for a permanent injunction of the standard.
Lawyers said the requests for relief are premature in part because the deadline for workers to get fully vaccinated is Jan. 4, 2022.
"Accordingly, there is no need to address petitioners' stay motions now, and the court should lift its administrative stay and allow this matter to proceed under the process that Congress set forth for judicial review of OSHA standards," they said in the 28-page document, which was entered one minute after it was due, to the U.S. Court of Appeals for the Fifth Circuit in response to a request for an emergency injunction.
Full vaccination requires multiple Moderna or Pfizer shots, or the single-shot Johnson & Johnson jab. That means workers who don't get the latter must start a regimen well before the deadline, but could conceivably wait until late November or early December.
The government also believes OSHA was reasonable in finding that COVID-19 presents a "grave danger." In order to issue an emergency standard, federal law requires the agency to determine that "employees are exposed to grave danger from exposure to substances or agents determined to be toxic or physically harmful or from new hazards" and that a standard is needed to protect workers from the danger.
"COVID-19 has killed hundreds of thousands of people in the United States and caused 'serious, long-lasting, and potentially permanent health effects' for many more," lawyers said. "OSHA described myriad studies showing workplace 'clusters' and 'outbreaks' and other significant 'evidence of workplace transmission' and 'exposure.'"
COVID-19 is the disease caused by the CCP (Chinese Communist Party) virus.
COVID-19 cases, hospitalizations, and deaths have dropped sharply in the United States in recent months, but some experts fear a resurgence during the winter since people will be spending more time indoors.
Unvaccinated workers continue being admitted to hospitals and dying from the disease, the filing added, though it neglected to mention that vaccine effectiveness against COVID-19 infection is plummeting and a growing share of hospital admissions and deaths are among the vaccinated.
The vaccine-or-testing mandate "will protect unvaccinated workers against the most serious health consequences of a COVID-19 infection and 'reduce the overall prevalence' of the COVID-19 virus 'at workplaces,'" with OSHA estimating that over 6,500 lives will be saved and over 250,000 hospitalizations prevented over the course of the next six months, the filing also said.
The mandate has drawn at least a dozen legal challenges across the country that will likely be consolidated into a single case. Lawsuits are being filed directly to appeals courts because the standard is directly appealable; suits typically start on the district court level. If a permanent injunction is granted, it could be appealed directly to the Supreme Court.
Plaintiffs say the mandate is government overreach and will devastate their businesses.
"This vaccine mandate is a crushing blow to employees," Kathy Garfield, president of Keller Companies, told a press conference at the New Hampshire company on Monday.
Getting a COVID-19 test in recent weeks has been "impossible" and employees would be forced to pay $200 a week for a test, she added.