The FBI in a criminal complaint is alleging one of the men who stormed the U.S. Capitol on Jan. 6 disguised himself as a member of the far-left Antifa network.
FBI special agent Tyler Freedman, based in Washington, said that William Robert Norwood was posing as an Antifa activist during the tumult seen in the nation's Capitol during a joint session of Congress.
The FBI received tips from members of the public, including one man who received text messages allegedly from Norwood.
The defendant before the storming of the Capitol wrote: "I'm dressing in all black. I'll look just like ANTIFA. I'll get away with anything."
He shared a picture of a black tactical helmet favored by Antifa members.
The following day he wrote in part, "It worked … I got away with things that others were shot or arrested for."
He also said: "The cop shot a female Trump supporter. Then allowed 'ANTIFA Trump supporters' to assault him. I was one of them. I was there. I took his [expletive]."
Norwood then sent a photograph of himself wearing what appeared to be a U.S. Capitol Police tactical vest.
Later in the message thread, which included multiple people, Norwood said: "I fought 4 cops, they did nothing. When I put my red hat on, they pepper balled me." He added: "I got a nice helmet and body armor off a cop for God's sake and I disarmed him. Tell me how that works."
According to the affidavit attached to the complaint, Norwood agreed to speak to FBI agents on Jan. 22. He said he traveled to Washington on Jan. 6 and did enter the U.S. Capitol. He said two Capitol Police officers were waving people inside and one told him, "I'm on your side." He also said he wanted to leave but couldn't because of the crowd density.
Norwood also said he helped protect officers from being assaulted.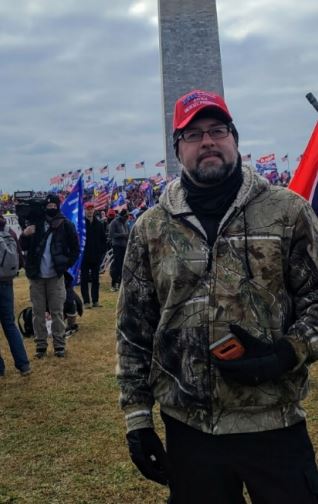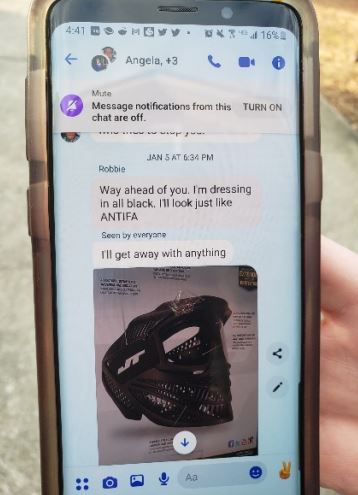 Norwood said he obtained a police helmet from a pile of police equipment lying on the ground outside the Capitol building and that another person put a vest on him.
Norwood denied assaulting any officers.
In a photograph Norwood provided to agents, he is seen wearing a camouflage jacket, and a red "Trump 2020" hat. Agents used surveillance footage to pinpoint a person they say resembles Norwood in the Capitol Rotunda.
Through a search warrant on Verizon, the cellphone sharing the messages cited in the complaint showed the phone utilized a cell site "consistent with providing service to a geographic area that includes the interior of the U.S. Capitol building," the FBI agent wrote.
Norwood was arrested in Greer, South Carolina, late last month, and charged with obstructing Congress, knowingly entering a restricted building without lawful authority, and theft of government property.
Norwood did not have a lawyer listed on the court docket as of March 2.
FBI Director Christopher Wray told lawmakers in a hearing on Tuesday that the FBI doesn't know of any Antifa activists taking part in the Capitol storming. John Earle Sullivan, a self-described Antifa activist, was among those charged in the breach.