The mayor of Portland, Oregon, promised to bring an end to the violence caused by "anarchists and Antifa radicals" following a New Year's Eve riot in the city that's been rocked for months by near-daily protests and riots.
"My good faith efforts at de-escalation have been met with ongoing violence and even scorn from radical Antifa and anarchists," Ted Wheeler said during a press briefing on Jan. 1. "In response, it will be necessary to use additional tools and to push the limits of the tools we already have to bring the criminal destruction and violence to an end."
Authorities in Portland declared a riot near the federal courthouse shortly before the start of the new year, after a crowd of about 80 to 100 protesters clashed with police, smashed windows, and threw firebombs, according to a Portland Police Bureau (PPB) statement.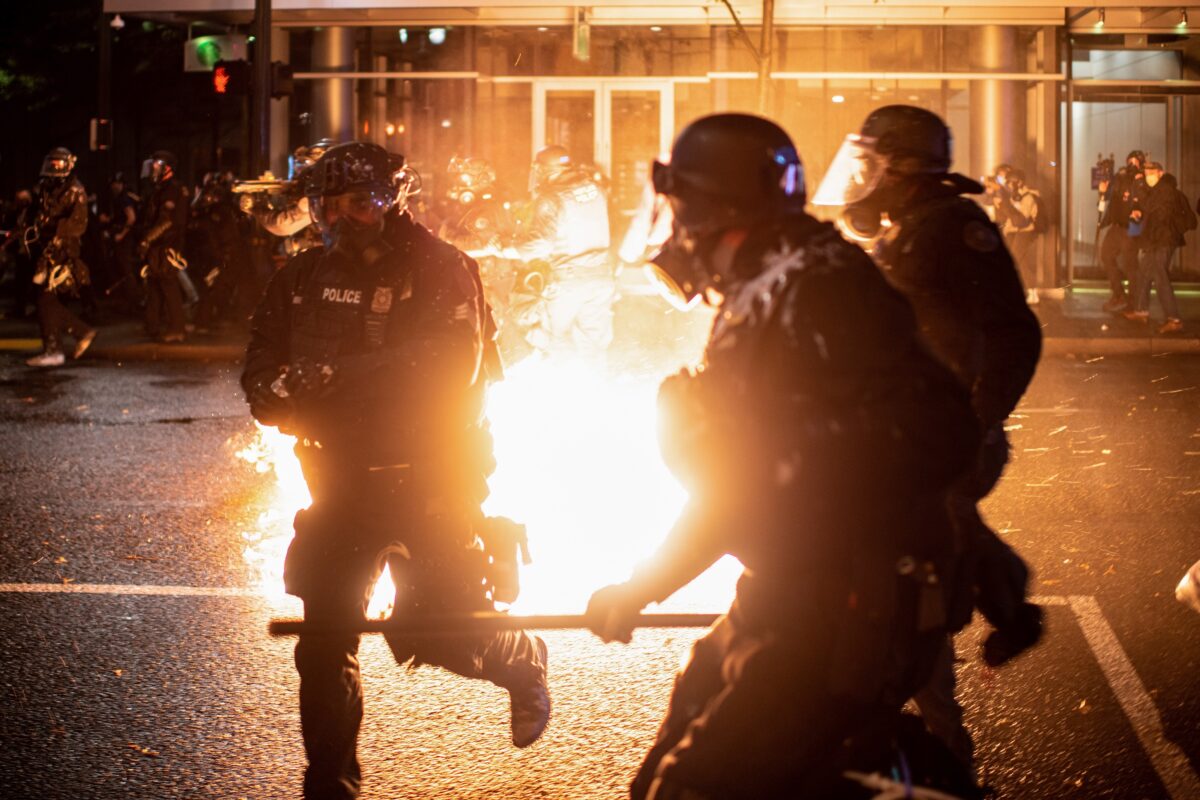 The riot was declared at about 11 p.m. after the crowd gathered earlier in the night in the area of Southwest Avenue and Southwest Main Street, with some in the crowd engaging in violence. At least two Molotov cocktail-style firebombs and large fireworks were hurled and launched at riot police, the Mark O. Hatfield Federal Courthouse, and the Multnomah County Justice Center, police and video footage confirm.
Some rioters also attempted to break into the justice center but failed to do so.
Violence erupted in the city last spring following the police custody death of George Floyd in Minneapolis. Wheeler said it's now time to "push back harder" and bring the violence to an end by increasing penalties on those set on destroying the community.
"Lawlessness and anarchy come at great expense and great risk to the future of our community," the mayor said. "It's time to push back harder against those who are set on destroying our community, and take more risks fighting lawlessness."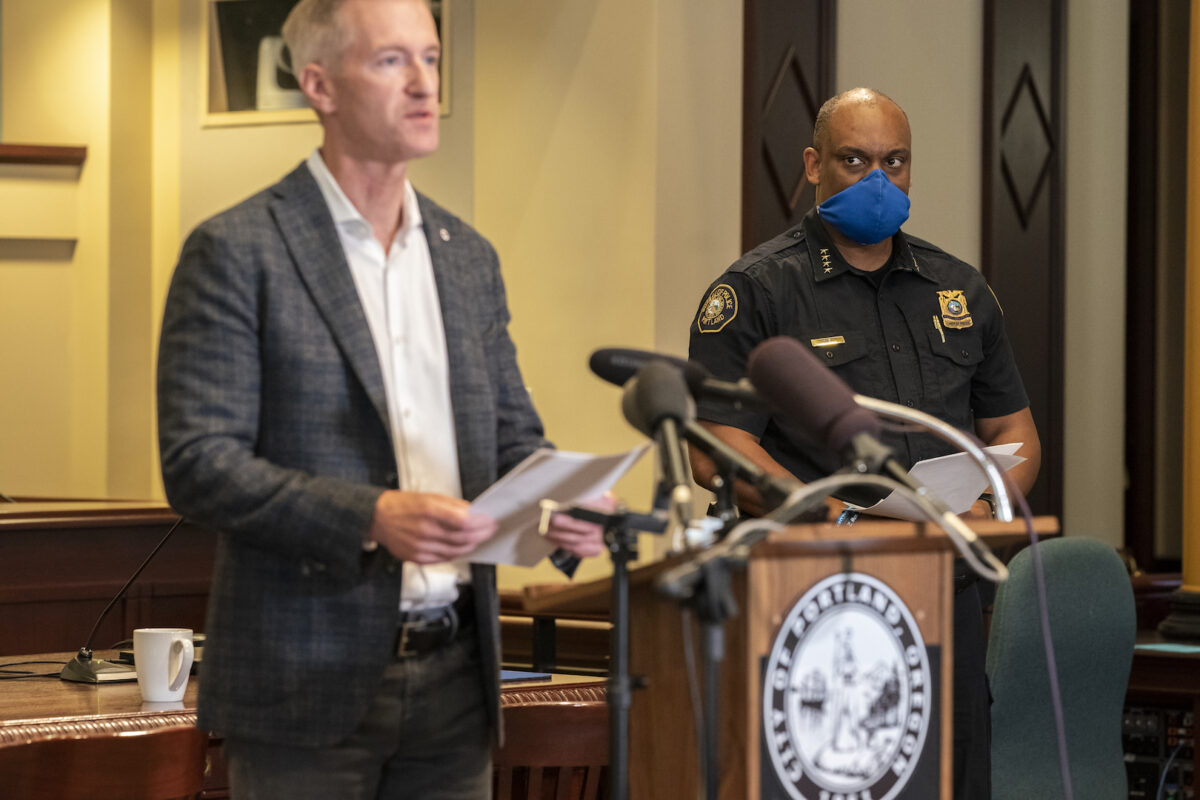 Wheeler said he's in contact with Multnomah County District Attorney Mike Schmidt to actively work on cases together to ensure "people are held accountable for their criminal conduct."
The mayor addressed three points he's committed to working toward, including increasing penalties, developing a clear plan to address anarchist violence both inside and outside Portland, as well as having rioters convicted of criminal destruction meet with business owners affected by rioters and looters.
"These people need to hear, and to understand, the social and human consequences of their irresponsible actions," Wheeler said. "All of them should be required to engage in public services like litter pick-up and graffiti abatement."
During the New Year's Eve riot, officers were targeted with large rocks, bricks, and frozen water bottles, PPB officials said. Rioters also targeted officers with "paint balloons" that likely had "been laced with a caustic substance as it caused burning to the skin," adding that several officers suffered injuries.
Multiple videos shared on Twitter by reporter Andy Ngo also show businesses, including a Chase bank and Starbucks, destroyed during the violence. A crosswalk sign near the Justice Center was also set ablaze in just one of a number of fires spotted in the area.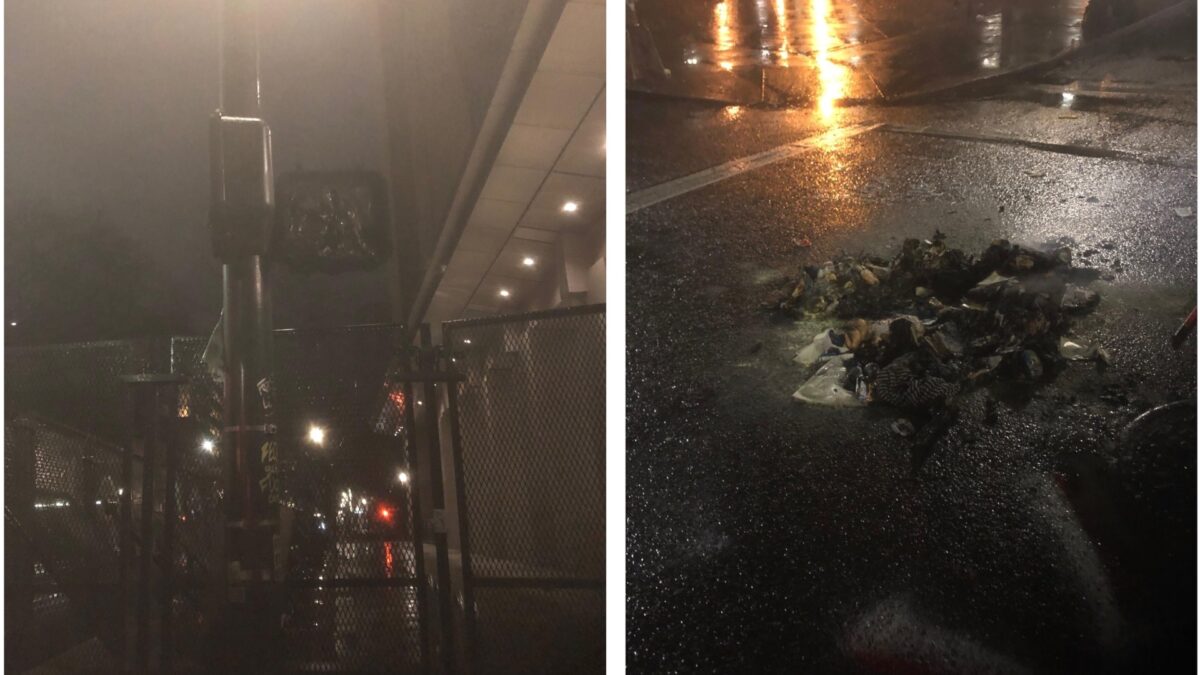 "Antifa smashed up a Chase bank and numerous other businesses in downtown Portland after starting fires outside the Justice Center," Ngo wrote in the description of one video. Authorities also confirmed that several businesses had been damaged, and reports of the damage were currently being compiled.
Multnomah County Sheriff Mike Reese said during a press briefing that the violence during the New Year's Eve riot was "criminal and reprehensible," adding that it was a focused attack on the Justice Center, a public safety facility that protects the community.