PG | 1h 41min | Drama, Comedy, Mystery, Fantasy | 28 June 1978 (USA)
After a decade of largely forgettable TV roles and low-performing features, Warren Beatty hit major critical and commercial pay dirt with "Bonnie and Clyde," the first movie he both starred in and produced and that provided the launching pad for the remainder of his storied career.
Rather than fully cashing-in on his newfound clout, Beatty spent the next 10 years working alongside some of the greatest directors of the era (Robert Altman, Arthur Penn, Hal Ashby, Alan J. Pakula, Mike Nichols, George Stevens) appearing in daring, artsy films which (mostly) made decent money while upping his acting acumen ("McCabe & Mrs. Miller," "The Parallax View," "The Fortune," "Shampoo"). It was with his next feature (and first as a director) that Beatty would hit full stride.
The Screenplay Is the Star
In tandem with the genius of Elaine May (and the uncredited Robert Towne), Beatty re-imagined the 1938 stage play (also adapted into "Here Comes Mr. Jordan" in 1941 and the 2001 Chris Rock clunker "Down to Earth") by Henry Segall. The story is about a man prematurely sent to the afterlife by a nervous, greenhorn guardian angel (Beatty's co-director Buck Henry). With just a minor storytelling tweak, the writers were able to meld the real and the imagined with seamless ease. Beatty plays three characters for the duration? No problem. All of it makes complete sense once the fantasy rules and boundaries are established and—more importantly—never changed for the sake cheating on the script; something which happens with blinding regularity in most fantasy and sci-fi productions.
Joe Pendleton (Beatty) is the second-string quarterback for the Los Angeles Rams recovering from a devastating knee injury and is approaching the autumn of his career. Through sheer will and an obsessively nutritious diet, Joe is named starter, but appears to die in a freak accident on the same day (also his birthday). Arriving at a "weigh station" and proving his death was an error, Joe convinces the mysterious Mr. Jordan (James Mason) that he must return to Earth and continue with his football career.
No harm, no foul, right? Joe can start the next game against the Dallas Cowboys and live another 50 or so years. The problem (read: the perfect plot springboard) is that Joe's body has been cremated, and Mr. Jordan must find him a replacement.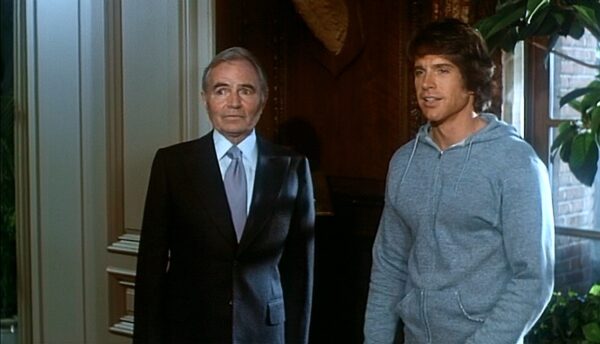 After unsuccessfully presenting Joe with several top-shelf athletes who are about to buy the farm, Mr. Jordan suggests Leo Farnsworth, a megalomaniacal industrialist who has just been poisoned by his wife Julia (Dyan Cannon) and her lover (also Leo's "personal private executive secretary") Tony Abbott (Charles Grodin). Not initially interested, Joe changes his mind after seeing Betty Logan (Julie Christie), an activist protesting a proposed, eco-unfriendly plastics plant in Europe owned by one of Leo's many companies. Beyond smitten with Betty and intrigued by her mission, Joe acquiesces to become Leo, with the stipulation it will only be temporary and Mr. Jordan agrees.
With more than enough plot for three films, the first act of "Heaven Can Wait" provides a master class in screenplay composition. Well over a half dozen characters are introduced and in less than 30 minutes and all of their respective personalities, motives, and arcs take shape. Arguably, the most interesting and rewarding of them is Max Corkle (Jack Warden), the Rams's trainer and Joe's best friend. Max is the only character (including Joe) to share screen time with all incarnations of Beatty's character and he also acts as an audience surrogate.
Record-Tying Four Oscar Nominations
Coming in a close second to Max are the Julia and Tony characters. All live-action films (and most animated features) are only as good as the villain(s) and the hiring of Cannon and Grodin was a masterstroke on the part of Beatty and casting director Patricia Mock. A maestro of deadpan delivery, Grodin tosses in some weaselly, exasperated snark which is the ideal compliment to Cannon's shallow, paranoid trophy wife, and together they provide the majority of the comic relief. Interestingly, Beatty and Mock's first choice for Mr. Jordan was Cannon's ex-husband Cary Grant, who chose not to come out of retirement.
"Heaven Can Wait" struck such a strong chord with audiences (taking in nearly $100 million against a $15 million budget), and received nine Oscar nominations (winning only for Best Art Direction). Despite losses in four major categories (Best Picture, Best Director, Best Adapted Screenplay, and Best Lead Actor), it was the first time since Orson Welles and "Citizen Kane" that one person would receive nominations in all four of those categories.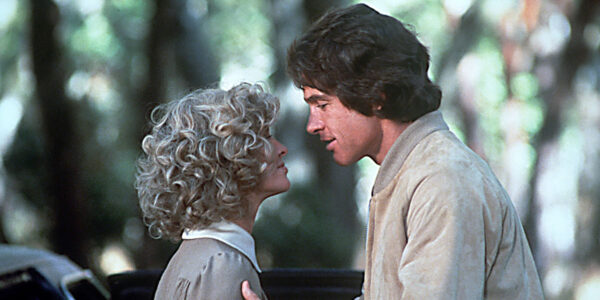 Query any filmmaker or actor and they will tell you that comedy is the hardest of all genres to pull off with success and conviction, and light comedy is even all the more difficult. "Heaven Can Wait" didn't include broad, over-drawn characters, pratfall physicality, caricaturing, or overly-cooked antagonists. And it was bolstered by one of the greatest bittersweet cinematic romances (Beatty and Christie had dated off-screen and broke-up four years earlier). Every character is entirely plausible, even within the fantasy construct. This was a near-impossible achievement on every level.
With "Heaven Can Wait," Beatty reached his commercial and creative zenith. The reason so few people choose to wear four creative hats on the same production is the sheer overwhelming burden of it all and the possible failure factor. Having May, Henry (and Towne) picking up some of the slack behind the camera certainly helped but after viewing the four subsequent films Beatty directed, wrote, and/or produced, it's clear he had the final word on every creative aspect of this unforgettable classic.
'Heaven Can Wait'
Directors: Warren Beatty, Buck Henry
Stars: Warren Beatty, Julie Christie, Dyan Cannon, Charles Grodin, Jack Warden, James Mason
Running Time: One hour, 41 minutes
MPAA rating: PG
Release Date: June 28, 1978
Rating: 5 out of 5
Originally from Washington, D.C., Michael Clark has written for over 30 local and national film industry media outlets and is based in the Atlanta Top 10 media marketplace. He co-founded the Atlanta Film Critics Circle in 2017 and is a regular contributor to the Shannon Burke Show on floridamanradio.com. Since 1995, Mr. Clark has written over 4,000 movie reviews and film-related articles.