Goya Foods CEO Robert Unanue said the United States is fortunate to have a leader like President Donald Trump.
"Today, it gives me great honor—and, by the way, we're all truly blessed at the same time to have a leader like President Trump who is a builder," Unanue said at a ceremony in the White House's Rose Garden on Thursday. "And that's what my grandfather did: He came to this country to build, to grow, to prosper. And so we have an incredible builder, and we pray—we pray for our leadership, our President, and we pray for our country that we will continue to prosper and to grow."
Unanue recounted how his grandfather started Goya in 1936 after having departed Spain at the age of 18.
Headquartered in Secaucus, New Jersey, Goya now has some 4,000 employees and an annual revenue of approximately $1.5 billion.
The company produces authentic Latino cuisine.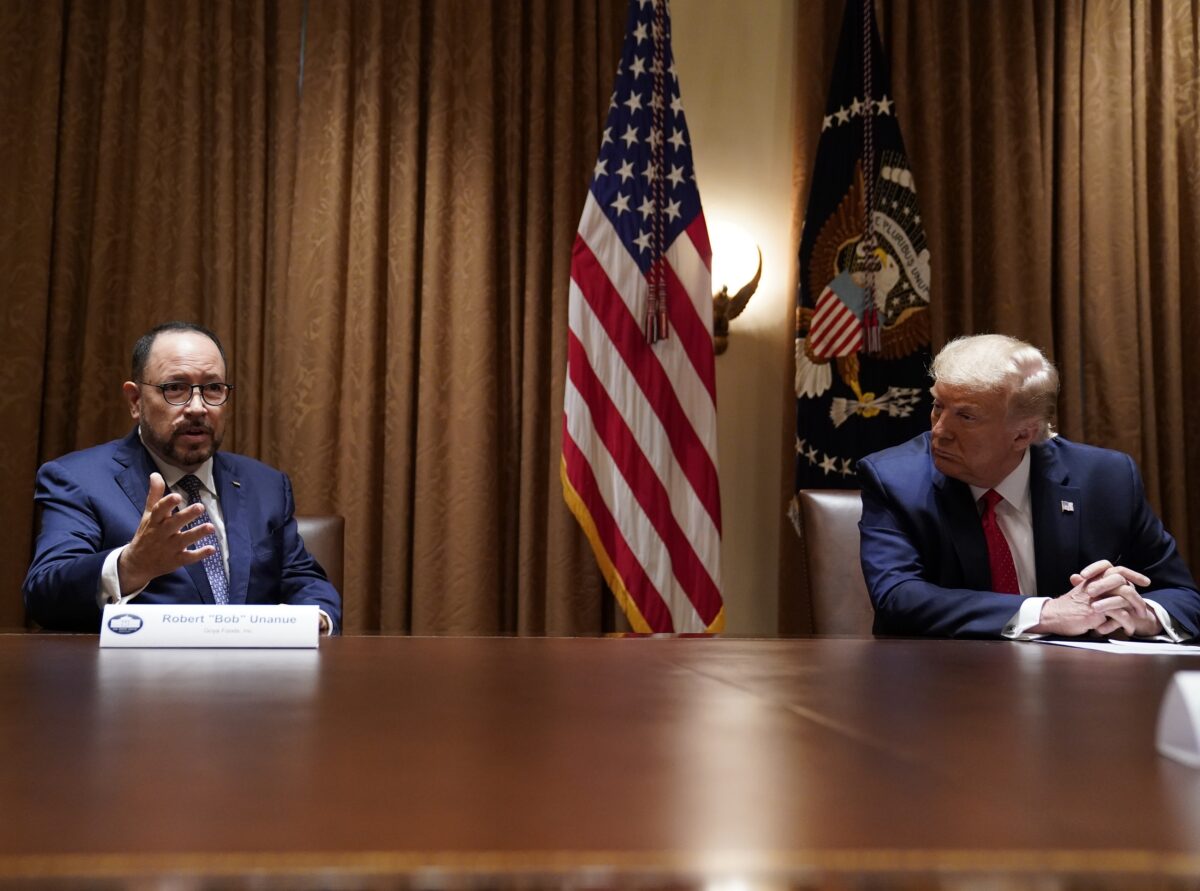 Unanue was speaking before Trump signed an executive order that establishes an initiative in the Department of Education aimed at improving educational and economic opportunities for Hispanic Americans. The order also creates an advisory commission to focus on Hispanic prosperity. Unanue is on the commission.
Unanue at the ceremony also announced that Goya and its partners are are donating one million cans of Goya chickpeas and a million pounds of food to food banks.
John Sanchez, the former Republican lieutenant governor of New Mexico, was named as the leader of the initiative.
Sanchez said he grew up in poverty, raised with seven siblings by a single mother.
"But because of her leadership through personal responsibility—stay in school, get a good education—we have lived the American Dream," he told those assembled.
Sanchez also praised Trump: "Mr. President, your leadership, when it comes to job creation; education reform; choice, when it comes to education, will allow this country to fulfill its American Dream."
"I'm honored to be here with you, Mr. President. Your great leadership, making America great—we stand with you. We'll keep America great under your leadership," he added.