News Analysis
The Chinese stock trading app Webull has been one of the biggest beneficiaries of the retail trading frenzy that has gripped the U.S. stock market this year.
Reddit-based retail investors generated huge volumes across U.S. financial markets, sending heavily shorted stocks such as GameStop and AMC skyrocketing in late January. The trading frenzy has been especially fortuitous for Webull, a Chinese competitor of Robinhood that saw a sudden surge in downloads after the latter was heavily criticized for restricting trades in certain stocks.
Demand from retail investors, including those who follow the popular WallStreetBets Reddit page, had driven up the prices of certain heavily shorted stocks. This sparked intense media coverage and general interest in stock trading. The Webull app experienced a huge surge in downloads during the last week of January, at one point becoming the No. 2 free Apple iPhone app in the United States behind Robinhood. As of the first week of February, Webull's popularity has tapered off, but it's still in the Top 10 personal finance apps on Apple's App Store.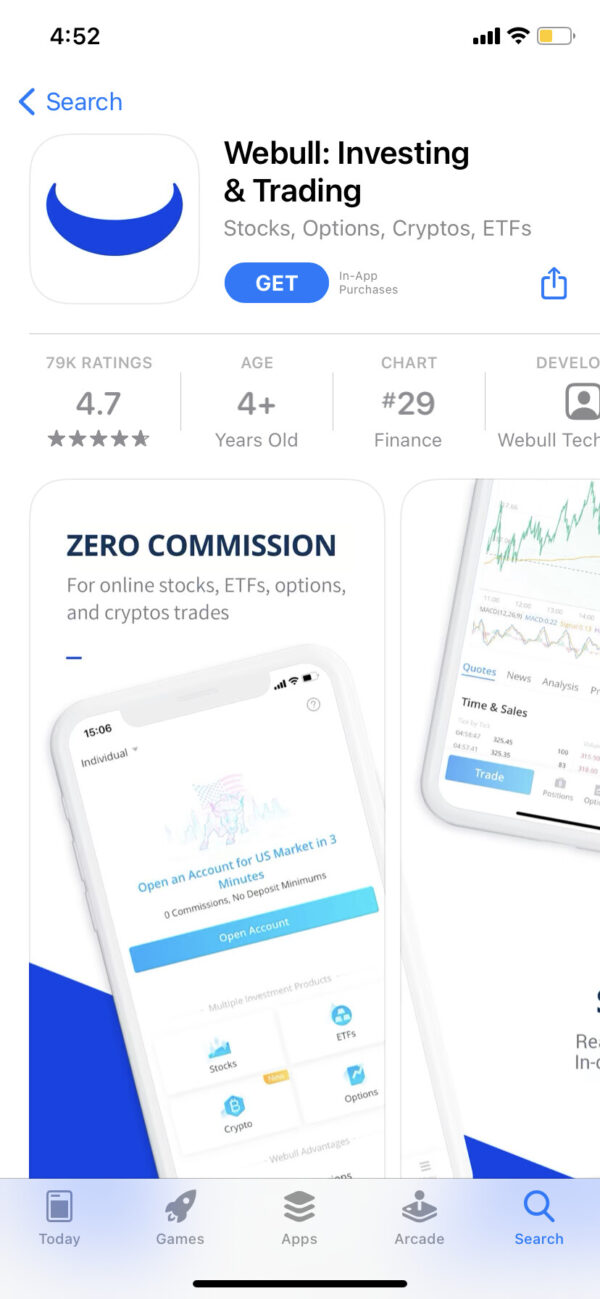 Webull's sudden popularity was credited to consumer backlash against Robinhood, which decided to temporarily restrict trading in GameStop and other stocks, due to margin requirements governing stock settlement.
While investors were encouraged by the WallStreetBets Reddit moderators to jump ship to Webull, it (and another popular stock trading app called M1) also enacted similar restrictions after increased trading volumes, as mandated by its clearing agent. Both Webull and Robinhood use Apex Clearing Corp. for stock settlement.
Webull was estimated to have 2 million users a few months ago, but its total customer base is likely many times that today.
Webull's Chinese Roots
But most U.S. retail traders are unaware of Webull's Chinese origins.
In many respects, it seems like any other fintech company. Webull states that it operates at the intersection of finance and technology. It has a non-Chinese CEO, Anthony Denier. Webull's registration information on the FINRA (Financial Industry Regulatory Authority) website states that it's headquartered at 44 Wall Street in New York.
Webull hides its Chinese origins well. It is operated by a parent company with a different name, Fumi Technology. It has several established partners, including Danish investment bank Saxo Group.
Fumi's lead founder, former Alibaba and Xiaomi staffer Wang Anquan, oversees an executive team that has work experience at Alibaba, Xiaomi, Huawei, and Bloomberg. In terms of financial backing, Fumi has raised approximately 600 million ($92 million) in funding from a variety of investors through Series B. Seed funding was provided by Chinese smartphone manufacturer Xiaomi, with Series A and Series B equity provided by various China-based venture capital funds.
Late last year, Webull announced that it officially launched its stock trading platform in Hong Kong, through a locally registered broker-dealer named Webull Securities Ltd.
Robinhood's Pain Is China's Gain
While most media have portrayed Webull as Robinhood's scrappy competitor in the free stock trading app space, Webull's Chinese origins should raise some red flags. For one, opening the doors of the U.S. financial markets to Webull is far from commensurate with the level of market access that Beijing grants to U.S. financial firms.
It should also concern security experts and the U.S. government that a Chinese-owned company has direct access to U.S. user data.
The company says that it stores all of its user data within the United States. But a financial services company shouldn't be looked at with the same lens as say, TikTok. Financial firms collect confidential personal information such as users' Social Security numbers, home addresses, and bank account numbers.
In addition to personal information, Webull also has access to trading data and tendencies from all its customers, information that could prove valuable for the Chinese Communist Party (CCP) regime.
All Chinese companies, private or state-owned, must ultimately answer to the CCP. As an Alibaba alum, Wang knows the scrutiny that his former boss—Jack Ma—has been under in recent weeks. The CCP unilaterally determines all Chinese laws yet at the same time isn't bound by them.
No company's privacy policy can supersede Party requests. While Webull stores user data in the United States today, it has little recourse when Beijing calls.