Chinese telecom giant Huawei made public one of its latest lawful interception patents at the end of March, raising concern over personal data and privacy.  A former Huawei engineer told The Epoch Times that such a practice is nothing new in the company and explained why the practice has now been declassified.
On March 30, Huawei disclosed a patent titled "A method, gateway device, system, and storage medium for lawful interception," with announcement number CN110326278B and an application date of Feb. 28, 2017.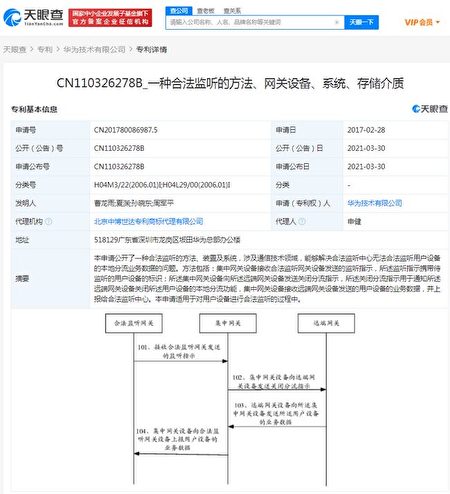 The technology is described as aiming to enhance monitoring efficiency.
The telecom giant's disclosure ignited discussion online.
However, reports on the disclosure were censored from China's state news portals, including Sohu, NetEase, and Tencent.
Lawful Interception Underway for Years in Huawei
Jin Chun, a former engineer at Huawei's Nanjing Research Center for three years, gave The Epoch Times an exclusive interview in the United States on April 2.
"Lawful interception has constantly been underway in Huawei," Jin revealed.
Huawei's business shrunk outside China, with revenues down 12.2 percent to 180.8 billion yuan in Europe, the Middle East, and Africa, down 8.7 percent to 64.4 billion yuan in the rest of Asia, and down 24.5 percent to 39.6 billion yuan from the Americas, according to a news conference at Huawei headquarters in the southern city of Shenzhen on March 31.
"Huawei is reminding officials within the Chinese regime and domestic competitors that it possesses such a technology and has an essential presence in the industry, demanding the greenlight to its growth," Jin said.
Initially, the tech giant didn't want to divulge this practice to the public, according to Jin. "Maybe some guys within the Chinese regime's system fed the secret to the outside world. I mean Huawei doesn't care much about it, whose protection level has dropped."
"For numerous telecommunications and telephone networks, Huawei is now a major equipment provider. It supplies products from backbone fiber optic in the infrastructure to base transceivers, from hardware to software. [For example] China Mobile primarily uses Huawei's technology. As long as [you're] online, Huawei can monitor [you] via the transport layer, the distribution layer, or the application layer. So many options," he revealed.
Even worse, Huawei was identified by Forbes as playing an integral role in China's widespread and pervasive Orwellian surveillance state apparatus.
In the meantime, Jin disclosed: "Huawei has an extremely strict internal secrecy system. Exactly as the Soviet Union's KGB did in classification and confidentiality."
For example, the company's office area is divided into red, yellow, blue, and green zones, according to Jin. The red zone represents the most confidential, which only some people can enter. Outward comes the yellow zone, which is less confidential. Then the blue zone. And the outermost is the green zone, basically an open area. Personnel cannot travel between different zones; and authorizations vary from person to person.
All Cellphones Can Be Monitored by Huawei-Built Telecom Networks 
Robert O'Brien, a former national security adviser in the Trump administration, proclaimed: "We have evidence that Huawei has the capability secretly to access sensitive and personal information in systems it maintains and sells around the world," according to an article published on Feb. 13, 2020, on Princeton-based BankInfoSecurity, a site focusing on information security.
"Huawei can watch over any telecom networks as long as it builds them," Jin Chun told The Epoch Times.
"In China, in the case of China Mobile networks or fiber optic, [you] will be on the radar screen, for instance, while you go online, no matter what device you use, including an iPhone cellphone," Jin said.
He cited Germany and Belgium, where cellphone talks might be overheard by Huawei because they have close collaboration with the firm. He noted Huawei also helped African and East European nations with surveillance projects.
Another former Huawei researcher told The Epoch Times that more than ten years ago, he had known Huawei had such a function.
"Monitoring is from a higher level in Huawei," the source said. "Ordinary users are unaware even if they are being monitored. It works on the core network—the innermost, physically far from your mobile phone—that inception is achieved. A user's voice and data are transferred to the core network via a base station, which is also kept in the dark if monitoring is underway. So, Huawei can peep at whatever brand cellphone you use."
Xiang Ligang, a commentator in China's telecom sector, expressed that a surveillance authority can access a user's data as long as his phone number or social media account is identified, according to Hong Kong Citizen News.
"Any message has to pass a gateway whether it is sent via phone, WeChat, Twitter, Facebook, or LINE. Once the gateway spots a particular tag [in the message], it will pass the tagged message to a monitoring center," Xiang said.
With Huawei's new lawful inception patent available, "mass monitoring has become a reality now," the commentator added.
Hu Yuanzhen contributed to this report.