The Beijing regime has added a former U.S. religious official to its sanctions list in response to the United States' sanctioning of a Chinese official for his involvement in persecuting followers of Falun Gong.
Johnnie Moore, a two-time commissioner of the U.S. Commission on International Religious Freedom (USCIRF), and his family members will be barred from visiting mainland China, Hong Kong, and Macau, Chinese foreign ministry spokesperson Zhao Lijian said a May 26 press conference.
Moore, who has advocated on behalf of suppressed religious groups in China, said it was "an honor to be sanctioned by the Chinese Communist Party."
"The CCP [Chinese Communist Party] doesn't understand the difference between 'the truth' and a 'lie' but here's some truth we know: they are weaker than they want us to believe that they are," he wrote in a statement on Twitter. "We will not hand our world to the CCP to victimize the innocent as they please."
The new sanction from China followed the State Department's decision to punish Yu Hui, who formerly headed the Chengdu city's branch of the 610 Office, an extra-legal task force embedded in institutions all over China to implement the persecution of Falun Gong.
Falun Gong, which teaches the principles of truthfulness, compassion, and tolerance, along with slow-moving exercises, had an estimated following of 70 million to 100 million by 1999, before the regime subjected adherents to sweeping persecution.
The 2020 U.S. religious freedom report, which was released the same day the United States sanctioned Yu, cited more than 6,600 arrests and almost 8,600 instances of harassment of adherents across China in 2020.
The State Department and USCIRF didn't immediately return requests by The Epoch Times for comment.
Levi Browde, executive director of the New York-based Falun Dafa Information Center, noted how "throughout the 1990s, the CCP applauded Falun Gong's health benefits and moral contributions in many public proclamations," only to "reverse itself" after the practice became immensely popular.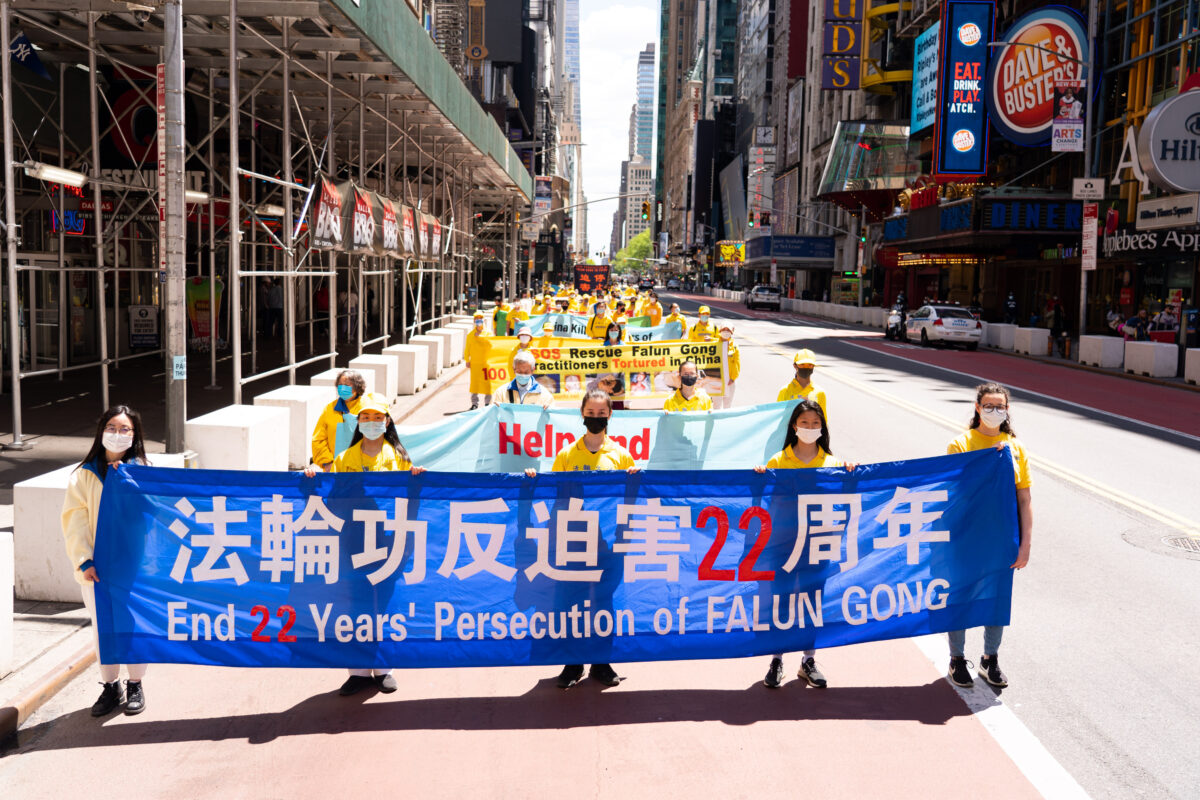 "For over 20 years, the CCP has sought to eliminate Falun Gong through arbitrary detention, torture, and widespread organ harvesting, so it's no surprise the CCP would make significant efforts to change the conversation from human rights abuses to the character of Falun Gong," he told The Epoch Times.
"But it's all just a smokescreen to hide the terrible atrocities they have committed to peaceful, innocent people."
Browde noted the irony behind the regime's efforts to malign the spiritual practice.
"It's always been tragically ironic that the CCP, which controls peoples lives, terrorizes them with persecution, and relentlessly brainwashes them, makes clumsy attempts to label Falun Gong, which is a Buddhist-based spiritual practice with no membership and is free to learn, an 'evil cult,'" he said. "There is no bigger cult in the world than the Chinese Communist Party."
According to the latest data from Minghui, a website set up in the United States to document the persecution, at least 504 people have been sentenced to jail this year through April.
Shi Shaoping, a 50-year-old Falun Gong practitioner who graduated with a master's degree from China's top science academy, the state-run Chinese Academy of Sciences, was recently handed a nine-year jail term for his belief. He previously served a 10-year sentence for talking to people about the persecution.