A new study by researchers in Hong Kong has found that recipients of BioNTech's Comirnaty COVID-19 vaccine generate 10 times more antibodies than those who receive the Chinese CoronaVac vaccine made by Sinovac.
The study showed that even after receiving their first BioNTech dose, recipients' antibody levels were higher than those who had received two doses of Sinovac.
The study also found that Sinovac recipients had produced "similar or lower" levels of antibodies to recovered COVID-19 patients.
The research was conducted by the University of Hong Kong, based on 1,442 samples collected in Hong Kong hospitals and clinics. The findings were published in Lancet Microbe on July 15.
The research found that the average antibody levels in the first month after receiving two doses of BioNTech stood at 269 neutralizing antibody titers, which is almost 10 times the readings found in those who had received the two doses of Sinovac—27 antibody titers. Those receiving their first dose of the BioNTech vaccine had readings of around 49, while the average reading after the first dose of Sinovac was only around 7.
According to the researchers, the results indicate that "alternative strategies" are needed for Sinovac recipients, such as booster shots.
The Chinese-developed CoronaVac COVID-19 vaccine uses inactivated virus technology, while BioNTech's Comirnaty COVID-19 vaccine, made in partnership with Fosun Pharma, uses mRNA technology.
The low antibody level and low efficacy of the Chinese-developed vaccines have been reported all over the world. In early June, a clinical study in Serbia showed that 30 percent of those aged 65 or above produced no antibodies after receiving another Chinese-made inactivated virus vaccine—Vero Cell by Sinopharm.
Countries that chose to inoculate their populations with Sinovac have seen surges of COVID-19 infections in recent months. Bahrain, Chile, Mongolia, and the Seychelles, which have about 50 to 68 percent of their populations fully inoculated with Chinese vaccines, are among the top 10 countries with the worst COVID-19 outbreaks.
It was reported in June that in Indonesia, more than 350 health workers who were fully vaccinated with Sinovac became infected with COVID-19.
Many countries have started to offer additional BioNTech vaccines as booster shots to those who have been fully vaccinated with Chinese-made COVID-19 vaccines, such as Bahrain and the United Arab Emirates. Indonesia has started to offer Moderna shots as boosters, while Thailand is offering UK-developed AstraZeneca shots.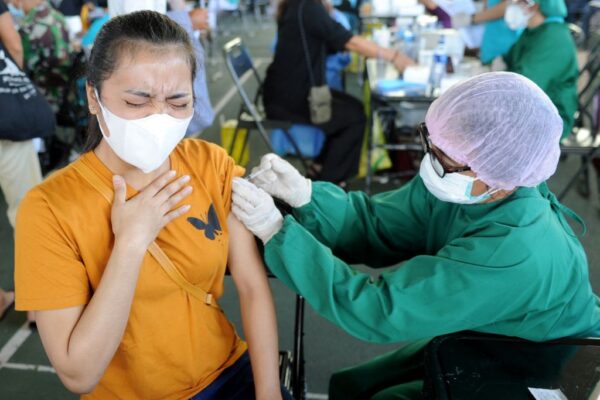 Thailand has also started to mix vaccines, offering AstraZeneca vaccines as the second dose for those who have received their first shot of the Sinovac vaccine.
Gao Fu, the director of China's Center for Disease Prevention and Control, told Chinese media in March that a third booster shot of Sinovac might be needed. In April, Gao admitted that China's vaccines provide low protection against infections and that their effectiveness might be improved by mixing different types of vaccines made with different technologies, such as mRNA used in Western vaccines.
Despite the low efficacy of Chinese-made vaccines, the Chinese communist regime has been actively pushing vaccine diplomacy that has seen it expand its political influence in countries urgently seeking COVID-19 vaccines.
In late June, Ukraine was pressured to withdraw its support for a joint statement calling for a U.N. investigation into human rights abuses in China's western region of Xinjiang, as Beijing threatened to withhold Chinese-made COVID-19 vaccines if it didn't comply.
Hungary, which bought a large amount of Chinese COVID-19 vaccines, also vetoed EU resolutions to condemn the Chinese regime's human rights abuses in Hong Kong and against Uyghurs in Xinjiang.