Images and videos of alleged police aggression to subdue Australians in Melbourne to quell civil unrest, has raised concerns over the use of force by law enforcement against alleged breaches of public health orders.
David Limbrick, an upper house member of Victoria's state parliament, says police have been given the "very difficult" task of implementing health orders—a role they are not trained for—and is warning that the state government's handling of its pandemic response could lead to increasing "social chaos."
"Instead of a police's normal job, which is going after people that hurt other people, the police's job now is to enforce rules which govern every aspect of our lives, down to the minute details of whether we wear a mask on our face or not," the Liberal Democrat told The Epoch Times. "Of course, things are going get out of control when they do that for such a long time."
"It's totally unnecessary. The reason they (the authorities) think it's necessary is because they've outlawed the right to peaceful assembly, and people aren't able to organise," he said. "People are still taking to the streets, and it's causing an excessive response from the police."


Limbrick pointed out that the Andrews government in Victoria had shown a different approach last year to the Black Lives Matter demonstrations, which were estimated to draw 10,000 people.
"We've seen last year at the Black Lives Matter (BLM) protests that it's totally possible to facilitate large scale protests during a pandemic. I was quite impressed with the job the police did then, but at subsequent protests, it's been really bad," he said.
Last year, BLM protestors gathered in the city in June in breach of public health orders. The event was concluded peacefully, with Victorian authorities subsequently fining the protestors.
Extended Lockdowns Taking Its Toll on Tired Australians
Melbourne is currently on track to break the world record for the longest number of days under lockdown, with the city enduring 239 days of lockdown since the pandemic broke out last year as of Sept. 27—just shy of the 245-day record set by Bueno Aires.
The Victorian government under Premier Dan Andrews has relied heavily on a tough suppression strategy to deal with any outbreak of COVID-19, such as imposing immediate "Stage Four" restrictions, which include curfews, limits on movement within a 5km radius, and closing non-essential retail outlets.
In contrast, the neighbouring state of New South Wales has avoided using harsh measures for the past year until the July outbreak of the Delta variant in Greater Sydney, which forced a policy change.
However, the extended lockdowns and tough restrictions in Victoria have taken their toll, with protests breaking out in Melbourne several times last week. At the same time, several pieces of footage have emerged showing police using tactics that have led to investigations by senior officers.

On Sept. 18, during Freedom Day rallies, which saw violent clashes break out between protestors and police, a 70-year-old protestor was knocked over and sprayed in the face with capsicum spray.
Some officers were seen afterwards assisting the lady. The Professional Standards Command are also investigating the incident, according to the ABC.
At the same rally, a photographer for The Age newspaper was also sprayed by police.

Footage has also emerged showing a man speaking with police officers at Flinders Street Station, before an officer approaches him from behind, grabs him, and throws him face-first into the ground using a "sling tackle." The officer has since been suspended.
Another video emerged showing police officers, decked in tactical gear, jumping from an armoured vehicle, and apprehending several individuals in the Melbourne CBD, with some officers kneeing and using their weapons to subdue the alleged suspects.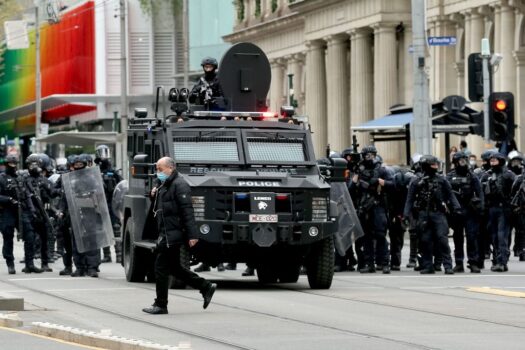 The latest incidents follow a September 2020 altercation, which saw an officer caught on film allegedly stomping on the head of a man who was suffering a mental episode. The officer was subsequently cleared in July by the state's Independent Broad-based Anti-corruption Commission.
The most recent incidents have drawn criticism from Jeremy King, principal of Robinson Gill Lawyers, who has called on police to be the "adults in the room."
"It has been a long and difficult week for police, but that sort of conduct cannot be justified," he told the Herald Sun on Sept. 23.
Limbrick, meanwhile, said the state government needed to stop "mandating" public health orders and put more trust in its citizens.
"I think that the government needed to take a much less authoritarian approach with what it's doing. Right from the start, it's done everything using force, and it's not surprising that we have got to a stage now where all we see is force," he said.