Arkansas Gov. Asa Hutchinson Thursday signed a bill that would bar biological males from participating in women's sports into law, becoming the second state this year to adopt the measure aimed at protecting student opportunities for female athletes.
Hutchinson confirmed that he signed Senate Bill 354, also known as Fairness in Women's Sports Act, which recognizes the inherent biological differences between males and females, and how biology result in different athletic capabilities.
"There are 'inherent differences between men and women,' and these differences 'remain cause for celebration, but not for denigration of the members of either sex or for artificial constraints on an individual's opportunity,'" the opening of the bill states, citing a Supreme Court case.
The new law comes amid opposition from LGBTQIA+ right groups, who claim that the measure would expose the state to "economic harm, expensive taxpayer-funded legal battles, and a tarnished reputation." The Arkansas chapter of the left-leaning civil rights advocacy group American Civil Liberties Union has indicated in a statement that they are "not done fighting" for the rights of transgender individuals, suggesting that a legal challenge of the law could occur.
The governor said he signed the bill after studying the law and consulting with hundreds of constituents on the issue.
"I signed the law as a fan of women's sports from basketball to soccer and including many others in which women compete successfully," Hutchinson said. "This law simply says that female athletes should not have to compete in a sport against a student of the male sex when the sport is designed for women's competition."
"As I have stated previously, I agree with the intention of this law. This will help promote and maintain fairness in women's sporting events," he added.
Republicans in at least 20 state legislatures have been pushing for similar bans this year. Mississippi's governor signed a prohibition into law earlier this month. Meanwhile, South Dakota Gov. Kristi Noem had initially said she would sign a similar bill but has sent the law back to the legislature over what she said were unrealistic requirements "in the context of collegiate athletics."
Although critics have accused Hutchinson of using the bill to target the LGBTQIA+ community, the governor has also made it his priority to pass a hate crimes bill that aims to protect individuals who have been targeted because of their race, ethnicity, or sexual orientation. However, efforts to pass the bill has stalled in the GOP-majority legislature.
The language of SB354 states that the ban will cover K-12 as well as collegiate sports. The law also gives a student a pathway for legal action if the student suffers direct or indirect harm from a violation of the law.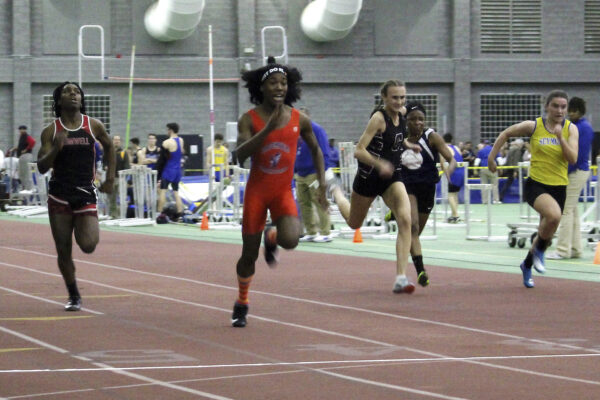 A federal judge last year blocked Idaho from enforcing similar legislation that barred transgender student-athletes from competing in women's and girls' sports. The legal challenge has since been appealed in the 9th Circuit Court and a hearing for oral arguments has been scheduled for May 3.
The Biden administration has indicated that it supports male-born students participating in women's sports. Education Secretary Miguel Cardona said during his confirmation hearing in response to a question by physician Sen. Rand Paul (R-Ky.) that it was important to respect the rights of all students, including students who are transgender who want to participate in extracurricular activities.
However, he did not directly respond as to whether he thinks this would be fair to biologically female athletes.
The Associated Press contributed to this report.