Half of the United States' CCP virus cases are occurring in California, Florida, Texas, and Arizona, said Vice President Mike Pence in remarks on Tuesday.
"Roughly 50 percent of all the new cases are taking place in four states," Pence said at a news conference in Maryland. He added that the White House pandemic task force is "particularly focusing on the four states that are generating the majority of the cases which, of course, are California, Arizona, Texas, and Florida."
About 44,000 new cases of the CCP (Chinese Communist Party) virus, a novel coronavirus, were reported across the country on Tuesday, according to the COVID Tracking Project. It noted, however, that northeastern states such as former CCP virus epicenter New York have been "flat for 12 days."
Arizona, California, Florida, and Texas are still at the center of the current surge of new cases. Hospitalization for AZ, CA, and TX all climbing. We expect Florida's data has a similar shape. pic.twitter.com/8G9RRQta6j

— The COVID Tracking Project (@COVID19Tracking) June 30, 2020
On June 28, the COVID Tracking Project noted that "there were 332 reported deaths today," and "the 7-day average in deaths remains about unchanged" from the CCP (Chinese Communist Party) virus, a novel coronavirus that emerged from mainland China late last year.
"At this moment, we have 12 states with rising cases and percent-positive cases—a combination of both rising cases and rising percent positive," Pence added. "Beyond that, there are another 28 states that either have rising cases or rising positives but do not have a combination of those two things."
"While there are 29 states that … don't have a combination of rising positivity and rising cases, we also have an additional 10 states that are either entirely stable or have numbers that are so low that they're de minimis," the vice president added.
Meanwhile, after the July 4 holiday weekend, New York, New Jersey, and Connecticut will require people arriving from eight more states to quarantine for 14 days.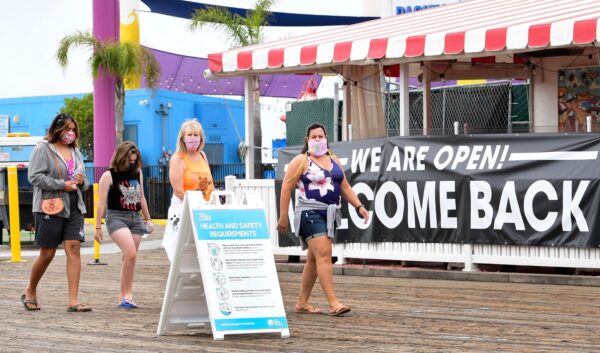 The Democratic governors from the tri-state area are now requiring people to quarantine from Alabama, Arkansas, Arizona, California, Florida, Georgia, Iowa, Idaho, Louisiana, Mississippi, North Carolina, Nevada, South Carolina, Tennessee, Texas, and Utah.
"As an increasing number of states around the country fight significant community spread, New York is taking action to maintain the precarious safety of its phased, data-driven reopening," New York Gov. Andrew Cuomo stated on Tuesday.
"We've set metrics for community spread just as we've set metrics for everything the state does to fight COVID-19, and eight more states have reached the level of spread required to qualify for New York's travel advisory," Cuomo said before adding that people traveling to the state now have to quarantine for two weeks. He didn't elaborate on how this mandate would be enforced.
The self-quarantine doesn't apply to travelers passing through the three states for a limited period of time such as when people stop for air, bus, or train layovers, or stopping at rest stops in cars, trucks, buses, and trains, officials said.