Two Hong Kong residents are in serious condition after receiving China's Sinovac COVID-19 vaccines, the Hong Kong government announced on Sunday, after a 55-year-old woman with chronic illness died four days after receiving her vaccine—the second related death in the city.
COVID-19 is the disease caused by the CCP (Chinese Communist Party) virus, commonly known as the novel coronavirus.
On Sunday, 8,100 people were vaccinated with Sinovac's CoronaVac vaccine, which was 82.3 percent of the daily vaccination appointments, according to the city's Health Department.
But two residents were left in serious condition after vaccination on Saturday and had to be transferred to the intensive care unit (ICU). According to local media reports, two others were sent to hospitals after suffering a milder adverse reaction to the vaccine.
On Saturday, three people were also admitted to hospital after receiving the vaccine. All patients suffered mild reactions and were discharged being treated. The symptoms included skin rash, heart discomfort, dizziness, high blood pressure, and trembling.
A total of 83,400 people had received CoronaVac vaccinations in the city by Saturday.
The health department has said that the mild conditions were caused by the vaccine, while the cause of the deaths and serious reactions were still unclear.
Hong Kong's Secretary for Health and Food Sophia Chan told a local radio program that Hongkongers can consult their family doctors before booking a COVID-19 vaccination if they have any concerns.
2 Deaths
The Hong Kong Health Department confirmed on Saturday that the second death, the 55-year-old woman, was due to an acute stroke on Friday.
According to the department, the woman had a history of high blood pressure, high blood lipids, and proteinuria, but still could work.
On March 2, the woman received the first dose of CoronaVac at a local community vaccination center. At 7:00 p.m. on Friday, she was working her usual job when she lost control over the left side of her body. She was rushed to hospital by ambulance and diagnosed with a stroke. She passed away at 4:51 a.m. on Saturday morning.
It's unclear whether the vaccine contributed to the woman's death. The authorities said they would perform an autopsy and investigate the cause of death.
The first death in Hong Kong was a 63-year-old man with a history of diabetes. He received a Sinovac vaccine on Feb. 26 and died on Feb. 28. The Hong Kong administration has said his death was not caused by the vaccination.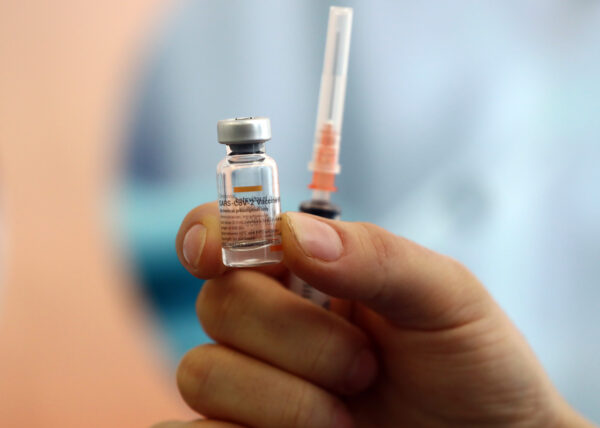 2 in Serious Condition
The first ICU case is an 80-year-old man who has a history of diabetes, carotid atherosclerosis, hypertension, and stroke. He received the vaccine on Monday and called for an ambulance on Saturday due to chest pain. He was in a very serious condition on Sunday after not responding well to treatment, according to the department.
The second ICU case is a 72-year-old woman, who also has a history of diabetes, hyperlipidaemia, hypertension, and hypothyroidism. She received the vaccine on Saturday but skipped two doses of insulin that she took every day when she felt unwell after the vaccination. When her condition declined Sunday morning, her family sent her to the hospital where they found she had severe diabetic ketoacidosis.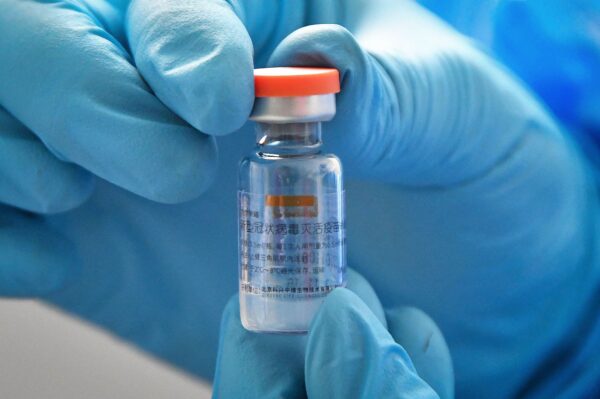 Sinovac
Chinese authorities have approved three types of COVID-19 vaccines for emergency use, which include CoronaVac and two inactivated virus vaccines from Sinopharm, but only for people aged 18 to 59, saying that "other age groups need to wait for the vaccines' further clinical trials."
However, the Hong Kong government approved CoronaVac and suggested that seniors be vaccinated.
The efficacy of Sinovac's CoronaVac was found to be 50.4 percent in its last-stage clinical vaccine trials in Brazil—just barely passing the WHO's 50 percent threshold for regulatory approval. The rate is also lower than the U.S.-developed vaccines, with Pfizer-BioNTech's at 95 percent, and Moderna's at 94.1 percent. Elderly deaths have been reported in those who have received Pfizer and Moderna vaccines. But so far, the U.S. CDC says that investigations have shown no link between deaths and vaccines.
On Feb. 14, a 33-year-old Indonesian nurse died of COVID-19. She had received one shot of the CoronaVac vaccine on Jan. 28. At that time, she was healthy, according to her manager.
Vaccinations in Hong Kong
Hong Kong administrations have only approved three types of vaccines for emergency use: Chinese company Sinovac's CoronaVac, Chinese partner of Pfizer Fosun Pharma and Germany company BioNTech's Comirnaty, and a single-dose Oxford-AstraZeneca vaccine.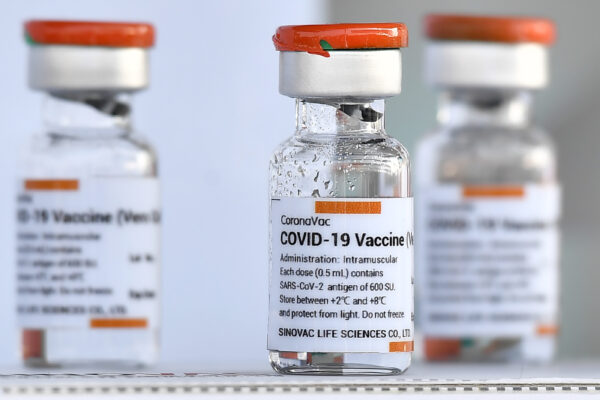 The government started to vaccinate its people on Feb. 22. Nobody has had the chance to receive their second dose since they need to wait about 28 days.
Due to the shipment schedule, the majority of vaccines that Hongkongers have received are supplied by Sinovac.
The Hong Kong Health Department announced on Sunday night: "About 93,000 people have been vaccinated against COVID-19, with 91,800 receiving their first dose of the Sinovac vaccine and about 1,200 their first dose of the Comirnaty vaccine."