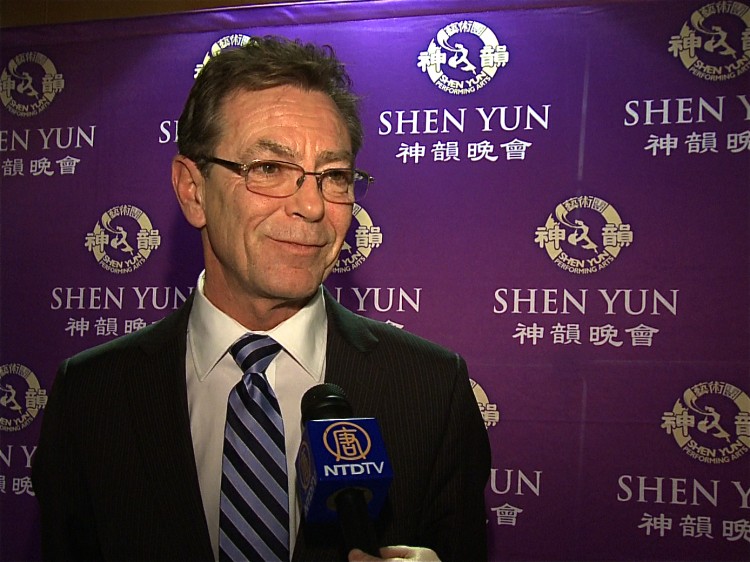 MISSISSAUGA, Canada—It was an exciting night to take in Shen Yun Performing Arts' first date in North America, said Mississauga city councillor Jim Tovey.
"It's absolutely wonderful. It's beautiful. Costumes are so beautiful, all the dancers are so well trained," Mr. Tovey said during the show's intermission at the Living Arts Centre.
It was Mr. Tovey's third time to see the show. With his wife, Lee, being a ballet teacher, the couple are enthusiastic patrons of the arts.
"We love dance and we love the wonderful multicultural aspect of our city. It enriches all of us."
"We're just so very thankful that this company has come to share their talents and their beautiful creativity with us. It's wonderful."
Mr. Tovey said that seeing the show on the very first night of its 2013 North American tour made the night that much more exciting. 
While the New York Company performs in Mississauga, its other two companies prepare for their dates in the United States. Shen Yun will perform in about 100 cities around the world during its global tour this year.
Shen Yun performs mainly classical Chinese dance, a tradition passed down over thousands of years within the imperial palace and ancient Chinese theatre and opera.
Artistry with athleticism
"The thing that really amazes me is the athleticism that goes along with the artistry," Mr. Tovey said.
"This style of dance, it's very, very athletic—lots of flips, lots of full aerials, full walkovers with no hands, and beautiful splits and lovely, pointed feet. I mean, it's wonderful. It's just wonderful to be here. We really love it," he said.
Shen Yun's website notes the little-known connection between classical Chinese dance and modern gymnastics.
"What few people realize is that these gravity-defying techniques introduced to gymnastics over the last decades have, in classical Chinese dance, a history of thousands of years," reads the site.
In addition to classical Chinese dance, Shen Yun also presents ethnic dances from China's diverse regions, as well as folk dances of the majority Han ethnicity.
Mr. Tovey said he knew a fair amount about traditional Chinese culture and China's ethnic diversity. 
"I think a lot of people have the misconception that Chinese culture is just sort of one culture, but it's really not. It's many, many cultures in China, and in the history and tradition of China."
"I think it's wonderful to see that it's being so proudly displayed. … I think it's really wonderful for people that don't know as much about Chinese culture."
Shen Yun's dancers perform with the support of a philharmonic orchestra that includes Chinese instruments leading the melodies.
The evening's program also includes three vocal soloists and an erhu virtuoso. The first soloist, soprano Pi-ju Huang, performed before intermission and made a big impact on Mr. Tovey.
"When she hit that last note, oh my goodness, the entire theatre was just reverberating. It was just shaking, it was so powerful. She was amazing—wonderful singer."
Enriching experience
Shen Yun was founded on a mission to revive 5,000 years of divinely inspired Chinese culture, a culture almost destroyed under 60 years of communist rule. 
Mr. Tovey said there is a spiritual message to Shen Yun.
"It's a message of love, and a message of hope, and message of friendship. It's just wonderful to see."
He said it would be hard to describe Shen Yun in a word or two, given all of its elements. 
"You know, just the beautiful costumes, the artistry, the athleticism, the way they can reach out and touch the audience so beautifully. … 
"It's a very complete experience and I hope that a lot of Mississauga citizens—and I'm sure they will—will come to the show and really enjoy it and themselves become enriched by the experience."
Mr. Tovey is the councillor for Ward 1 and has sat on a number of committees during his time in office. 
In 2009, he was named Mississauga's Citizen of the Year. He is the former President for his local neighbourhood residents' association, co-chair of the Lakeview Legacy Foundation, and has won a long list of awards for his professional work as a designer and for his public service work.
Reporting by NTD Television and Matthew Little
New York-based Shen Yun Performing Arts has three touring companies that perform simultaneously around the world. Shen Yun's New York Company will perform next in Ottawa before going to Ottawa and Montreal and other dates in Ontario, Quebec, and across Canada.
For more information visit ShenYunPerformingArts.org
The Epoch Times publishes in 35 countries and in 20 languages. Subscribe to our e-newsletter.