Andrew Jarzyk: Latest Updates in Missing Hoboken Man's Search (+Photos)
April 2, 2014 7:05 pm Last Updated: July 18, 2015 5:15 pm
Andrew Jarzyk has been missing from Hoboken, NJ since March 30.
The search is ramping up this week for Jarzyk, 27, who was last seen running along Hoboken's waterfront early Sunday.
Police scoured the Hudson River on Tuesday, sending scuba teams to search for any evidence, reported NJ.com.
Footage from a video camera near Fourth and River streets shows Jarzyk running along the waterfront in Pier A Park. He had left the West Five Supper Club at about 1 a.m., telling his friends that he'd be back.
About an hour later, neighbors saw him outside his home dressed in exercise gear.
It's not clear where he went after Pier A Park.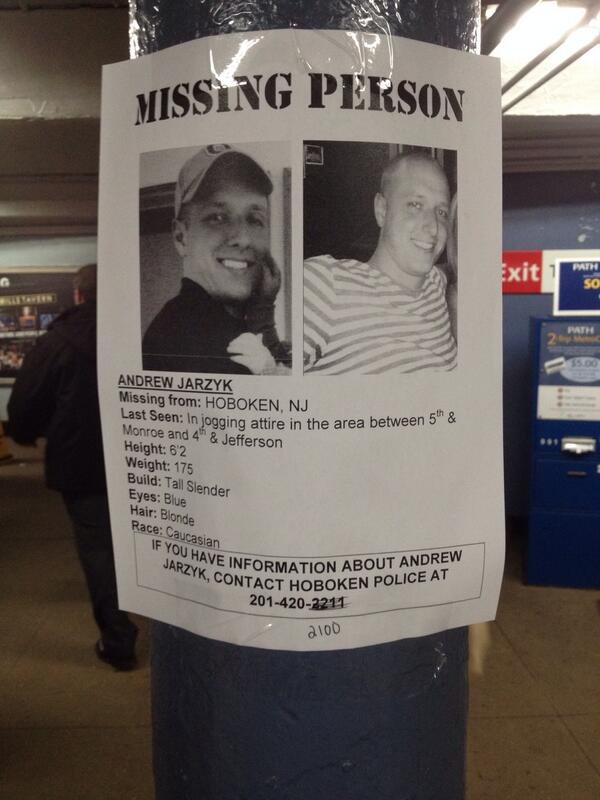 (Twitter)

(Facebook)
Police are also searching on land, Hoboken detective Anthony Falco said. "We don't have anything suggesting that he's in the river," he said. Foul play isn't suspected at this time. 
Jarzyk's family says that he's not the type to just vanish.
"We're talking about a responsible young man who loves his family, would not put his life in jeopardy, and would not leave everybody wondering where he is," his sister-in-law Karyn Jarzyk told CBS.
Jarzyk is described as fun-loving, easygoing, and willing to help anyone. 
"He had a cell phone but we think that the battery died, it got lost — we don't know, " Karyn Jarzyk said. "He wasn't answering it."
Jarzyk is a native of Trenton, New Jersey, according to his Facebook profile. He's a relationship manager at The PNC Financial Services Group after studying economics at Susquehanna University.
He's about 6-feet-1 inches tall and weighs about 160 pounds. He has thinning dirty blond hair, blue eyes, and a tattoo bearing a cross on his rib area with the initials "SJLJBJ," police said.
He also has a scar on his left cheek and a sizable scar on his shoulder.
Anyone with information about Jarzyk's whereabouts is asked to call Hoboken police, on the main line at (201) 420-2100 or on the police desk at (201) 420-2131.