Carlie Trent is just nine years old and in a newly-released video she talks about her sister getting a flu shot—a poignant contrast with the current dramatic search for the kidnapped child.
The video was released by TBI on May 9.
Carlie talks about her sister getting off school early because she had to get a flu shot. "She just got home now from the store and her flu shot," she said.
Carlie has not been seen since she was signed out of her Rogersville, Tenn., school during the afternoon hours of May 4 by her uncle, Gary Simpson, 57, who has no current custodial rights to Carlie. Authorities have issued a warrant for his arrest for kidnapping.
Carlie's mother has said she doesn't know why Simpson would take Carlie.
Authorities issued an amber alert and have been searching on the ground and in the air, according to  Josh DeVine, the Tennessee Bureau of Investigation (TBI) public information officer.
"We will not rest at TBI until we bring resolution to this, until we find her and reunite her with her family," said DeVine.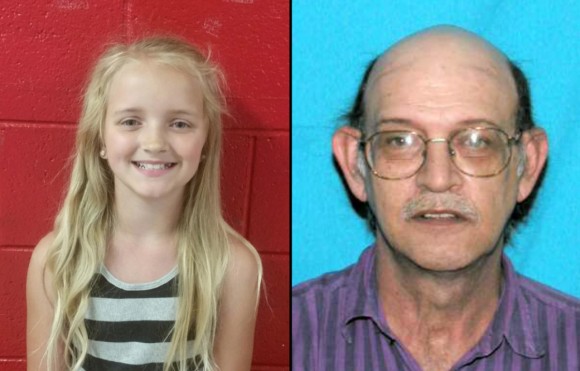 "As tough as this process has been, we will never forget it's all about a nine-year-old girl," TBI stated in a tweet accompanying the video.
Carlie is 4 foot 8 inches tall, weighs 75 lbs with blonde hair and blue eyes, and was last seen wearing a black and grey tank top and blue jeans.
Simpson is a white male, 5 foot 10 inches tall, weighing 157 lbs. He is balding, has brown hair and eyes, and was last seen wearing a brown cap, a dark colored shirt and jeans.
They're believed to be traveling in a white 2002 Dodge Conversion Van with Tennessee registration plates 173-GPS. The van has a dark stripe along the middle with light gold running boards and paint is chipping off of the hood.
On May 6, the U.S. Marshal's Service indicated it was offering $2,500 in reward money for information leading to the child and the capture of Gary Simpson. On May 7, Carlie's pediatrician, Dr. Chris Calendine, pledged to offer a $10,000 reward for information leading to the safe recovery of the child.
Shortly after her pediatrician's pledge, the TBI obtained footage of who they believe is Carlie and Simpson inside a Rogersville Save-A-Lot grocery store on the day she was picked up from school.
Epoch Times reporter Andrew Simontacchi contributed to this report.