The U.S. Capitol Police said that it learned of a possible threat against members of Congress and the Capitol complex by "an identified militia group."
"The United States Capitol Police Department is aware of and prepared for any potential threats towards members of Congress or towards the Capitol complex," said a news release from the agency on Wednesday, adding that there is a " possible plot to breach the Capitol by an identified militia group on Thursday."
The release added: "We have already made significant security upgrades to include establishing a physical structure and increasing manpower to ensure the protection of Congress, the public, and our police officers."
The department did not elaborate on the nature of the threat or provide details on the alleged militia group. The FBI and Department of Justice have identified some individuals who were arrested after the Jan. 6 Capitol breach as members of militias.
So far, more than 300 people have been arrested in connection to the Capitol breach, said FBI Director Christopher Wray in a Senate hearing. Wray also stated that the FBI is viewing the breach as a "domestic terror" incident.
"Due to the sensitive nature of this information we cannot provide additional details at this time," the release stated, adding that it is taking the received intelligence seriously.
The department added that it is working to gather intelligence with federal, state, and local law enforcement agencies.
The announcement comes days after the Capitol Police Department stated on Twitter that it has taken steps to increase security around the Capitol. Inauguration Day used to be March 4 under the U.S. Constitution, until the passage of the 20th Amendment in 1933, which moved the date to Jan. 20. Claims have been circulating on social media platforms suggesting that former President Donald Trump would return as the president on Thursday to reclaim power.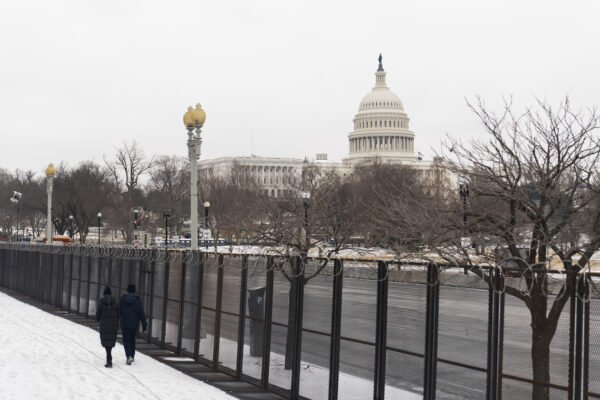 House Acting Sergeant at Arms Timothy Blodgett told all members of Congress in a message on Monday that his office and Capitol Police are monitoring information surrounding the date, which he said some have described as the "true Inauguration Day."
Blodgett, however, appeared to dispute claims that armed groups are plotting to storm the Capitol on March 4, saying officials have "no indication" that groups are planning to travel to Washington D.C. to protest or commit acts of violence.
Meanwhile, the significance of the March 4 date "has reportedly declined amongst various groups in recent days," he stated.
"Additionally, the National Guard continues to maintain a presence on Capitol grounds to support the USCP with maintaining an increased security posture. Members and Congressional staff should present their Congressional ID to any law enforcement officer or National Guard member staffing access points to campus," Blodgett told lawmakers.
Several Republican senators and D.C. Mayor Muriel Bowser have in recent weeks complained about the barbed-wire fencing and National Guard presence around the Capitol, saying that it's unnecessary after Inauguration Day. Separately, there have been conflicting statements by officials about how long the barriers and National Guard troops will remain, with some saying they will stick around until the fall.
Mimi Nguyen-Ly contributed to this report.