MyPillow CEO Mike Lindell is suing the FBI and the Department of Justice over the seizure of his phone while he was at a Hardee's drive-through in Mankato, Minnesota earlier this month.
In a lawsuit (pdf) filed in a federal court in Minnesota, lawyers for Lindell claimed the seizure of his mobile device violated his First, Fourth, Fifth, and Sixth Amendment rights.
Lindell's lawyers are asking that his phone and any data that was accessed and obtained by the cellular service provider be returned, that the FBI and DOJ be prohibited from accessing any data collected from the device, and that the department and the agency also be prohibited from releasing any information that was on his phone.
Lindell's legal team includes Harvard Law School professor Alan Dershowitz. Defendants in the lawsuit include Attorney General Merrick Garland and FBI Director Christopher Wray.
Lindell revealed on Sept. 13 that his phone had been seized by the FBI after he and a friend had pulled into a drive-through in Mankato following a morning of duck hunting.
Speaking on his live-streamed show, "The Lindell Report," he explained how FBI agents driving "all different models" of cars promptly surrounded him, with one of them cutting him off before a string of others also surrounded him, leaving him effectively pinned down in the drive through.
The lawsuit states that Lindell, not knowing that the individuals in the three vehicles were federal agents, was at the time "fearing for his and his friend's lives."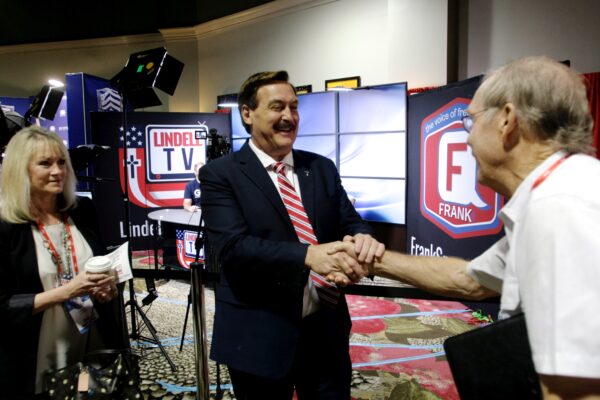 Agents 'Tracked' Him
It further states that Lindell did "not at any time prior to being detained, inform Defendants where he was going, that he was hunting, the route he would drive back from hunting, or the fact that he made an impromptu stop at the fast food restaurant."
"Upon information and belief, Defendants would have had no idea of Mr. Lindell's whereabouts. Upon information and belief, Defendants used cell site location information or a tracking device to locate and track Mr. Lindell without first securing a warrant for that purpose," it states.
Lindell told The Epoch Times in an interview published on Sept. 15 that the FBI agents targeted him because he has been vocal about allegations of election fraud and voting irregularities during the November 2020 general election.
The lawsuit states that FBI agents began questioning the MyPillow CEO about a number of topics relating to "Dominion Voting Systems, Tina Peters, Colorado incidents, Doug Frank, information posted on Plaintiff's media platform, FrankSpeech.com, Dominion's Trusted Build software update that destroyed election records, his travel on his airplane throughout the Country and to Colorado, and other matters."
Agents questioned him for around 25–30 minutes, the lawsuit states. They then seized his phone.
"Throughout the events described above, the federal agents deprived Mr. Lindell of his freedom of movement since he was not free to leave the drive-through lane," his lawyers wrote. "They did not inform him that there was a warrant to seize his cell phone until after they questioned him for 25-30 minutes. At no point did they read Mr. Lindell his Miranda rights or advise him that he had a right to have a lawyer present while being questioned."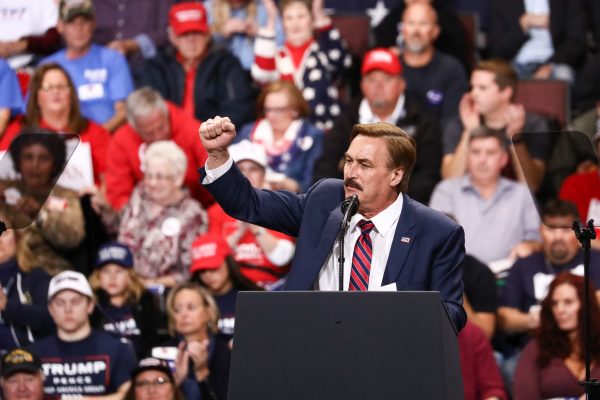 Attorney Request 'Denied'
The lawsuit states that FBI agents did not have the authority to detain and question Lindell against his will. It further accuses FBI agents of refusing his request for an attorney "for an extended period of time."
"After Plaintiff persisted that he needed to discuss the situation with his lawyer, the agent who appeared to be in charge relented," the lawsuit states.
Lindell handed his phone over to agents after speaking with his lawyer, the lawsuit states. However, his request to back up the contents of his phone on a cloud service was denied, his lawyers wrote.
Lindell doesn't have a computer and relies on his phone to run five companies. His hearing device is connected to the phone.
"Mr. Lindell has no ready access without his cell phone to passwords that are necessary for his access to essential computer programs, and financial transactions through the company banks," the lawsuit states. "The cell phone is also programmed to operate Mr. Lindell's hearing aids."
Furthermore, data on his cellphone includes "attorney-client information and other information protected by the First Amendment's freedom of association from disclosure to the Government," the lawsuit states.
According to the lawsuit, the search and seizure warrant was issued by Magistrate Judge Tony N. Leung on Sept. 7, 2022.
The Epoch Times has contacted the DOJ and the FBI for comment.