MyPillow CEO Mike Lindell said he plans on suing House Speaker Kevin McCarthy (R-Calif.) after providing Fox News' Tucker Carlson with tens of thousands of hours of footage of the Jan. 6, 2021, Capitol breach.
During a Thursday interview with Steve Bannon on his "War Room" podcast, Lindell said he is planning to file a lawsuit against the House speaker because he violated the First Amendment's freedom of the press provision.
"Yeah it's as everybody knows Kevin McCarthy and the gang released [41,000] hours from January 6th to exclusively Fox News. Well, we're not going to sit back and let that happen. This is our First Amendment provision," he said.
Bannon interjected, asking Lindell why he's planning to file a suit against McCarthy when he has other legal challenges piling up.
"We're injured by not having access and then the other thing is the Equal Protection clause," Lindell added in his interview with Bannon, a former White House chief strategist. He added, "Why does just Fox get this? So they can cover it up even more? It's disgusting … We were going to go after Fox to get it; and they lawyers … said, 'No, we're gonna ago right after the speaker, right after Congress."
Lindell added that he is planning on taking his suit "all the way up to the Supreme Court" on behalf of his Lindell-TV, which streams on Lindell's "Frank Speech" website. He added that the media entity and other news outlets should have access to 41,000 hours of video footage because "we're injured by not having access" and is "discrimination by the speaker."
"I'm tired of the violation of our constitutional rights, Steven," Lindell said.
A McCarthy spokesperson hadn't returned an Epoch Times request for comment at publication.
What Was Said
Fox News confirmed to The Epoch Times this week McCarthy had given Carlson exclusive access to the surveillance footage from Jan. 6, 2021. "We believe we have secured the right to see whatever we want to see," Carlson also said during a broadcast of his show, adding that producers are now reviewing the footage and "trying to figure out what it means and how it contradicts, or not, the story that we've been told for more than two years."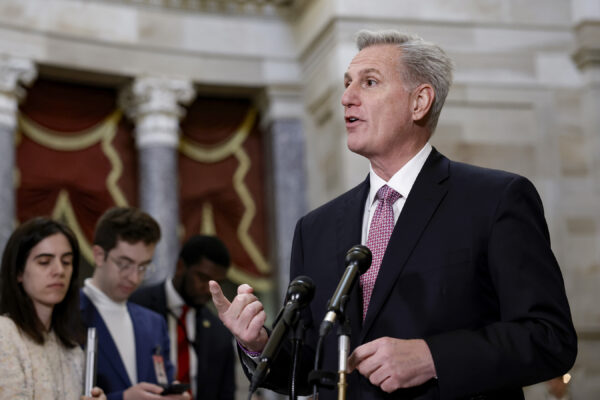 "We think already that in some ways it does contradict that story," Carlson said, adding that Fox News producers would be assessing it "as honestly as we can" before bringing the findings to the public at some point next week.
Earlier this week, McCarthy confirmed that he sent the thousands of footage to Carlson, who is generally the highest-rated television host on Fox News. The speaker said that he promised to release the footage if he became speaker.
"I promised," McCarthy told the New York Times. "I was asked in the press about these tapes, and I said they do belong to the American public. I think sunshine lets everybody make their own judgment."
McCarthy added that he plans on making the footage more widely available at a later date. It's not clear when that may happen.
Democrats Unhappy
After McCarthy's confirmation that he handed over the tapes, top Democrats said it was tantamount to a national security risk. On Twitter, Senate Majority Leader Chuck Schumer (D-N.Y.) wrote it is a  "grave mistake" that would "embolden" individuals who have doubts about the 2020 election outcome.
Separately, in a letter to other members of Congress, Schumer claimed McCarthy "does not have the right to jeopardize the safety of the senators nor Senate and Capitol staff for their own political purposes" by releasing the tapes. He did not elaborate.
"The apparent transfer of video footage represents an egregious security breach that endangers the hardworking women and men of the United States Capitol Police," House Minority Leader Hakeem Jeffries (D-N.Y.) said Tuesday in a letter to fellow House Democrats.
But McCarthy said that the public has the right to see what happened that day. The House select committee that was tasked with investigating the breach, McCarthy has said, was fraught with bias and released a report that only serves to bolster Democrats.
"We watched the politicization of this," he told reporters in January. "I think the American public should actually see all what happened instead of a report that's written for a political basis."